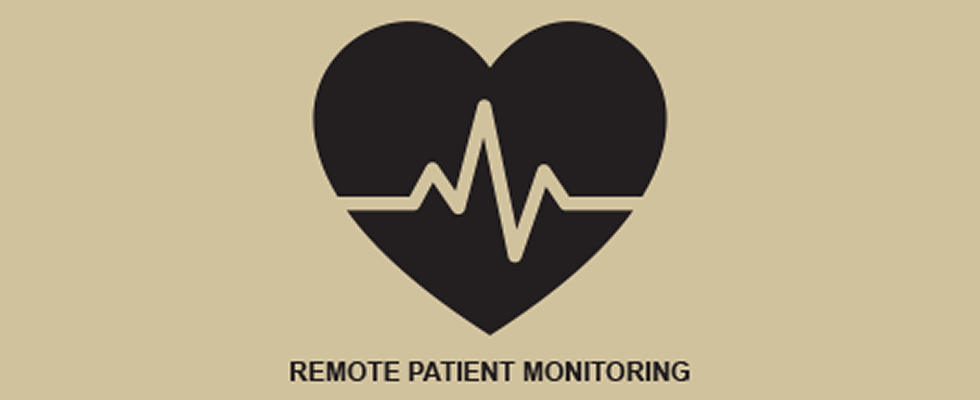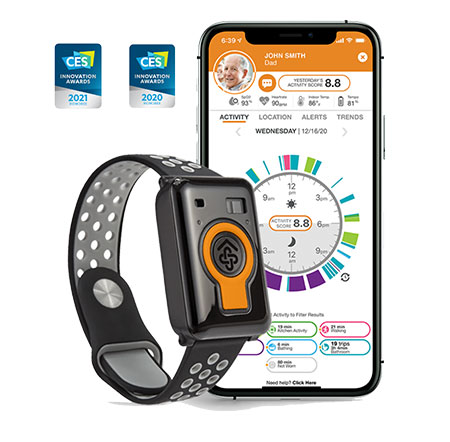 CarePredict @Home
CAREPREDICT
CarePredict is an artificial intelligence (AI)-powered platform that gives homecare agencies and families continuous visibility into older adults' well-being. Using CarePredict's remote activity monitoring and actionable insights, agencies can continuously evaluate clients' needs and update the care plan, enabling them to get ahead of emerging conditions. They can reach prospective clients not yet ready for homecare services by offering CarePredict as the first level of service. They can provide timely services and extend their client's ability to live independently for longer while providing families with peace of mind and constant reassurance of their loved ones' well-being. Visit carepredict.com.
---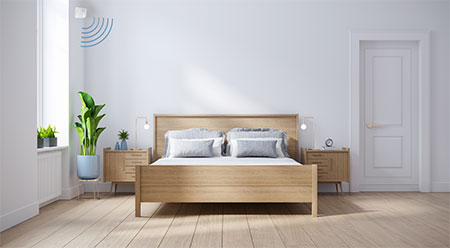 eazense
CARETEQ
Eazense is a passive monitoring system based on radar sensor technology coupled with AI. The radar sensor offers real-time fall and presence detection across multiple occupants in a room. It is designed to detect, record and log activity in a room, and will report all alerts to caregivers via the SOFIHUB online portal. Traditional fall detection solutions rely on a wearable device and can sometimes be triggered unintentionally. Instead, eazense passively monitors a room and will detect if a person has fallen without the need for any interaction from the senior, sending a request for help to a caregiver. Visit sofihub.com.
---

RPM With Optional PERS
CLEAR ARCH HEALTH
Clear Arch Health offers remote health care monitoring services designed to improve clinical outcomes and keep your high-risk patients healthier and out of the hospital longer. By offering a unique, combined platform with remote patient monitoring (RPM) and a personal emergency response system (PERS) integrated in the same base station, Clear Arch Health provides a simplified and satisfying end-user experience. Clear Arch Health solutions engage your patients and offer you the flexibility to customize and scale your RPM program to suit the health care needs of every patient without incurring extra costs or having to replace equipment. Visit cleararchhealth.com.
---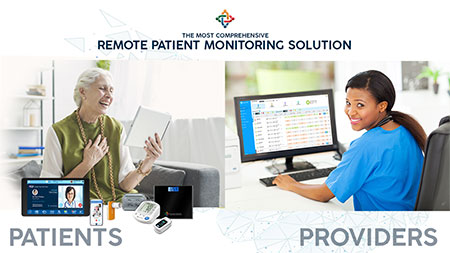 Remote Care Management Platform
CONTACT HEALTH
Contact Health removes the complexities, constraints and challenges connected with providing remote monitoring while fine-tuning the nuances of health engagement, personalization and cultural sensitivity. The Remote Care Management Platform is designed to monitor a wide spectrum of patient populations. Comprised of an ecosystem of patient-friendly monitoring devices and a virtual care platform, Contact Health helps health care entities successfully expand their remote care capability, engage at-risk patients and deliver targeted interventions. With Contact's platform you'll have the flexibility, adaptability and agility you and your clinicians need to adjust to changes in strategy and market demands. Visit contacthealth.com.
---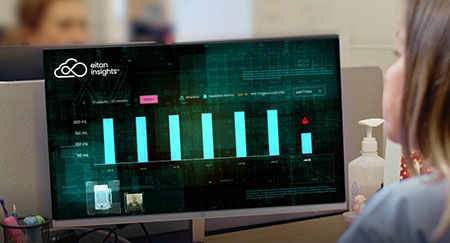 Eitan Insights
EITAN MEDICAL
Eitan Medical is developing Eitan Insights, a cloud-based platform that will provide clinicians and homecare providers remote treatment data and visibility of Eitan Medical's suite of advanced infusion and drug delivery devices. The system will track patient treatment status, as well as the infusion pump's location and status allowing clinicians to assess events and conduct remote followups on treatment progress. Aggregated patient data and cloud-based processing will allow caregivers to identify treatment patterns and provide data-based adjustments. The Eitan Insights system will empower health care providers to confidently provide infusion and drug delivery therapies in the comfort of the patient's home. Visit eitanmedical.com.
---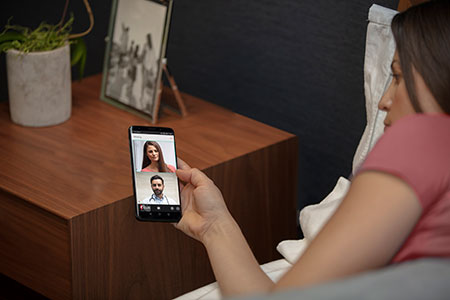 SafetyNet
MASIMO
Masimo SafetyNet combines the power of advanced remote patient monitoring with telemedicine capabilities, like virtual visits and the benefits of Masimo's Hospital Automation platform, such as full two-way integration with hospital electronic medical records. Now enhanced with secure video conferencing, the platform delivers a comprehensive telehealth and telemonitoring solution—and for patients, a better "hospital at home" experience. Masimo SafetyNet allows clinicians and hospitals to schedule and conduct multi-way audio- and video-based virtual appointments with at-home patients through the Masimo SafetyNet smartphone app—while still viewing continuous and spot-check vital signs and other physiological data. Visit masimo.com.
---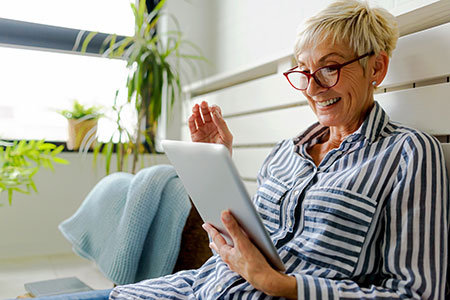 VitalCare
MEDLINE INDUSTRIES, LP
VitalCare provides a smoother and safer transition for patients and providers. The VitalCare platform allows patients to engage with health care providers from the privacy of their own home. Easily view a patient's integrated health data from any smart device. Real-time and historical vitals, nutritional inputs and medication adherence are recorded to the patient record and viewed based on patient populations. Caregivers can monitor patients in real time with VitalCare Admin. The web-based platform livestreams data, creates custom questionnaires and surveys, as well as scheduling and task lists. Visit vitaltech.com.
---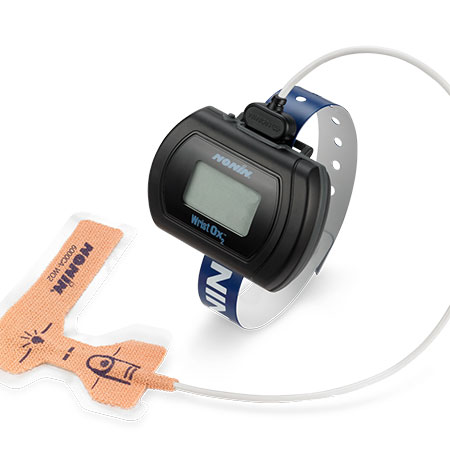 WristOx2 3150 With Bluetooth Low Energy
NONIN MEDICAL INC.
Nonin's WristOx2 3150 with Bluetooth Low Energy (BLE) delivers fast, accurate oxygen saturation (SpO2) and pulse rate readings in challenging conditions, including low perfusion and motion. The WristOx2 3150 with BLE is compatible with a wide range of Nonin PureLight sensors and provides continuous, reliable SpO2 monitoring and data recording. Applications include overnight oximetry studies at home, in the hospital and in sleep labs. Nonin's devices tend to read with low bias, which may be particularly helpful for sleep studies, as it may lead to more patients qualifying for oxygen concentrators and getting the help they need. Additionally, Nonin technology has been proven to read accurately across diverse skin pigmentation. Visit nonin.com.
---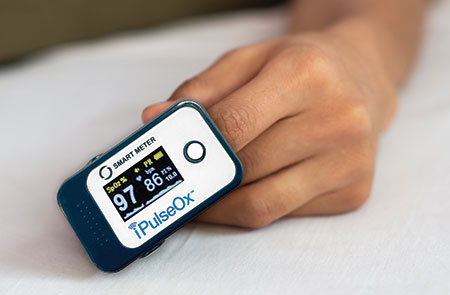 iPulseOx
SMART METER
iPulseOx, a cellular-enabled pulse oximeter, is optimized for connected care in a patient's home. The measurement technology ensures accuracy exceeding that of other connected devices on the market. The iPulseOx has several unique features, making it an advanced method for tracking oxygen saturation. Unique to Smart Meter, iPulseOx has a simple yet robust application programming interface, allowing easy integration with a variety of health record software systems. The iPulseOx uses the AT&T network, with data storage in the United States. It provides instant transmission of readings to a health care provider's platform. Visit smartmeterrpm.com.