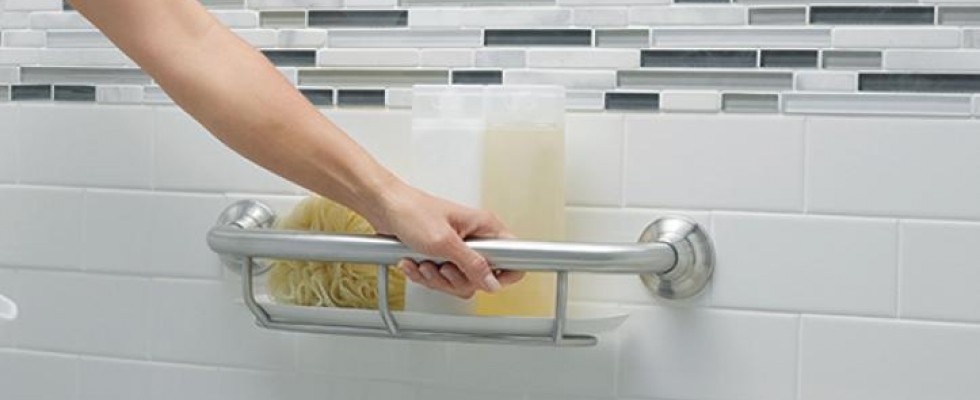 Solutions available to prevent falls in the bathroom and every other area of the house
Tuesday, September 9th, 2014
About 30 percent of adults above age 65 fall down each year, and the direct medical costs of falls, adjusted for inflation, was $30 billion in 2010, according to the U.S. Centers for Disease Control and Prevention (CDC). Common injuries include hip fractures and head traumas. Hospital ERs see 2.4 million nonfatal fall injuries in the elderly, and more than 689,000 of these patients are hospitalized. These trends are clear indicators of the growth business providers can achieve through the sale of cash-sale items in the fall prevention sector.
Beware in the Bathroom
The bathroom presents a variety of hazards which increase the risk of falls. Tub retrofits offer a simple and cost-effective modification solution to provide easier access, resulting in fewer falls. Safeway Safety Step manufactures tub accessibility products including the Safeway Step and the Safeway Tub Door to improve tub accessibility. Installation involves removing the side wall of an existing tub to provide easier access. Safeway Step converts an existing tub into a permanent walk-in shower, and the Safeway Tub Door adds a watertight seal to an existing tub, allowing walk-in access. The keys to selling additional fall-prevention products are education and awareness, combined with store displays and demos and providing installation services, says Chris Stafford, president of Safeway Safety Step. Dealers should promote the availability of fall prevention products via newsletters, mailers, bag inserts or displays that allow individuals to test products. Safeway offers a variety of marketing pieces such as photos, brochures, store displays and trade show materials. Moen Home Care offers a line of grab bars and balance-assist solutions to prevent falls when bathing, emphasizing style and functionality so bath facilities can be safe as well as beautiful. The Moen Home Care Grab Bar with Integrated Shelf provides a stylish fall-prevention solution. Designed for use in the tub/shower, the grab bar incorporates a sizable shelf—with a 250-pound weight capacity—to keep everyday bathing items within reach. Tim Bitterman, director of marketing and new product development, Accessories Division, Moen, says retail merchandising related to bath safety products is essential. "Look at your store and shelves through the eyes of a consumer," he says. "Is it attractive, welcoming, informative and easy to shop?" The product selection should be attuned to the needs of consumers, in terms of types of goods, price positioning, style and finish selection. Dealers should also consider the positioning of products and their visibility within the store. Thorough training of sales associates will help them offer meaningful insight and assistance to customers, adds Bitterman. Moen Home Care provides complete marketing support, including attractive packaging, videos, literature and training information for customers.
The Value of an Assessment
Falls can happen among users who may not even have the level of mobility to use a tub design that is intended to be accessible, says Megan Multanen, national sales manager, Best Bath Systems. The equipment may not be what they need, so HME providers should visit the home and do an honest assessment. In addition to removing barriers, factors in fall prevention also include the need for better lighting to see the floor, countertop and other surfaces to provide stability as they enter the room, tub or shower, says Multanen. When adding grab bars, ensure that they are installed where a person would reach out instinctively when falling. Many grab the shower curtain, for example, which should also provide some level of support (i.e., not a tension-style rod). Best Bath Systems specializes in manufacturing showers for people of all abilities, including showers with zero or no-step entry and a line of walk-in bathtubs. Best Bath's five-piece barrier-free showers—including a shower pan, two side walls and two pieces that make up a back wall—are easy for one person to carry. Best Bath also offers the Great Grabz line of stylish luxury grab bars. Another product is the Oasis Seated Shower, fully automated for people who need bathing assistance. The programmable system can be controlled by the user or outside by a caregiver, ensuring privacy. Best Bath Systems plays an active role in education about fall prevention, offering training at VGM's Heartland show and at Medtrade to help HME providers understand how and why falls happen in the bathroom—and how they can mitigate the problem. The company also works to provide information and attend classes at the Fall Prevention Center of Excellence at the University of Southern California (USC). Carex focuses on bath safety and mobility products, emphasizing the need to meet a customer's continuum of requirements. In the bath safety arena, Carex offers bath seats, tub rails, grab bars, bath mats and handheld showers to serve a customer's needs. Carex's product line includes the EZ Padded Swivel Stool, which makes it easy to get in and out of the tub safely, turning to allow users to lift their legs. The chair's European styling merchandises well in the store. The stool is easy to assemble, and consumers can put it away in a closet when not in use. Carex will soon launch a transfer bench in the same family. HME providers have an opportunity to educate patients and caregivers about fall prevention products. Compared to a mass retailer, for example, a provider can offer a higher level of service. Swain says providers should offer a good-better-best range of products so customers can choose from multiple tiers. "They should market the whole offering rather than an individual sale," he says. All sales in the bath area are cash products, which are welcome in the era of shrinking reimbursements. Carex offers product videos to demonstrate use and aid with installation, which can be used in-store or on the Internet, available to any dealer who purchases Carex products.
Adaptability for the Entire House
Most falls happen in the bathroom, but they also can happen anywhere in the house. HeathCraft's SuperPole with SuperBar is a highly adaptable product that can be used by anyone with a risk of falls, whether elderly, having mobility challenges and/or suffering from a chronic illness or disease. Installed between the floor and ceiling, SuperPole with SuperBar can provide support where it is needed—beside a chair, in the kitchen, bathroom or bedroom. The horizontal support bar moves and locks into place for superior leaning and weight-bearing surfaces. "In practical terms, aging in place and fall prevention are synonymous," says Ian Crawford, who handles marketing for HealthCraft. "You can't age in place if you aren't removed from risks of falls." However, he points to a disconnect between the connotation of living at home and the perceived need for institutional equipment to achieve the goal. "One of our biggest priorities is educating consumers, contractors and retailers about products that help prevent falls to allow clients to age safely, independently and using a product they will actually embrace," he says. HealthCraft offers display units, catalogs and consumer brochures, and has also launched an expanding HealthCraft Connect reseller support center aimed at educating customers. An assigned representative can answer questions and provide additional retail strategies. HME dealers are well positioned to educate their customer bases about fall prevention, agrees Joe Battiston, president of TFI Healthcare, which supplies a range of walkers "from the short to the tall, big to the small." Since the mid-1980s, TFI Healthcare has promoted its range of products based on "the quality that unites them." Battiston says the company has maintained its quality level even in a climate of lower Medicare reimbursements. He says providers should ask themselves: "What do you want: A product mass-produced at a minimum standard for a cheap price, or one that will do the job it was intended for at a higher price without the problems of lesser quality?" He urges providers to think first about the patient's safety. "Fall prevention is not a place to skimp on," he says, adding that higher profits will also result. One such opportunity is TFI Healthcare's 2150 (standard width) and 2160 (wide width) EasyRise walkers, which address the needs of people who require assistance in standing from a sitting position. It's a little-known product that could be useful to many, says Battiston. For dealers, selling an EasyRise walker instead of a standard walker will both provide a higher margin and benefit the customer. "Many people go without this device because they simply don't know it exists," he says. "If you see someone rocking before they get up or see someone helping them up, they are a perfect candidate for one of these walkers."
Wide Choice of Products
Stander's products can be used next to a couch, chair or bed. The company has a line of bed rails, as well as ambulatory walkers, canes, etc. Its Assist-a-Tray slides under furniture and provides a secure handle to help people stand up from a chair, couch or lift chair. "Lift chairs get them to a point, then they need something to hold onto," says Troy Holland, Stander vice president of sales and marketing. Stander's Metro Car Handle Plus connects to the strike (locking mechanism) in a car door to provide support for anyone getting out of a car. The Car Caddie straps around the door frame of any vehicle and provides an extra support handle to get in and out of the car. Stander's Security Pole with Curve Grab Bar provides safe, secure support in the bathroom, and can be moved to any room (wall mounts are not needed). The Grab Bar pivots, locking in place at eight different points every 45 degrees. Stander also offers a wall-mounted Grab Bar.
Think Broadly
Drive Medical Design & Mfg. continues to broaden its fall-prevention offerings. Products include bath safety and lifts, ambulatory items and accessories, aids to daily living, mobility and bedroom assist devices. Even though the majority of falls happen in the bathroom, there isn't enough focus on bath lifts, says Derek Lampert, vice president of Homecare Sales, Drive Medical. They are by far the best way to maintain a great bathing regimen and allow a senior to maintain independence. Switching from bathing to using a shower bench along with a handheld shower is often a difficult transition. "As an industry we tend to have a false stigma that bath lifts are cost-prohibitive for seniors, which isn't the case," Lampert says. Once educated about the benefits, seniors often see the value outweighing the price tag. Other possibilities include the simple addition of a tray to a walker to allow a person to carry items like a cup of water safely through the house with both hands securely on the handles. "It's our responsibility as an industry to educate on all aspects of fall prevention before there is an incident that creates a need," says Lampert. "Consumers become outraged when they find a solution to their problem only after experiencing an accident that was preventable with education." Education in the home to both the patient and caregiver is key. Providers should also include educational aspects in their fliers, website and retail store interactions. "Stop focusing on features and benefits of the products and start thinking about teaching," says Lampert. "Also, stop thinking about seniors as patients and start considering them consumers. The law of reciprocity is the cornerstone: Do everything possible to educate, and they will make their purchases with you." Drive has plenty of planograms (POGs) along with a fall-prevention brochure that includes a checklist for in the home and commonly ordered products. Drive has built a Fall Prevention Resource center on its website that can be used by any HME provider or consumer. Drive's TechToTeach program works to convert a provider's best sales people into educators in the home.