Market-leading products for your business
PEDIFIX, INC.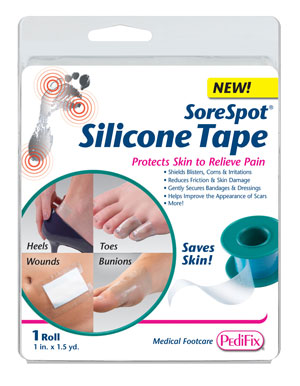 SoreSpot Silicone Tape
Silicone minimizes friction, providing relief for blisters, corns, calluses and bunions. Silicone is clinically proven to help improve the appearance of scars. And because it has gentle release, it is ideal for positioning bandages on fragile skin, preventing damage among elderly patients and those who require frequent dressing changes. Waterproof, hypoallergenic, latex-free and reusable, SoreSpot Silicone Tape is available in various widths and lengths. Visit www.pedifix.com.
---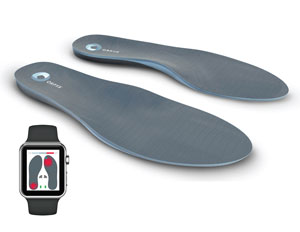 SurroSense Protect
ORPYX
A custom, smart insole system designed to help patients manage diabetic foot issues. The system measures the amount of pressure applied to the bottom of the foot. When pressure has been sustained over time without sufficient offloading, the system alerts the user via application on a mobile device, displaying which part of the foot is affected and provides guidance to actively offload the affected area. The device will indicate successfulness of the offloading strategy via the mobile app. Commercially available summer 2019. Visit www.orpyx.com.
---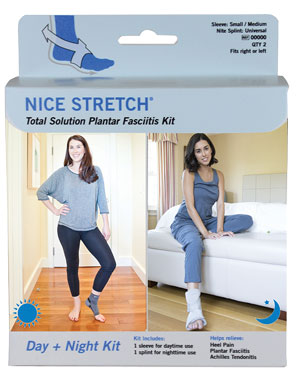 Nice Stretch Total Solution Plantar Fasciitis Kit
BROWNMED
For all ages from pediatrics to geriatrics. Secures wound dressings and helps manage wounds, such as skin tears, surgical wounds, superficial abrasions, first degree burns, protecting feeding tubes, IV and catheter sites. Hypoallergenic, latex-free, with a transparent blue appearance. Gentle to remove from sensitive skin, removes without pain or skin damage. Available in 1-inch by 15-foot rolls and 2-inch by 15-foot rolls. Visit www.sns-medical.com.
---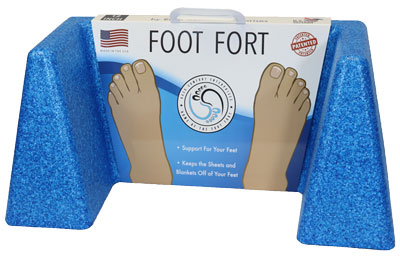 Foot Fort
RACO COMFORT ENTERPRISES
Keeps the blankets and sheets off of the feet while also providing support. Although originally invented as an alternative treatment for plantar fasciitis, it has evolved into a product that offers solutions to several lower body ailments. It is also an easy-to-use recovery apparatus to assist in comfortably resting after surgeries from the hips down. Made out of durable and washable expanded polypropylene, the Foot Fort is a solution for treatment, recovery and long-term wellness. Visit www.racocomfort.com.