Providers can optimize their businesses by implementing new programs
Wednesday, April 16, 2014
I talk to HME leaders every day about their sleep and PAP therapy businesses, and while their challenges may be different from one to the next, in the end the mission is always the same: to create a business structure that generates a predictable and secure revenue stream that escalates over time. The disruption caused by competitive bidding, increasingly more difficult reimbursement criteria and a confusing new array of product entrants targeting the low-end market have created a perfect storm to keep HME providers from completing their mission. We know it's a tough environment for our HME partners—we're feeling the pain, too. But there is a vastly untapped opportunity that you can take advantage of right now to improve your revenue stream. It just takes a willingness to invest in your own success. Let's start at the beginning. We know it's a rapidly shifting market, and in order to stay attuned to the conditions that are affecting our customers, we sponsor market research in a variety of areas. One such research project—a nationwide study of 300 sleep apnea patients commissioned by ResMed and conducted by Peel Research Partners—took a deep dive into patients' habits related to sleep, therapy and resupply. The last topic—resupply—revealed new patient insights that can translate into big gains for the HME provider. For this study, we recruited two general patient categories: frequent resuppliers (who, on average, replace their masks or cushions every four months) and non-frequent suppliers (who, on average, haven't replaced their masks or cushions for 13 months).
Study Findings
Frequent resuppliers are more compliant, using their equipment more days and more hours than non-frequent suppliers. Frequent resuppliers report their sleep is better. HME communication about resupply positively influences behavior. Absence of communicating the importance of a resupply program may be the primary reason for infrequent resupply. More than 85 percent of frequent resuppliers were informed about the importance of new masks and parts, and 74 percent of frequent resuppliers were part of a resupply program. Only 50 percent of non-frequent resuppliers were informed about the importance of resupply, and an astounding 94 percent were not part of a resupply program. Non-frequent resuppliers want the option to join a resupply program. Two-thirds of non-frequent resuppliers weren't given an option to enroll in a resupply program, but at least half of those say they would have liked the choice. Resupply enrollment is most successful at initial setup. Nearly 70 percent of those enrolled in a resupply program did so at their initial setup. Resupply programs engender loyalty: 70 percent of those in a resupply program would seek another supplier if their program was terminated. Frequent resuppliers believe in the importance of replacing their supplies. Ninety-five percent of frequent resuppliers felt it was important to replace supplies, compared to 41 percent of non-frequent resuppliers. Frequent resuppliers view their lives more positively. They tend to be happier, their overall state of health is better and they like the way they look.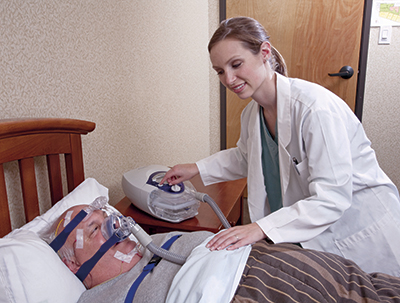 The clear messages from these insights are threefold.
Resupply programs work—they provide better care for the patient and better results for the HME provider.
The initial setup is the best time to get your patient started on a resupply program.
If you don't have a resupply program, you are leaving money on the table and putting patient loyalty at risk.
Setting up a resupply program may require you to add new skill sets to your organization. It might seem a little counterintuitive to recommend adding staff at a time like this, but it's an investment that will carry a healthy return. There are several service-as-a-software businesses that can help you set up and automate your resupply program. And once a patient is set up in a resupply program, it delivers a low-cost, high-margin, long-term opportunity. That brings us back to the importance of having a laser focus on maximizing the initial patient setup. A lot goes on with the patient setup, and we've witnessed two general philosophies in the industry. One is driven by the use of basement-price masks and devices in hopes that the HME can net a bigger margin, and the other is driven by achieving early and sustainable compliance. Those who do the latter—setting up the patient on quality masks and devices—will drive better compliance out of the gate. They will also enjoy the benefit of saving staff time by avoiding callbacks due to poorly fitting masks or confusing devices. A setup that emphasizes compliance makes everyone a winner in our shared business ecosystem. The patients win because they are more satisfied, feel better, are more likely to recommend their HME and can report a positive experience back to their physician. The payer wins because successful treatment helps manage or even prevent costly chronic diseases. And the HME provider wins by paving a faster, smoother path to reimbursement. Creating better efficiencies as the result of a successful setup could also allow for more staff time to devote to managing a resupply program and putting money in your pocket. Earlier, I made reference to our HME partners, and that was a deliberate use of the term "partner," because the way we see it—we're in this business together. We have a unique vantage point which allows us to see programs that work and programs that don't work. We see it as part of our job to help our HME partners to grow healthy businesses, and you will see more from us in this direction during the next several months. But, by far, the biggest opportunity for anyone not running a resupply program is to start one—today.