Answers from industry experts
Wednesday, November 1st, 2017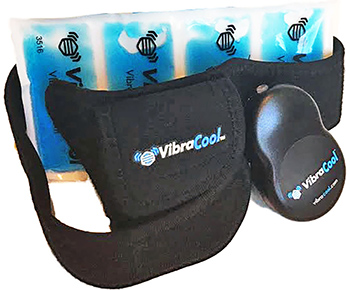 VibraCool
MMJ LABS
Amy Baxter, MD, Founder and CEO
www.mmjlabs.com
What conditions are best served by your products?
BAXTER: Our Buzzy device is extensively proven to reduce needle and skin pain. VibraCool not only relieves pain from knees, surgery, tendinitis, carpal tunnel and plantar fasciitis, but the cold/vibration combination reduces inflammation while stimulating repair.
How do you differentiate your products from others in the category?
BAXTER: Creating vibration at the strength and speed to relieve pain, increase blood flow, and separate muscle fibers is technically difficult. The biggest differentiator is that we can get synergy by using two proven therapies at once in scientifically optimal combination.
Why should HME providers carry pain management devices?
BAXTER: Personal devices for pain are the direction health care is going. Personalized care, chosen by the patient, with a focus away from medications and toward rehabilitation makes sense.
How can HME providers realize profitability with this category?
BAXTER: Patients want to cure pain, and their family members are also invested because chronic pain leads to depression. Even broader applications come from distributing to clinicians who already understand that physical solutions are the best for joint and physical pain.
What trends have you identified for pain management products?
BAXTER: Rollers, mechanical dynamic tape, high intensity vibration for larger muscle groups, and even orthotics to address skeletal imbalances that eventually cause pain: This is where the market is going.
What are the key considerations patients/caregivers should know about pain management products?
BAXTER: The great thing about non-drug solutions is that they can be tried in different combinations, in different orders, and what doesn't work one time may work another time. The options are limitless, so there is always hope.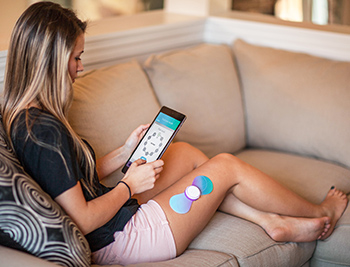 iTENS
PAIN MANAGEMENT TECHNOLOGIES, INC.
Joshua A. Lefkovitz, President
www.paintechnology.com
Why should pain management products be attractive to HME providers?
Lefkovitz: Pain is an unavoidable ailment as we age. Our country has gotten into a predicament with prescription pain meds being the go-to treatment method. Everyone is aware of why and how we need to reevaluate our go-to treatment methods and introduce alternative modalities. HME providers need to be prepared to carry forward these alternatives.
How are your products key to combatting addiction?
Lefkovitz: All of our products are non-narcotic and non-invasive, and serve as a perfect alternative to reducing or eliminating the need for pain medications.
How do you approach product development?
Lefkovitz: We look for unique ideas where we can, and we firmly believe good design can lend itself to patient compliance and overall satisfaction in using the item.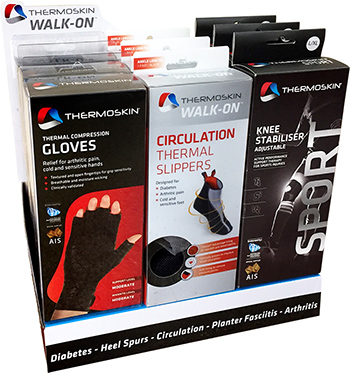 Thermoskin Pain Relief Counter Display
ORTHOZONE
Tom Traver, President
www.orthozone.com
What is your specialty?
Traver: Orthozone specializes in orthopedic braces, compression socks and other clinically proven products for injury and pain management for arthritis, diabetes, sports injuries, plantar fasciitis, soft tissue injuries and RSI.
How has the market for these products changed during the last three years?
Traver: We have seen a dramatic shift in the cash sale segment of the business. Homecare stores have increased their retail offerings and consumers are much more open to paying cash for pain management products.
How do you differentiate your products from others in the category?
Traver: Our primary product line is Thermoskin orthopedic supports. Thermoskin is clinically proven to increase skin temperature and circulation for effective pain relief.
How can HME providers realize profitability with this category?
Traver: First, add or expand medical grade orthopedic supports in their stores. Second, have staff trained on the products by their local representative. Then the staff is knowledgeable on pain management solutions that mass merchants cannot provide.
What tools do you provide to help educate dealers and potential product users?
Traver: The best education comes from the Orthozone staff and our local representatives. There is simply no substitute for hands-on training. We also offer retail displays and literature to educate dealers and potential users.

PERFORMANCE HEALTH
Marketing Team
www.performancehealth.com
What is your specialty?
Marketing Team: Performance Health is the largest specialty distributor and manufacturer of branded products and solutions for rehabilitation, recovery and sports medicine in the world. We're proud of our ability to serve anyone including those recovering from an injury.
How has the market changed?
Marketing Team: Traditional health care organizations are considering alternative methods of pain management as alternatives to opioids and other internal medicines.
How do you differentiate your products?
Marketing Team: TheraBand was one of the first manufacturers in the physical therapy industry to invest in research and education and that investment included a website. Each year, Performance Health supports up to 20 independent research projects.
How are your products key to combatting addiction?
Marketing Team: Performance Health has a longstanding relationship with the other hands-on health care professional communities, and believes much broader knowledge of these professional care options will play a key role in helping Americans find safer relief for their musculoskeletal pain. "Safer Pain Relief" is designed to make such care easier to locate and understand.
What tools do you provide to help educate dealers and potential product users?
Marketing Team: Saferpainrelief.org was built as an online resource for both consumers/product users and professionals/dealers. The site includes tools for patients to understand pain and possible ways to combat pain through professional care and safer pain relief options.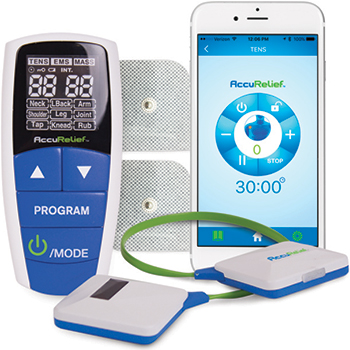 AccuRelief
COMPASS HEALTH BRANDS
Brendan McEvoy, Director of Product Development
www.compasshealthbrands.com
What is your specialty? What conditions are best served by your products?
McEvoy: Compass Health Brands offers a large variety of pain management solutions for distribution into both the Retail and Professional markets. Our current technologies include Hot and Cold Therapy, TENS, EMS, Ultrasound, Topical Analgesics, Massage and Hydroculation as well as bracing and kinesiology tape.
These products can help treat everything from basic aches and pains, to sports injuries, chronic pain and post-surgery recovery.
What strategic shifts in thinking and business management have occurred that have helped grow the business?
McEvoy: Our company has been able to leverage our multi-channel approach by bringing technologies traditionally reserved for the professional channel to retail and vice versa – the most recent example being our AccuRelief® family of TENS devices. For the past three decades, our company has manufactured professional-grade electrotherapy and electrical muscle stimulation devices – which, until recently, were only available via prescription. After considering the effects of America's prescription drug epidemic, our company decided to apply our expertise from manufacturing clinical pain management devices into the AccuRelief®. As a result, the brand became the first FDA-approved TENS devices available for purchase over-the-counter, without a prescription, for use on the entire body.
Compass Health Brands has also been very intentional about identifying the needs of our customers on both the clinical and retail sides of the business. In doing so, we are better suited to ideate new, innovative product solutions and gain a better understanding of where we can expand our pain management portfolio to deliver a more comprehensive solution to America's pain problem. As a result, we have become the largest provider of pain management products and a global leader in the industry.
How has the market for these products changed over the last 3 years?
McEvoy: The pain management industry is a fast-paced market that has experienced significant growth in the last three years. Compass Health Brands is on the forefront of that growth, consistently providing cutting-edge technology year after year.
As medical doctors and the government look for remedies to America's opioid epidemic, health manufacturers have been working to pioneer new, drug-free ways for consumers to deal with their pain, mostly using technology.
For instance, Compass Health Brands is continually looking for ways to bring new innovative technologies to market and improve our existing designs. This was most recently showcased with the launch of our AccuRelief® 3-in-1 Wireless Pain Relief Device. The new, Bluetooth-enabled electrodes deliver TENS, EMS and Massage therapy and can be accessed using the hand held remote or your very own personal device, with our custom AccuRelief® App.
How do you differentiate your products from others in the category?
McEvoy: Our 30+ years of experience providing quality, professional pain management technology has given us invaluable insight into the needs of consumers. Today's customer is looking for drug-free, budget-friendly products that complement their lifestyle and specific health needs. Not only are our products effective and easy-to-use, but the majority are also portable, offering targeted pain relief at-home or on-the-go – without the use of drugs or messy creams.
Also, rather than making pain sufferers purchase multiple versions of the same product for each area of the body, we work to provide our customers with affordable solutions they can depend upon for all their pain needs, using only one product. For example, unlike other over-the-counter TENS products on the market, each of our AccuRelief® devices were designed to provide pain relief anywhere on the body. This helps our customers create a targeted and diverse treatment plan customized to their specific needs, for today and the future.
How are you responding to the demand for value-based medical products/devices?
McEvoy: TENS therapy is still in a period of growth and even though consumers are constantly looking for a deal they have shown they are willing to spend a considerable amount on these devices, once they understand how they work.
Why should pain management products be attractive to HME providers?
McEvoy: 42% of U.S. adults suffer from chronic pain and because of the drug epidemic and the over-prescription of opioids, many pain sufferers and caregivers are left looking for ways to combat pain without the use of drugs. Most of these consumers are already in your store, so it makes sense to try and capture the sale with additional product offerings.
Also, studies show the pain management market is expected to grow to 4.64 billion dollars by 2021, so hopefully that provides some incentive as well.
How can HME providers realize profitability with this category?
McEvoy: These are small items with moderate to high retails which allow them to be quite profitable when considering sales to space.
It is also important for HME providers to educate their customers on the offerings of the pain management category and which may be best suited for their particular needs.
What trends have you identified for pain management products?
McEvoy: We have found that consumers are most interested in pain management products that are convenient and easy to use. Nowadays, many lean more towards pain management technology than items like messy creams or microwaveable heating pads.
Pain sufferers seem to gravitate towards technology that is compact, portable and compatible with a mobile device because it adds an extra level of convenience – especially if the product is wireless. Wireless pain devices allow consumers to treat their pain discreetly, regardless of location.
Our company has also received great responses to the free downloadable mobile app that accompanies our new AccuRelief® 3-in-1 Wireless Pain Device. The app's educational resources help customers feel more confident they are using the device correctly. Also, with each login, the mobile app records the users' level of pain and treatment intensity which provides a detailed documentation of their pain history. This feature is invaluable as it can help medical doctors obtain better insight into their patient's care.
It is important, however, that retailers select items that can produce results. Trends have shown that shoppers are excited to try new technology but if the product does not work they will become knowledgeable and move on to something else.
Tell us about a recent discovery in your area of expertise.
McEvoy: TENS therapy requires a consumable component in the electrodes, this has been beneficial in proving out consumer preference. By analyzing the ratio of replenishment kits sold, compared to the number of devices, the AccuRelief® brand consistently outperforms the competition.
What are the key considerations patients/caregivers should know about pain management products?
McEvoy: Different products are used to treat different types of pain, Compass Health Brands works very hard to educate the consumer at the shelf to ensure they are choosing the right product for their ailment.
How are your products key to combatting addiction?
McEvoy: The opioid epidemic is very real and these products provide a relief from pain without the need to resort to narcotics, sparing consumers the unfortunate risk associated with addictive medical treatments.
How do you approach product development?
McEvoy: We want to be considered a single-source supplier for all our customers, so we are constantly reviewing our product offering to ensure that we have solutions for every need and application. In doing so, we are able to improve our customers' ability to convert sales and treat patients.