Answers from industry experts
Thursday, March 10th, 2016
ExcelHealth
Mike Williams, CEO of iReliev Products ireliev.com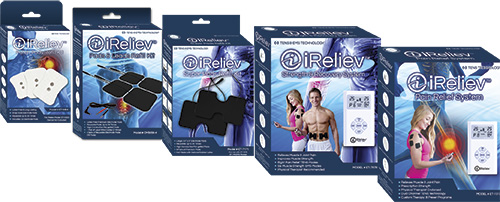 iRelieve Pain Management Patches
Describe your company's products.
WILLIAMS: ExcelHealth has taken clinically proven technology and developed a complete line of FDA-cleared, over-the-counter, consumer-friendly TENS and EMS devices to meet a variety of needs, all in one innovative brand called iReliev.
What trends do you see on the horizon for pain management?
WILLAIMS: The evolution from prescription to over-the-counter solutions is creating a tremendous opportunity for retailers to provide effective pain relief options, such as electrotherapy products. We will see continued interest there.
What is one way your company plans to stay competitive in 2016?
WIILLIAMS: Our latest product, the iReliev Strength & Recovery System, provides the added benefits of TENS for pain relief and arthritis and EMS to aid in muscle conditioning.
How can pain management products help HMEs meet market challenges?
WILLIAMS: HMEs should be seeking new, retail-focused products to generate more cash revenue. Electrotherapy products such as iReliev have undergone the Rx-to-OTC switch by the FDA, and they provide the perfect option.
How can HME and other health care providers increase revenue?
WILLIAMS: Be willing to change from a traditional insurance billing model, and diversify your retail business to include pain relief products.
Core Products
Rob Cooper, Director of Sales and Marketing coreproducts.com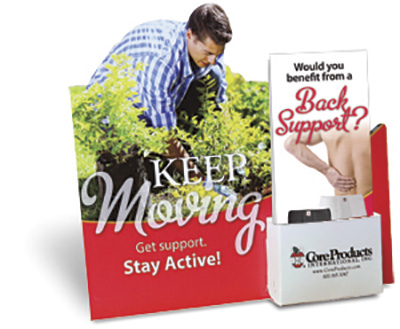 Core Products Retail Packaging
Tell us about your company.
COOPER: Our products are professional-grade and attractively packaged for retail sale, and most of them are made in the U.S.and Canada. Our line includes orthopedic pillows, supports, braces, hot/cold packs, professional products for therapeutic massage and OTC electrotherapy.
What challenges do you anticipate?
COOPER: A major challenge for most manufacturers is keeping margins attractive for brick-and-mortar retailers amidst cheap Internet pricing. We are working to keep Internet prices in line with our brick-and-mortar retailers.
How do you stay competitive?
COOPER: By offering our provider customers mostly American-made, best quality, retail-ready solutions.
How do you help HME providers meet the challenges they face?
COOPER: By working diligently to control Internet pricing on our products, providing quick and easy-to-understand educational tools so that retailers are knowledgeable about our products and providing easy merchandising solutions to our retailers.
How do you help educate providers?
COOPER: Our retail brochures and online educational tools do a great job of helping our retailers feel comfortable and knowledgeable about our products.
BioMedical Life Systems, Inc.
Raymond Paclebar, VP Sales & Marketing Manager bmls.com
BioTouch INF
What are the foundational products that your company offers?
PACLEBAR: We offer Transcutaneous Electrical Nerve Stimulators (TENS) and Microcurrent Devices (MENS) for pain relief, Muscle Stimulators (NMES) for muscle reeducation and Interferential (INF) and High Volt Pulsed Stimulators (HVPS) for pain and edema reduction.
How are new technologies impacting your end users?
PACLEBAR: As new technologies emerge, some factors need to be considered: What is the expected end result? Does the cost outweigh other tried and true methods? What is better for the patient? If the answers are positive, you're good to go.
Do you anticipate any challenges or major changes in the pain management market in 2016?
PACLEBAR: The competitive bid process is on the mind of anyone accepting Medicare assignments. We have noticed a trend for OTC devices, as sales for our Rebound Health OTC TENS device have surged during the last year.
How do you plan to remain successful in 2016?
PACLEBAR: Our research and development departments never rush to find the next big thing\'97they are methodical. When we put out a new device, chances are it's been two years or more in the making. Slow and steady wins the race.
How can struggling HMEs improve their businesses this year?
PACLEBAR: By being well rounded in all areas. For electrotherapy, have a good mix of prescription and OTC devices.
Buzzy Pain Solutions
Amy Baxter, CEO of MMJ Labs LLC buzzyhelps.com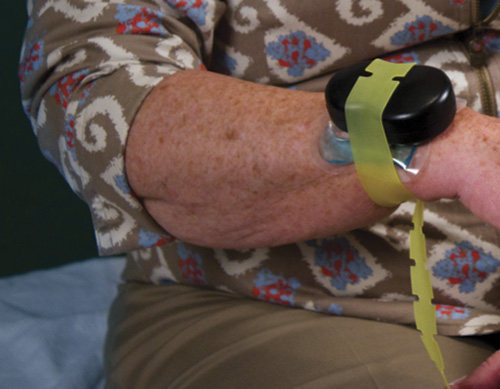 Buzzy Pain Relief
How does your company stand out?
BAXTER: Buzzy pain relief is a reusable device that can block pain on contact, rather than using topical anesthetics. Our product and patents are unique, so our adult medical device really has no comparison competitor. For kids, the pediatric bee design certainly stands out!
What are the market trends?
BAXTER: Many hospitals are creating pain-reduction menus and expanding the focus toward ways patients can help themselves through nonpharmacologic means. Vibration as a treatment has really been accepted during the last two years.
Do you anticipate any challenges? How to you plan to meet them?
BAXTER: The CDC is releasing the guidelines for opioid prescription management. As the recommended reductions take place, health care plans will be scrambling for alternate pain management therapies. We are undertaking development of smart wearable tech in conjunction with our cold and vibration units.
What new product are you most excited about?
BAXTER: Our next generation VibraCool devices combine compression, vibration and cold, so you get the pain relief of all three while cancelling out the side effects from ice.
What challenges are HMEs facing?
BAXTER: The trend to aggressively reduce costs will continue, which puts pressure on providers to get the job done faster. For IVs and infusions, this means patients with needle fear or fatigue will have a harder time getting their provider to wait for a topical anesthetic to take effect. Devices like Buzzy, will get a second look. Look for companies to advertise their focus on patient-centered care and pain management as a competitive advantage.
What is the single most important thing that HMEs can do to increase revenue in 2016?
BAXTER: Understand what matters to their patients, and teach providers fast, free and simple ways to reduce pain.