Fighting the opioid epidemic
America is a nation in pain. Over 100 million American adults have significant or severe chronic pain. There are additional millions that suffer from acute pain. A majority of those in pain elect a pharmacologic solution looking for relief.
The wide spectrum of pain pills consumed include analgesics, non-steroidal anti-inflammatory (NSAID) drugs and mild- to heavy-duty narcotics. Among the most popular stronger narcotics are the opioids oxycodone (OxyContin) and hydrocodone (Vicodin). The narcotic component is available in a wide pallet of selections, combined with other substances such as acetaminophen, and manufactured by a significant number of pharmaceutical houses.
According to the New York Times, both the Centers for Disease Control and Prevention (CDC) and the World Health Organization (WHO) have documented that the United States, with under 10 percent of the world's population, accounts for 99 percent of the entire world's hydrocodone consumption, 80 percent of the world's oxycodone consumption, and 65 percent of the world's hydromorphone (Dilaudid) consumption. Four years ago, USA Today reported 110 tons of OxyContin and oxycodone prescriptions were written in the Unites States.
Although major preventative deaths such as car accidents are on the decline due to greater technologies and improved safety standards, deaths related to prescription medications have doubled within the last decade according to the L.A. Times. Researchers from Harvard Magazine estimate over 50 percent of pain management prescriptions are unnecessary.
In 2014, almost 2 million Americans abused or were dependent on prescription opioids.
As many as 1 in 4 people who receive prescription opioids long term for non-cancer pain management in primary care settings struggle with addiction.
Overdose deaths and sales involving prescription opioids have quadrupled since 1999. From 1999 to 2014, more than 165,000 people have died in the U.S. from overdoses related to prescription opioids.
Every year, prescription painkillers cause more than 16,000 deaths and 475,000 emergency room visits. According to the Substance Abuse and Mental Health Services Administration (SAMHSA), more than 6.5 million people above the age of 11 used prescription/opioid-based drugs for non-medical reasons in 2013. That's more than cocaine (1.5 million), hallucinogens (1.3 million) and heroin (681,000), combined.
An estimated 20 percent of American adults (42 million people) report that pain or physical discomfort disrupts their sleep on average of three nights per week.
The total annual incremental cost of health care in the United States due to pain was $560 billion dollars in 2010, which combines the medical costs of pain care, the economic costs related to disability days and lost wages and productivity. That figure is significantly higher today.
Drug overdose is the leading cause of accidental death in the U.S. In 2014, there were 47,055 accidental deaths from lethal drug overdoses. This epidemic is being driven with 18,893 deaths related to prescription pain relievers and 10,574 overdose deaths related to heroin.
A common overdose scenario might read: At 24 years of age, Jane, a gifted athlete, had become a nationally ranked track figure. A collision and severe fall required major orthopedic surgery. After hospital discharge, she was given an opioid narcotic to control her pain. But the pain syndrome persisted, rehabilitation went poorly and after several months she still demanded the narcotics for pain. Her frustrated physicians continued the narcotic for only three additional weeks. By then, Jane was firmly hooked. A well-meaning friend introduced Jane to heroin. This route to pain relief was cheaper and easier to obtain than her prescription pain pills. Thereafter, she lost interest in athletics, family, friends and any attempts to help her rehabilitation. Thirteen months later, Jane was found dead from a heroin overdose. Regretfully, Jane's story is all too common. Ninety-four percent of respondents in a 2014 survey of people in treatment for opioid addiction said they chose to use heroin because prescription opioids were "far more expensive and harder to obtain."
Consider the economics of joint pain (the most prevalent site of pain in the U.S. adult population), which affects 28 percent of the U.S. population age 20 and above. Consumers spend approximately $22 billion annually out of pocket or an average of $367 per year per person for various products to reduce pain. Current therapeutic modalities for managing joint pain include physical therapy, intra-articular injections, surgery and medications, all which have their limitations regarding efficacy, cost and risk.
Based on the growing problem of the opioid epidemic, the economics of pain and thousands of cases similar to Jane's, it is clear there is a tremendous demand for credible FDA-regulated alternatives to pain relief using safe and effective digital smart technology. Further, technology-focused companies capable of applying and integrating technological advancement and credible scientific solutions to address and solve these same crisis-level challenges long-term, offer a sound basis for innovation. Clearly, newly-developed safe and effective digital approaches to pain management have broad industrial and economic implications.
Newly developed bio-molecular and bio-electronic technology offers the possibility of making progress in addressing the opioid epidemic. NASA-developed technology has advanced beyond its original capabilities to digital smart technology.
For over two decades, physicians, bio-physicists, bio-engineers and research scientists have been exploring, developing and refining a practical, safe and effective non-invasive smart digital medical technology platform. The latest iteration of this "technceutical" device, branded the Willow Curve, is FDA registered and is classified as a low risk device. It is composed of multiple energies, which include dynamic photonic (energies both in the visible and invisible spectrums) and thermal kinetic energy. The customized digital prescription may change thousands of times/second in concert with the sensory data collected. The digital prescription is continuously adjusted in real time to address fluctuating conditions in the treatment area. The Curve is designed to treat body areas that fit under the arched treatment surface.
In the simplest of terms, the Curve works via two therapeutic paths. Initially there is a local release of nitric oxide, which produces vasodilatation and increased blood flow. A sequence of 15 complex bio-physiologic processes are triggered which results in reduced inflammation, reduced swelling, consumption and removal of toxic debris and pain reduction. The second therapeutic path involves biomodulation in the peripheral and central nervous system promoting pain relief. A controlled, randomized, double blind study has confirmed the effectiveness and safety of the technology in relieving joint pain, improving mobility and enhancing performance.
Today patients and health care professionals have an additional modality to achieve musculoskeletal pain relief. The Willow Curve may be used as a standalone treatment or in concert with other traditional treatments. Digital technology is particularly attractive and useful for those who are unable to or prefer not to take oral pain killers. Figure 1 illustrates the mode of action of this digital technology. Figure 2 contrasts the effects upon the body between opioids and the Curve. 
Figure 1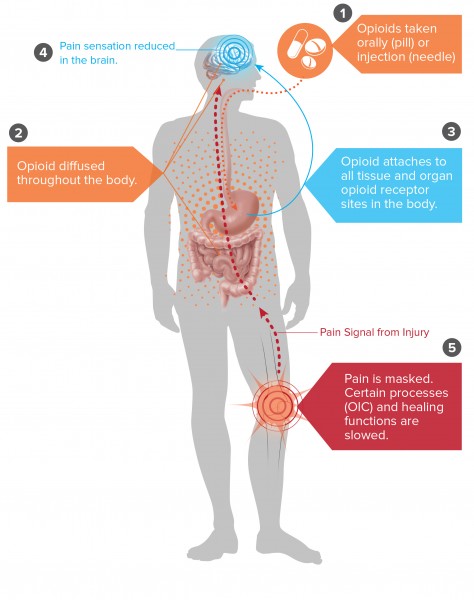 Figure 2