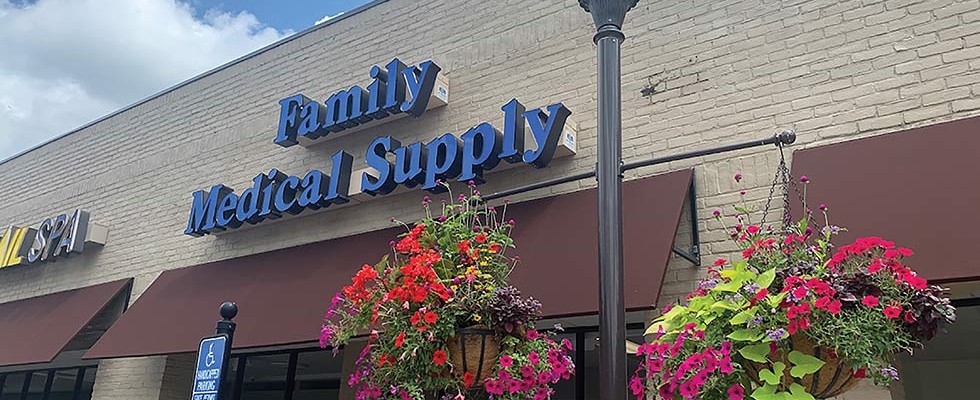 With increasing complications for medical equipment reimbursement, one provider decides insurance isn't the way to go
Tuesday, September 26, 2023
Cecelia Blackmon grew up with parents working in health care. So, she said, it was only natural for her to follow in their footsteps.
As an owner and CEO of Family Medical Supply Store based in Birmingham, Alabama, Blackmon oversees a retail home medical equipment (HME) business with a 1,200-square-foot showroom. With a large stock of items, Family Medical Supply carries brands such as Sunset, Drive, McKesson and more. It's important, Blackmon said, that customers can try out a wide array of products and find something that best suits them and their needs.
"If you go with a traditional DME [durable medical equipment] company, you get what they hand you," Blackmon said. "If you need a rolling walker, they're going to bring you a standard rolling walker, whereas you may not necessarily need that. You may need a rollator."
Family Medical Supply opened in 2019, carrying only the basics that Blackmon knew people would need. Over time, as she got to know her customer base and what they couldn't find elsewhere, they adapted and added new items to their showroom.
Keeping a large stock of products on hand isn't too difficult, Blackmon said. The only hard part is having to wait on back orders from manufacturers, which has eased up since the middle of the COVID-19 pandemic when shortages were at their worst. The most profitable products for Family Medical Supply are mobility items—walkers, rollators, knee scooters and wheelchairs.
The promise of choice is a benefit that Family Medical Supply finds in being a retail-based HME business. Blackmon felt that not accepting insurance was the right direction for her to take her business for multiple reasons.
"Insurance wants the least expensive item," she said. "So, someone that's had ankle or foot surgery, a lot of people want the knee scooter because it's going to be easier for them to get around and get back to daily life. But insurance says, 'Nope, we're going to pay for crutches only.' So that's the big thing. You don't necessarily get what you need with insurance."
Additionally, insurance hinders HME businesses when it comes to making a profit, she said
"I can't accept $40 for something that cost me $120. Right now, all of the CPAP companies are having price increases, but insurance is dropping how much they're paying," she said. "I can't provide something to somebody that the insurance is going to pay less than what I paid for."
The cost of the product isn't always the only expenditure either. There are also expenses required to pay someone to collect and check documentation and ensure patients qualify. Alternately, if an insurance company prefers to rent an item out, Blackmon said, she would have to pay a staff member to manage the monthly rental payments.
Not taking insurance can also be better for customers, she said. Instead of hassling over documentation, qualification and authorization—a process that can take a week—a customer can walk into Family Medical Supply, get what they need and walk out with it the same day.
While Family Medical Supply doesn't take insurance themselves, many of the items the company sells are routinely covered by Medicare or private insurers, and Blackmon said the store staff helps customers seek reimbursement for their retail purchases. This is an additional service many retailers don't take on, but one Blackmon felt was important to provide.
Someone at the store sits down with the customer and helps them fill out their reimbursement form, assemble the claim and put it in a pre-addressed envelope with postage. Afterward, all the customer needs to do is drop it in the mailbox outside the storefront on the way out.
"A lot of people don't know insurance," Blackmon said. "They don't understand; they're not taught how it works. And so, [we're] just helping people, because that's what my family has always done."
Being a retail-based medical equipment provider is a relatively new concept, Blackmon said, which means other HME providers sometimes aren't sure how to go about it. However, with the steady increase of hurdles HME faces from payers and the Centers for Medicare & Medicaid Services, more providers are considering changing their business model.
Blackmon's tip to those exploring the retail side of HME? Don't let yourself believe you're stuck.
"Your biggest thing to start off with is knowing that you can do it," she said. "You can go into retail—you're not stuck in just the insurance part of it. That's a mental block that a lot of people have. They think that they can't do it because they've taken insurance [in the past]. Just because you accept insurance, doesn't mean you can't sell retail."