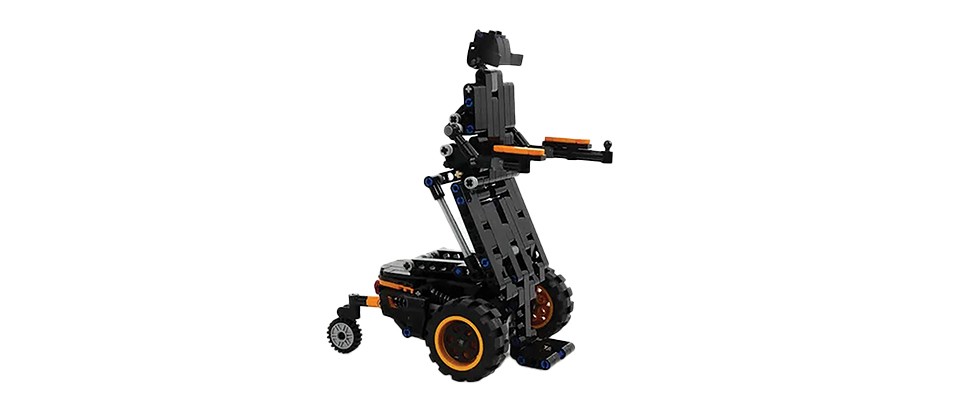 This Permobil engineer is spreading helping spread awareness brick by brick
Tuesday, November 14, 2023
It has been more than two decades since Lego added the molded form manual wheelchair to its lineup, and a lot has changed in the mobility world in the past 20 years—especially considering the evolution of wheelchairs.
Anton Danielsson displays those changes in his Permobil F5 Corpus VS Power Wheelchair Lego Ideas set, which is almost 7 inches tall and is made up of a little more than 400 pieces.
"I wanted to celebrate inclusivity by building a fully functional wheelchair in Lego," said Danielsson, who is the lead engineer of chassis development at Permobil in Sweden.
The project began in 2018 when Danielsson rediscovered his childhood love for Lego and started doing what comes naturally to him—tinkering and building.
"I noticed no one had really made a proper power wheelchair in Lego … (and) it's not that often that you get to be one of the first to do something today," Danielsson said. "So, I had very, very rough prototypes of the Permobil in Lego."
At the same time, Permobil's human resources department was scrambling. The CEO was leaving the company, and they
had no idea what to give as a farewell gift.
Knowing Danielsson's creative side, the team came to him, and he convinced them to let him present a finished version of the wheelchair set as the farewell gift.
It was a hit with everybody. Colleagues and those around him were very eager to get their hands on their own version, Danielsson said. Then, a co-worker told him about Lego Ideas, where fan designers can submit their own builds. If an idea receives 10,000 different user votes, the project will become eligible for review and considered for production, with the possibility of becoming an official Lego set.
"I thought, 'Yeah, why not,'" Danielsson said. "If this set could bring joy to someone, or even just shine a light on the amazing individuals who use power wheelchairs, I'm all for that."
The set, which he submitted this summer, is as fully functioning as Danielsson could possibly make it, with combined anterior and posterior tilt mechanisms, suspension and foldable arm rests and foot plates.
"I love practical stuff," he said. "I hate dead toys that you can't do anything with, that you can't interact with. And also, power wheelchairs, especially the kind the Permobil makes, are very much mechanical wonders that can interact and line up with the joints of the human. So, I really wanted to showcase all that functionality."
One of the biggest difficulties he found in both making real power chairs and the Lego interpretation was space constraints.
"There's never enough space to do what you need to do," he said. "I struggled quite a bit with getting the geometry of the standing feature to work, but that's also what's so rewarding with Lego, once you finally figure it out."
So far, Danielsson's project has received a little more than 2,200 votes. And the support from friends, family and colleagues from all around the world has been humbling.
"What also really surprised me," he said, "was all of the lovely comments that I got from the users in the Lego Ideas comment section of people wanting to have one to build with their kids or that were parents of kids who have wheelchairs. It's been very, very heartwarming to read."
Danielsson said it would "be awesome" if someone wants to support his Ideas set. To vote for his Permobil F5 Corpus VS Power Wheelchair, click here.