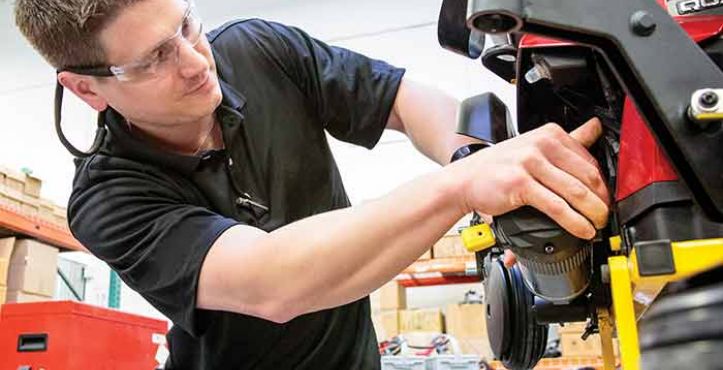 5 ways HME providers can step up service and ensure end-user peace of mind
Most state-of-the-art mobility products are produced with safety, comfort and style in mind. As with any electronic product, however, mobility products need maintenance and at times, repairs. Manufacturers design products with ease of serviceability in mind—information that should be passed on from the home medical equipment provider to the end user. The following are five ways providers can improve their processes before and during the servicing of a power chair.
1. Review new products
When presenting a new product to an end user, it is important to review the product in detail with him or her before the product is used for the first time. The consumer should read all information provided with the mobility device. This information includes the owner's manual, product specifications sheet, consumer safety guide, basic operating instructions and warranty policy. Basic operating instructions may also be supplied for a seating system and an electronic controller on a power chair. The instructions for controllers include not only how to operate the controller, but also how error or fault codes are displayed and what they mean.
In addition, go over the product in detail with the consumer. Make sure he or she understands how to properly operate the device and have the person test drive the product. At this time, the provider should see how the product fits the end user, ask the person how it feels, and make any necessary initial comfort adjustments.
2. Note ease of serviceability
Modern mobility products are designed with ease of serviceability in mind. For instance, power chairs should have ease of joystick removal and joystick servicing. Chairs can be easily disassembled—bottom plates should be removable from the rear to service the motors and controller. Some power chairs have one piece shrouding that can be rapidly removed. Other models offer side battery access so the batteries can slide out after removing the thumbscrews. Batteries are often housed directly under the seat, but on some chairs, the seat does not need to be removed for access. Other models offer front access to the controller, with plenty of room to remove and unplug harnessing without unscrewing any shrouds. Some chairs with positioning systems offer width adjustments without removing any seat pans, and depth adjustments that slide on the slide track.
3. Use online resources
Online technical service resources can include order forms, technical service glossaries, techno-bulletins, part replacement guides, installation instructions, basic and technical troubleshooting instructions, illustrated parts breakdowns, parts and product quotes and order checklists, various tools and more. Some manufacturers also provide guidance via the Skype video call platform.
The video-sharing website Vimeo also houses technical resources for providers. There are informational product videos for sales representatives, providers, technicians, clinicians and therapists. Vimeo offers password protection, so more technical videos, such as advanced programming or troubleshooting can be shared with providers than what is shared on YouTube. Additionally, Vimeo does not have any advertisements and features a cleaner layout with larger videos.
4. Contact technical service
When calling or emailing the technical service department of a manufacturer, it's important for providers to have the serial number of the product they are calling about. The serial number will populate a list of all components and parts that were on a product at the time it was purchased.
It is also crucial that the person calling provides the name of who to contact at the provider, with a callback number and an active email address.
5. Get interactive options
Some manufacturers now offer a diagnostics app to provide service technicians with a direct, real-time connection from a power chair's electronics to a provider's programming station. The connection provides the technician with full-system and diagnostics information along with tools, such as a real-time mirror image of the power chair's electronics display, to aid in eliminating wasteful trips to the provider's location.
Using a diagnostic app, a provider may be able to quickly resolve battery management issues, charging problems and motor problems. These programs also allow basic programming functions, error code history, troubleshooting, remote connection to programming, photo albums, dealer-to-dealer connection and real-time problem monitoring. Connecting via diagnostics app, a provider is in his or her office can distribute maintenance solutions to an end user is in his or her living room, saving time and travel for both parties.
Apps like this are available for download on the Apple App Store and on Google Play. Check with your manufacturer to see what options are available to you and your equipment.
Conclusion
With so many resources available to providers to help them with repairs and troubleshooting, servicing mobility products has become an easier process. While manufacturers are dedicated to helping providers sell products, they also want to ensure consumers enjoy their product and experience the lifestyle they deserve with a scooter or power chair that is in top condition. By offering products that are easy to service, as well as a wide array of troubleshooting and repair methods, providers have all the tools they need for success.