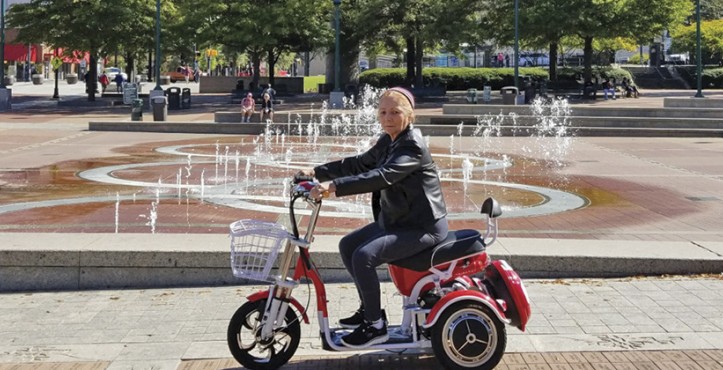 Trikaroo (pronounced trike-a-roo) scooters were born out of the pedicab industry.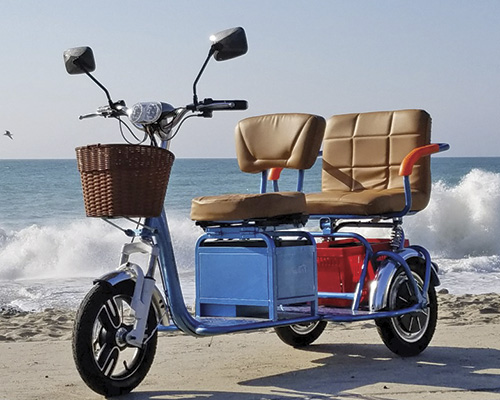 Founder Gina M. Garcia listened to her customers' desire for a smaller, electric vehicle that could be used for mobility purposes. The flagship Boomer (named for a male kangaroo) is sturdy enough to transport two people as well as cargo, but small enough to fit through a standard doorway.
Garcia set out to design an electric vehicle that would provide people independence and freedom, and at the request of her mother, look cool and not like a mobility device. All of Trikaroo's products—from the Boomer to the smallest Buck—seat two people but have stylish lines and zippy speeds of up to 16 miles per hour. The fun color options help with the appeal of the vehicles, too.
Tandem scooter options are rarely found in the HME market, and providing these has opened Trikaroo up to the caregiver space.
Garcia says, "We are helping caregivers and their loved ones not be shut-ins in communities with limited access. A lot of caregivers may not be able to push a wheelchair, but they can drive a Trikaroo."
Trikaroo began with a vision for a reinvention of the bicycle company Garcia began after leaving the Navy. The veteran small-business owner believes in listening to her customers' wishes. The evolution of the Trikaroo product line has included the addition of rear suspension to make the passengers more comfortable and safer, and Bluetooth compatibility for taking tunes on the go. When Garcia set out to reinvent her product, she also reinvented herself from years of battling PTSD after childhood trauma. Her story is told in the film "Untold," released in 2015.
Garcia received the Veteran of Influence Award from the Orlando Business Journal in 2015.