Answers from industry experts
Friday, September 23rd, 2016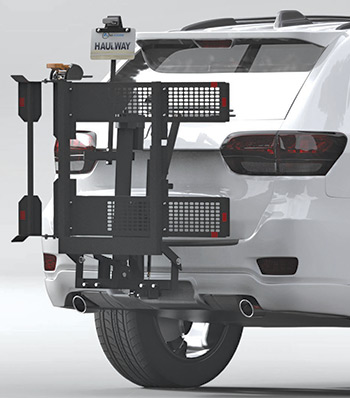 HALLWAY Standard vehicle lift
EZ-ACCESS Home Health Care
Cy Corgan, National Sales Manager
www.ezaccess.com
What does EZ-ACCESS Home Health Care offer for its vehicle lift consumers?
CORGAN: With easy-to-use features, the HAULWAY lift line takes the worry out of transporting scooters or power chairs—whether you're just driving across town or across the country. EZ-ACCESS offers three exterior lifts: the HAULWAY Lite, designed for compact three- or four-wheel scooters; the HAULWAY Standard, designed for medium to large scooters and most power chairs; and the HAULWAY Heavy Duty, designed for larger scooters and power chairs with a weight capacity of 350 pounds.
Do you see any current or upcoming trends in the vehicle lift market this year?
CORGAN: The trend for 2016 continues to move toward a lightweight lift that allows additional weight to be factored into the application.
What vehicle lift market difficulties is EZ-ACCESS Home Health Care currently working to overcome?
CORGAN: From a manufacturer perspective, the big challenge is maintaining a vehicle database that allows the dealer to select a lift that is compatible with both the mobility device and the vehicle. We offer the Lift Matcher tool online, which makes it easy and efficient for our dealers and consumers to select the appropriate lift for the needs and vehicle presented.
Should we expect to see any changes in the coming months as you work to stay competitive within the expanding vehicle lifts market?
CORGAN: With the HAULWAY lift line you will soon see a new lift activation design as well as a built-in power source. These innovations will make the lifts easier to operate and expand the applications for vehicle installations.
How can your products help HME dealers and other health care providers meet their challenges?
CORGAN: The HAULWAY lift line is a cash product. This vehicle lift line will fit into a dealer's retail sales business plan as long as they have been properly trained and educated on how to present and sell the product.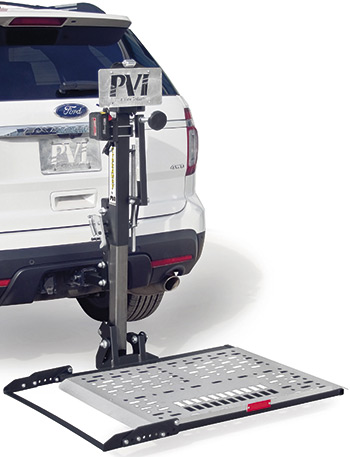 Lift with optional plug-and-play battery kit
Prairie View Industries Fred Jensen, Vice President, Sales/Business Development
www.pviramps.com
What makes PVI vehicle lift products stand out in the market?
JENSEN: We have come up with what we believe to be the simplest, easiest system for powering vehicle lifts with our plug-and-play lift system. This is a simple battery that has a charge indicator on it. In most cases in the past, vehicle lifts were hardwired to the vehicle.
How can your products help HME and other health care providers in terms of customer traffic and sales?
JENSEN: We feel strongly that vehicle lifts should be sitting on the showroom floor of these stores. We provide free display stands to dealers to assist with this. The intent is that a power chair or scooter that is already sitting on the showroom floor should be on this vehicle lift display. With our battery pack, this is simple; otherwise most lifts cannot be powered on the showroom floor.
How does PVI plan to stay competitive in the vehicle lifts market?
JENSEN: Our lift is neither the least expensive nor the most expensive option on the market. One thing is that our vehicle lifts are easily transferrable from one vehicle to another if they are used with our plug-and-play battery kit—another way we keep things easy. The lifts may also be hardwired if preferred by the customer.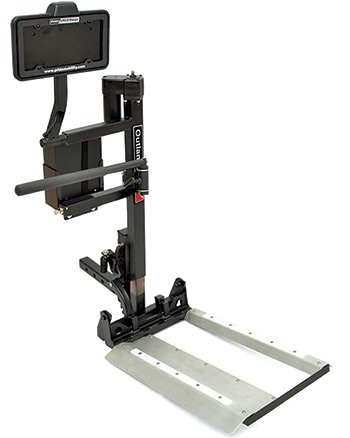 Outlander LP Exterior Vehicle Lift
Pride Mobility Products Corp.
Renae Favata-Storie, Eastern Regional Sales Director, Jazzy and Retail Mobility
pridemobility.com
What trends are you noticing in the vehicle lifts market right now?
FAVATA-STORIE: With the aging baby boomer and senior population now on a steady rise, the ability to transport mobility products such as power chairs and scooters in an easy, affordable way—without having to modify or replace a current vehicle—is in greater demand than ever before. Therefore, vehicle lifts are increasingly versatile toward applications on the widest range of models, from cars to trucks and luxury SUVs, travel mobility scooters to power chairs—and ease-of-use is imperative. Plug-and-play installation in hitch mounts—as well as exceptional ease-of-use with the mobility product, are vital to consumers.
How do Pride Mobility Products Corp. vehicle lifts help HME dealers and other health care providers meet new challenges?
FAVATA-STORIE: Vehicle lifts, with few exceptions, are cash/retail purchases. As a result, lifts are a fantastic cash growth opportunity for providers when other areas of the reimbursement business may be changing or diminishing. We see many providers and dealers
dramatically growing their retail mobility sales, and vehicle lifts are an integral part of the equation—consumers need to be able to transport the mobility device. When a consumer purchases a scooter, for example, adding a vehicle lift to the retail sale is a tremendous benefit for both the provider and consumer. It's a win-win.
What is one way Pride Mobility Products Corp. plans to stay competitive in the vehicle lifts market in 2016-2017?
FAVATA-STORIE: The Outlander LP Exterior Vehicle Lift from Pride is a low-profile lift that allows consumers with Class II, III and IV hitches to lift their power chairs. The Outlander LP is compatible with 10-inch and 14-inch mid-wheel drive power chairs, and is designed with absorption qualities to protect the power chair on the road. With a 350-pound weight capacity, the Outlander LP Exterior Vehicle Lift meets a wide range of mid-wheel power chair transport needs.
What is the best way for HME dealers and other health care providers to increase revenue and remain competitive?
FAVATA-STORIE: Education. Product knowledge is an absolute must. The more a provider or dealer knows about a particular vehicle lift's features, installation and application, the better he or she can promote the vehicle lift to the consumer. Additionally, a vehicle lift must be properly matched to both the vehicle and the mobility product, so the greater the provider's knowledge, the greater the ultimate customer satisfaction (often leading to word-of-mouth advertising, too). Knowing the ins and outs of vehicle lifts and how to present them to the customer is a retail recipe for success.