We hear from 4 companies about trends and challenges in the market
Wednesday, September 30th, 2015
Transfer Pants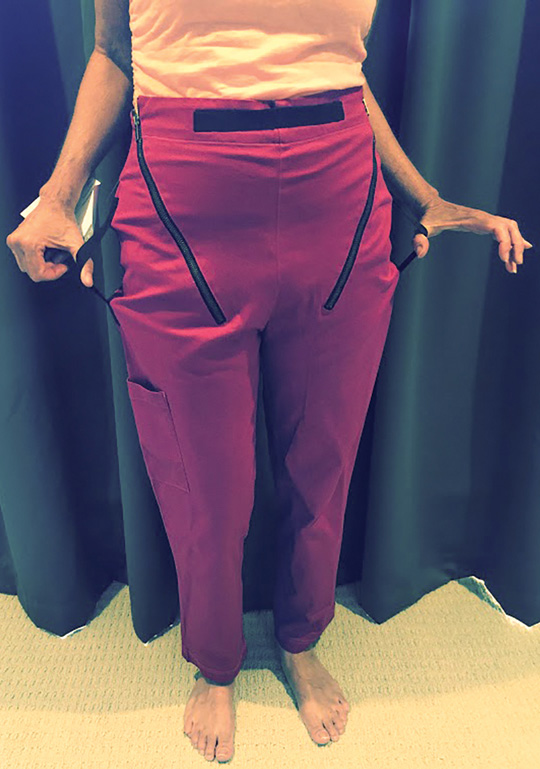 Transfer Pants
Tell us about your company.
O'BRIEN: Transfer Pants are a patient transfer device made with heavy-duty nylon handles sewn into the pants and the liner to prevent falls and injuries.
What trends do you see emerging?
O'BRIEN: I believe new designs in wheelchairs that can raise an individual to eye level will be popular in the future. Another trend is any type of mobility lift that enables an individual to more easily gain access to the outdoors.
How is competitive bidding affecting new products entering this market?
O'BRIEN: It strangles emerging products due to limiting choices with Medicare and creates financial hardships for customers who want access to these products.
How is your company staying competitive this year?
O'BRIEN: We will have a new line of transfer clothing available soon that includes shorts, skirts and capri pants for women and prewashed denim pants in multiple colors. We are in the process of licensing our patent to manufacturers.
How does customer service fit in to the HME business model?
O'BRIEN: HME stores need to evolve from a Medicare-based reimbursement system to a retail-focused system.
Lavin Lift Straps
Donna Gilkey Lavin, VP Sales & Marketing www.lavinlift.com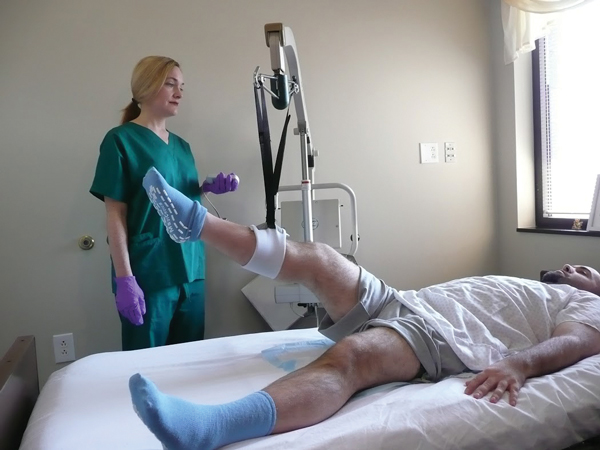 Lavin Limb Lift
What are your company's primary product offerings?
LAVIN: We manufacture specialty patient lift straps (reusable and disposable) for procedures that require limb suspension and/or lifting the lower half of a person's torso. Lavin Lift Straps allow limbs to be securely lifted higher and at a greater range of motion. Because the Lavin Lift Strap is not meant to be used for patient transport in any manner, it can be considered a complimentary product to the slings currently on the market.
What trends do you see on the horizon?
LAVIN: Homes and institutions will likely purchase more heavy-duty patient lifts for bariatric safe patient handling. In addition, the emphasis on overhead lifts for both institutions and homecare will continue, particularly in new or remodeling projects.
What challenges do you anticipate?
LAVIN: Medicare and Medicaid will continue to drive the market. Government reimbursement will continue to shrink, resulting in a combination of private pay and/or supplemental insurance coverage required from customers by HMEs in order to have a sustainable business.
How does your company keep on top of the trends?
LAVIN: We will continue to be a specialty limb strap manufacturer providing products that help people take care of patients, not transport them. Transport and positioning slings and devices have been around for ages, but we pioneered the safe and secure strap procedure for lifting, cleaning and changing the lower half of a bedridden patient.
How can struggling HMEs increase their revenue?
LAVIN: Think outside the box! In addition to the business you currently count on, look at new markets and devise a solution. Become your customers' expert in how they set up for and survive home caregiving for their loved ones.
Where does education fit in?
LAVIN: Great customer service is not complete without great customer education. Homecare customers will continue to grow as a market, so educate them as to how you can take care of them with items they didn't even know exist.
Handicare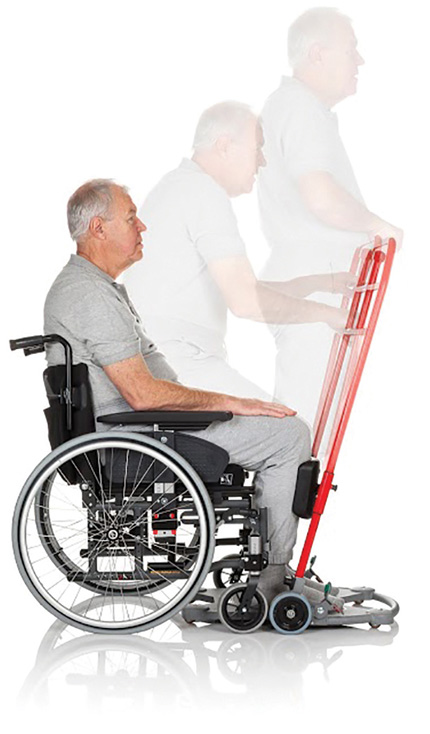 BeasyTrans Systems
What is Handicare known for in the lifts & transfer market?
Sigvardsson: Handicare's concentration is to make daily lifting easy for patients and caregivers across the entire spectrum of health care, which includes patients cared for at home and in nursing homes, hospitals and rehab centers. Our broad product line covers the vast needs of patients and caregivers.
What trends are you most excited about?
Sigvardsson: The major one is early mobilization, which reduces time spent in care facilities. This trend is accelerated by how reimbursement is provided for care outside the home. Second is the preference for simple, innovative support products versus complex, expensive options.
Where are the largest roadblocks?
Sigvardsson: The most significant challenge is to make patients, caregivers and decision makers aware of these new and simple aids that are available; on the HME side, these can be great retail items.
How do you stay innovative?
Sigvardsson: We constantly work directly with patients and caregivers to identify needs and challenges in the daily care situation. Based on our studies, we've introduced several simple-to-use and inexpensive products for both home care as well as health care facilities.
Any advice for providers?
Sigvardsson: Focus on simple, easy-to-use products that generate cash payments, so your customers don't have to go through insurance.
Can HMEs improve their businesses by enhancing customer interaction?
Sigvardsson: This is so important, as patients and caregivers alike need assistance and clinically focused advice to help solve the challenges they face. Having a support team that can provide that information is crucial; it's that extra step beyond teaching them how to use the product correctly, and having an overall understanding of the benefits.
BeasyTrans Systems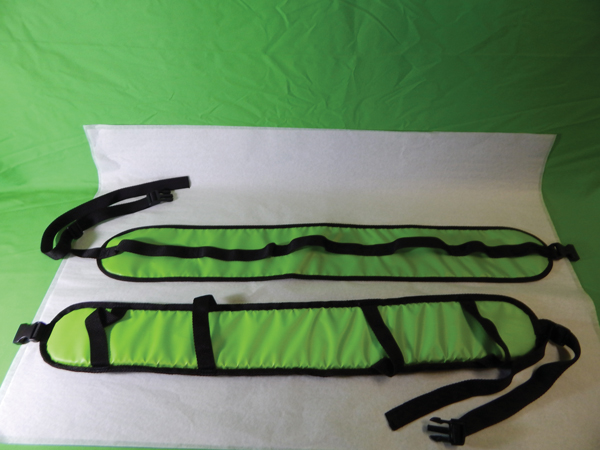 Handicare ReTurn
Where does your company fit into the transfer market?
Pavek: The Beasy Board is unique because of its sliding seat technology. The patient sits on the seat and the caregiver helps to guide the patient from surface to surface in a gliding motion.
What broad challenges does your company face?
Pavek: The greatest challenge for us is the Affordable Care Act and the fact that the Beasy Board is a higher priced item. As a result, only a partial reimbursement is available. We have managed to work around this sticking point for 20 years by continuing to broadcast the fact that the Beasy Board eliminates the need to lift patients.
How can HME provider\'92s improve their businesses?
Pavek: From the perspective of a manufacturer of a medical device, I would say that marketing and getting the word out is the best way to increase revenue. HME providers need to be much more engaged in their product lines, especially those from established and reputable manufacturers.
How can customer interaction affect a provider's business?
Pavek:Customer service and education are everything in this business. To sell a product such as the Beasy Board, the provider must be prepared to explain why a Beasy Board is better for the patient as well as the caregiver. This all comes through educating yourself about the products you are selling.