Answers from industry experts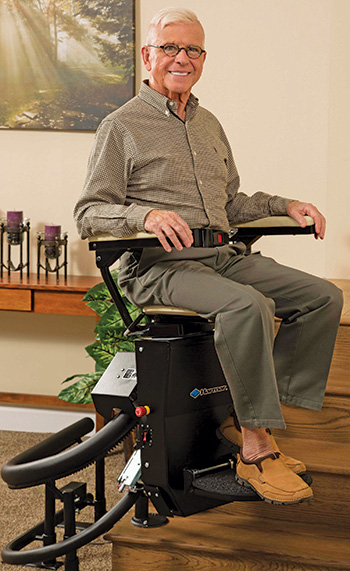 Helix curved stairlift
Harmar
David Baxter
VP, Marketing
www.harmar.com
What products does your company offer in the stairlift market?
BAXTER: Harmar manufactures several stairlift models to meet the variety of needs of the marketplace.The Helix curved stairlift is a high-capacity, elegantly styled solution for staircases that have 90-degree, 180-degree or even sweeping turns. The Pinnacle premium straight stairlift product family offers a nylon polymer helical worm gear for a smooth, energy efficient ride and compact design features for less obstructive installation. The Vantage straight stairlifts are a lower-cost, rack and pinion drive stairlift. The SL400 is designed for situations where affordability is an issue and basic performance is all that is required. The Summit Series straight stairlifts are cable-drive stairlifts. The SL350AC is designed for AC-power applications. Harmar's Summit also has an outdoor version, the SL350OD.
How is the stairlift industry changing, and how do you plan to adjust for these changes?
Baxter: Harmar will be enhancing its production capacity and creating a greater variety of models and options to meet the changing needs of the marketplace. The demographic data of people over age 75 is expected to grow significantly based on baby-boomer trends. They are more technically savvy and are accustomed to creature comforts. These trends, coupled with the fact that this group trends towards having more disposable income, make a strong case for enhanced features and benefits.
What is one way your company plans to stay competitive in the coming year?
Baxter: Harmar believes that many consumers will explore different paths of acquiring a stairlift. Some will work with their trusted HME provider that helped them with another product; some will look to buy from an expert stairlift dealer; some may look to rent; some may look to buy used; and others may even look to the internet. Harmar is committed to providing stairlifts to and through dealers with strong technical support to ensure its products are priced and specified correctly, and installed and serviced efficiently. We are investing heavily in training to ensure our full-service dealers provide a positive Harmar experience to end users.
What challenges are providers or consumers reporting to you?
Baxter: Most of the challenges we hear come from consumers either being overwhelmed with the marketing of stairlifts or being underserved post-sale. The population has spread out from city centers, and many people who have/need stairlifts are users in remote areas. This creates the need for more technicians to be available for installation and repair. Harmar has invested heavily in creating training content and events to ensure consumers can receive strong pre- and post-sale service from knowledgeable distributors.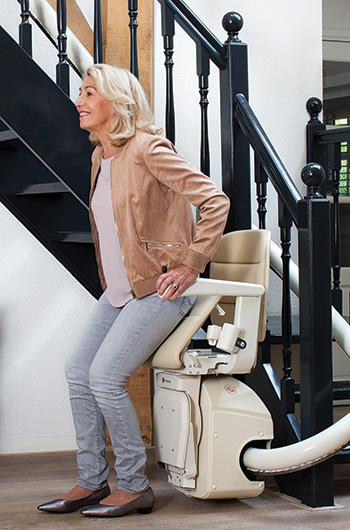 The Active Seat on a Handicare Freecurve stairlift
Handicare
Jeremy Bespalko
Vice President of Sales
www.handicare.com
Tell us about your company's place in the stairlift market.
BESPALKO: Handicare offers a range of indoor and outdoor stairlifts for both straight and curved applications. Where Handicare differs is in the array of options that can be selected for each stairlift model, ensuring that all customers' needs are met. Handicare understands that one size does not fit all architectural styles or mobility needs, and we strive to provide our customers a wide selection of features that will make their stairlift not only a safe and reliable experience, but a convenient one.
How is the stairlift industry changing, and how do you plan to adjust for these changes?
BESPALKO: More people are seeing the value of staying at home and aging in place. As they look for solutions that allow them to remain independent within their own home, they are often gravitating toward custom stairlifts that not only meet their personal needs, but also their home's unique architectural specifications. As a result, Handicare continues to remain ahead of the curve by expanding the options available for our custom, made-to-order curved stairlift line.
What is one way your company plans to stay competitive in the coming year?
BESPALKO: With a 130-year history that is rich in innovation, Handicare continues to invest in research and development, which includes products, programs and tools. As the market continues to shift toward custom solutions, Handicare has invested in developing key tools that allow our dealers to not only measure more effectively, but to show homeowners exactly how their stairlift will appear on their staircase as they are meeting in the home during the first site visit. Both the Vision mobile app and the EnviSion PhotoSurvey3D tool enable users to visualize how their designed stairlift will appear in their home by incorporating images of their home into the software.
Working in the industry, we understand all of the options that are available and what is best for the homeowner; but for our customers, this is often their first interaction with a stairlift, and the visual provides them the assurance they are looking for prior to purchasing.
What challenges are providers or consumers reporting to you?
BESPALKO: Fixed incomes, including a lack of funding through Medicare and private insurance, continue to challenge the stairlift industry. Handicare, as a result, provides financing solutions to ensure that remaining independent in one's home is still an option for our customers.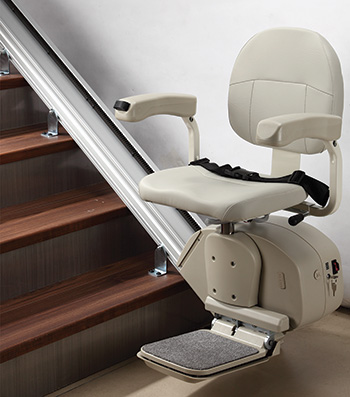 The E603 Aviator Stairlift
Merits USA
Andy Scothern
National Sales Manager Pilot Division
www.meritsusa.com
Tell us about your company's products for the stairlift market.
SCOTHERN: Pilot, a new division of Merits Health, is focused on offering premium features at a base-level price. Key switches, over-speed governor, retractable seat belt, obstruction sensors and a motor break are all standard. The Aviator unit also comes with fully adjustable seat height, wide armrests, choice of three upholstery colors, soft start and stop technology, 350-pound weight capacity and the unit can be re-handed in minutes for left or right operation.
What changes do you see coming for the stairlift market, and how do you plan to adjust for these changes?
SCOTHERN: Aging in place and baby boomers are impacting this business. The market segment is estimated to grow drastically in the coming years and is currently growing around 7 percent annually. Pilot is launching a straight and curved lift immediately, but plans are in the works to develop a lift for every type of staircase to accommodate future demand.
What is one way you plan to stay competitive in the coming year?
SCOTHERN: We plan to launch a full line of stairlifts all competitively priced. Our goal is to have a stairlift that is compatible for every situation, at multiple price points.
What challenges do you hear from consumers?
SCOTHERN: Problems on installation by untrained people is one common complaint. Having a stairlift drop shipped to your house can be challenging, and issues can arise during installation and with warranty issues. Pilot's goal is to have a dealer network with trained, certified installers for all of our stairlifts.
Dear Readers,
Do you have questions for the experts about a market segment? Send them to ecarey@cahabamedia.com or keasterling@cahamedia.com.