Answers from industry experts
Thursday, June 15th, 2017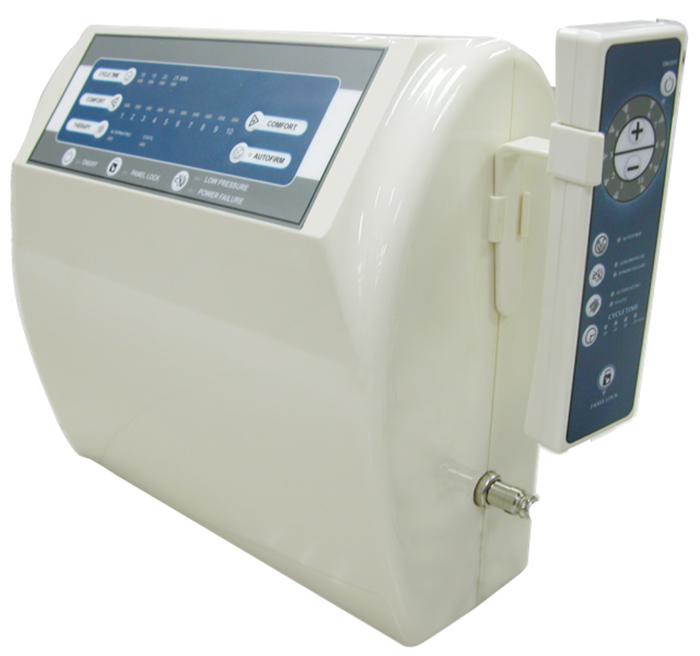 Remote Control TradeWind ATS system
Blue Chip Medical Products Inc.
Ron Resnick
President
www.bluechipmedical.com
What role does your company play in the bed market?
RESNICK: Blue Chip Medical manufactures specialty mattresses, supporting pumps and compressors that serve people living with spinal cord injuries; degenerative and neuromuscular diseases; and chronic and pediatric conditions. Our product development is based on feedback from clinical specialists in hospitals. This is an extremely price sensitive area, but clinical efficacy and quality outcomes are our primary focus. We are conscious and trained on the variables that people just don't think about when choosing a medically-necessary bed.
What has been a game changer for you?
RESNICK: We've just come out with a remote control pump system. Many times when patients are bed bound, they have to ask a caregiver to make adjustments to the mattress. The key here is patient independence—we want patients to be as independent as they can be, which improves quality of life for the patients themselves and their family members. It also helps with compliance, and we have worked closely with bed manufacturers as part of developing new strategies to achieve this.
What strategic shift in thinking or business would be invaluable for dealers?
RESNICK: If you are in the wound care business, you have to understand how the products work, the clinical efficacies of the product, and how to talk to a wound care nurse, doctor or specialist—and you have to know how to bill properly. Essentially, for a dealer to be effective, they need to make a commitment to be educated. They need to be able to explain to family members what they're getting and how to use the products effectively. Medical equipment is a mystery for most people, so dealers can play an important role in the homecare space.
What are some ways dealers can expand payer networks?
RESNICK: Many dealers find it difficult to approach new markets. We also find that dealers have a hard time envisioning how they can expand their business by offering and specializing in a particular area. Today, dealers have to venture outside of their comfort zone. Making sales calls to a hospice company, the VA, a traditional hospital or nontraditional payer can open doors for growing the business. Blue Chip Medical gives dealers the vernacular and tools they need to have the confidence to approach new markets. We also know there's a profound market for service.
How have changes in the market affected your business?
RESNICK: We're starting to get a lot of calls from the consumer side. Many times a bed size is ordered online, but another size is more appropriate. An effective mattress must meet clinical specifications. We might get a call from a couple that needs a dual-functioning mattress system that meets a clinical specification on one side but not the other. Our goal is to learn as much about the needs and then tailor-make a mattress system that improves outcomes and quality of life for the couple.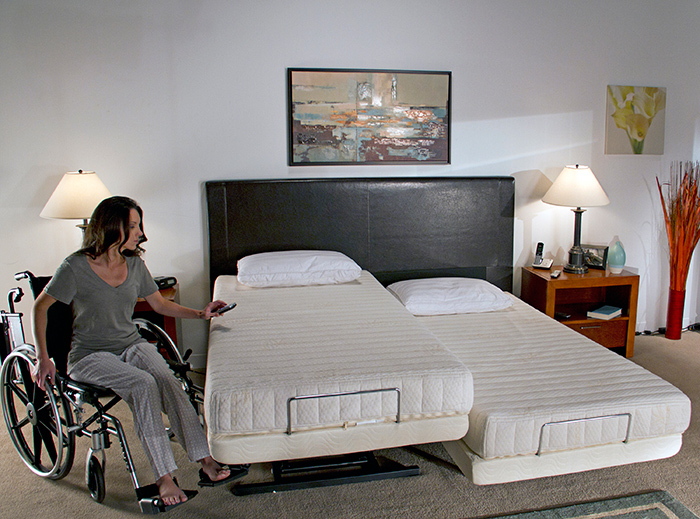 Supernal Hi-Low shown as Dual King
Transfer Master
Aaron Goldsmith
President and Founder
www.transfermaster.com
How do you approach product development?
GOLDSMITH: When we perceive a common unfilled need, we design a product or feature to meet that need. For example, the patent for our Supernal Snap N Sleep came about because of the common complaints that electric beds are too hard to deliver. We conceived a simple way to split the bed in two and easily assemble it without the need for tools. Virtually all of our models came about as a result of answering unmet needs.
What has been a game changer for you?
GOLDSMITH: We designed the Supernal Snap N Sleep adjustable bed. It is specifically designed for e-commerce sales and cash-and-carry situations. Its patented design and super light weight allows a single person to set up the bed without the need for tools.
What trends do you see in the bed market?
GOLDSMITH: E-commerce is the elephant in the room. Dealers need to be able to respond quickly to keep their share and grow in this new market. The advantage they have over the online presence is the customer's ability to touch and feel the product. Despite the fact that most people like to touch and feel a bed before buying, we are seeing an explosive growth of online sales, with customers ordering sight unseen. If dealers expect to compete effectively against online sales, they need to commit themselves to have display models.
How is the language of beds in the HME market changing as a strategy for connecting with new, potential product users?
GOLDSMITH: Two or three years ago, most dealers didn't know the difference between a twin, full or queen size bed. They only knew the Medicare code for standard hospital-sized beds. Today, this consumer friendly wording is much more commonplace, and many dealers are excited to know that we can provide them queen size hospital beds that look like furniture.
How are bed heights engineered to give you an advantage, and how can a caregiver best strategize bed heights?
GOLDSMITH: We go through a simple phone evaluation to help select the best height for a person to be able to transfer in and out of their bed. We understand that one size cannot fit all. Our strategic advantage is that we can usually help our customers achieve their dream height. For the caregivers, our vertical lift allows them to cater to the needs of the user, without straining their backs.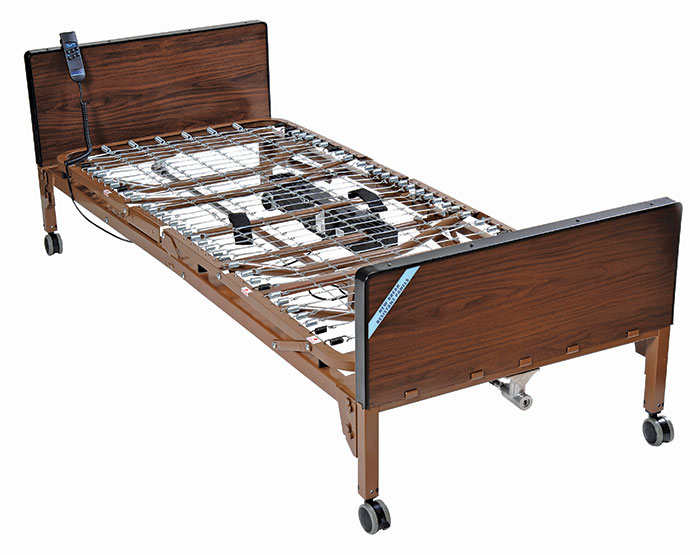 15030 Delta Semi-Electric Bed
Drive Devilbiss Healthcare
Joe Oberle, Product Manager
Beds & Patient Room
www.drivemedical.com
What has been a game changer for you?
OBERLE: The launch of the Delta bed was a true turning point as it retained the functional and durability requirements necessary of a high-use homecare bed at a price point that was aligned with ever-declining reimbursements, so providers could maintain their service levels and profitability. We constantly listen to the needs of providers, patients and caregivers, and incorporate those needs into innovative product solutions.
How is the language of beds in the market changing as a strategy for connecting with new, potential product users?
OBERLE: We're finding the traditional homecare bed is not limited to only the typical homecare environment, as hospice facilities are discovering these beds meet their needs perfectly—either as a purchased item or rental.
How does demand for customization drive the business?
OBERLE: Drive DeVilbiss offers the largest variety of bed options designed to meet most providers' needs. Customization comes up from time to time and, in some cases, will become a standard feature, but it has not been a major factor up to this point.
How have you compensated for disruptions in distributor channels?
OBERLE: We have added additional warehouse space at our three main distribution centers and added new warehouse locations throughout the country, in order to have more inventory available where it's needed, when it's needed and closest to the customer.
What trends do you see in the bed market?
OBERLE: Ongoing consolidation with fewer suppliers; continued pressure to reduce costs driven by declining reimbursement; modular/standardized components that provide inventory flexibility.

Merits Health Products
Michael Hughes, National Sales Manager-Merits
Chris Blackmore, Director of Business and Product Development
www.meritsusa.com
What has been a game changer for you?
HUGHES: Our focus and company leadership changed two years ago with the hiring Chris Blackmore as our national sales and product development director. He brings a wealth of knowledge and years of sales experience within the industry. He has high goals and has improved the sales team, internal management and product standards within Merits Health Products.
How are bed heights engineered to give you an advantage, and how can a caregiver best strategize bed heights?
HUGHES: We sell a low bed, for potential fall risks. These beds can be raised to normal height for daily activities but when the fall risk patient needs to sleep, the bed can be lowered almost to the floor. If the patient unfortunately does roll out of bed, they don't have as far to fall and hopefully are not injured.
Caregivers should look for a bed height that allows them to access their patient without causing any strain on their back. A bed that is too high or too low can cause long-term damage. Another important factor is transfer height. To safely transfer from a wheelchair or patient lift, you need to make sure the transfer can be accomplished safely for everyone involved.
How do you approach product development?
BLACKMORE: We are always seeking constant feedback from the customer, dealers and providers, and looking at cost effective ways to make changes when needed.
What trends do you see in the bed market?
HUGHES: Providers need a rental ready bed now more than ever. Consumers are keeping products for a very short period of time and with reimbursement very low, providers need a low-cost fleet that they can turn quickly and always have stock on hand.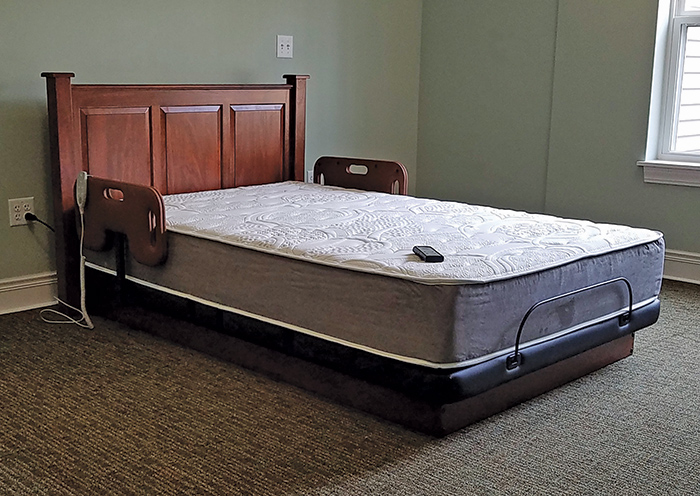 Assured Comfort cherry platform bed
Sleepsafe Beds LLC
Ed Hettig
Marketing Director
www.sleepsafebed.com
How are bed heights engineered to give you an advantage, and how can a caregiver best strategize bed heights?
HETTIG: Bed heights are an important category for adjustable beds. Also known as "transfer heights," they are key to manufacturing a product specifically for a customer's needs. The ability to change bed heights using the HI/LO option with Assured Comfort Beds allows a 10-inch range that will guarantee a correct bed height.
Are you connecting more in the business-to-business market—how and where?
HETTIG: The primary market at this time is direct to customer, but we are always making steps to service direct and B2B markets.
How does demand for customization drive the business?
HETTIG: Today's market not only requests the ability to customize—it requires it. Retail customers feel that if they are paying for a product it should be the way they want it, without any alteration from the manufacturer. The "have it your way" mentality is more present now than ever, therefore if you don't offer customization to your products you will lose market share.
How do you approach product development?
HETTIG: We approach every bed with the customer's needs in mind. In our case, we are sensitive to the needs of people with special needs or have chronic conditions that can be mitigated with a proper solution. We engineer our adjustable frames with the greatest flexibility-of-use possible. For example, we can make custom sizes, add a HI/LO adjustment feature, create custom headboards and footboards. We have also designed special-assist side rails for customers who need something to hold onto while getting in and out of bed.