This Minnesota company is on a mission to enrich the lives of its patients
The team at St. Paul, Minn.-based Handi Medical Supply is on a mission. "Our mission is to enrich lives—that's it," says Mike Bailey, CEO of the full-line HME business. That simple philosophy informs everything the company does, from who is hired and how equipment is repaired to how guests—the term Bailey prefers for customers—are treated. "When we hire members to join this team, we are not only examining if we believe they will be able to work in the discipline we need them to work in, but also whether they can fulfill the mission portion of this work as well. So we only invite individuals who agree with our approach to these sorts of things.
"Human beings desire to be part of something that's greater than themselves," he continues. "They want to be a part of enriching lives, it gives them purpose." For nearly 25 years it has given Handi Medical Supply purpose, too. The company radiates this drive to make a difference and continues to improve every aspect of its business. Its efforts have paid off in guest loyalty and in professional recognition. Handi Medical was named winner of the 2012 Minnesota Better Business Bureau's Integrity Award.
The company has a broad scope, handling everything from mainline HME products such as respiratory, mobility and hospital beds to ostomy, wound care and urological supplies. Unlike most HME companies, however, supplies are the biggest slice of Handi Medical's revenue pie. "About 70 percent of our sales are supply and about 30 is derived from the HME side of the business," Bailey says.
The Supply Chain
It was supply—and demand—that propelled Mary Benhardus toward founding Handi Medical Supply. In 1988 she was a personal care attendant for a college student, a quadriplegic dependent on a wheelchair. Benhardus became increasingly frustrated as she sought to get supplies for her patient and, when required, to have the wheelchair fixed. Providers often did not have the supplies in stock and they did not maintain a history of what was used. "They didn't know what you ordered, they didn't keep an inventory, they didn't know when it would be delivered," says Bailey. "If you didn't save your last catheter wrapper, you were out of luck." When it came to repairs, the situation was equally dire. Benhardus was often told it would take several days for the repairs to be made, an unacceptable situation for anyone using a wheelchair. She thought she could do better for people. Having worked as an independent contractor in healthcare for the state of Minn., she was familiar with billing. She got reimbursement rates from the state, talked to manufacturers and put together a business plan, and Handi Medical Supply was born.
"We don't know what's going to happen July 1," when Round 2 of competitive bidding kicks in, "but we'll be celebrating our 25th year in business," Benhardus says. "Same name, same owners, same mission."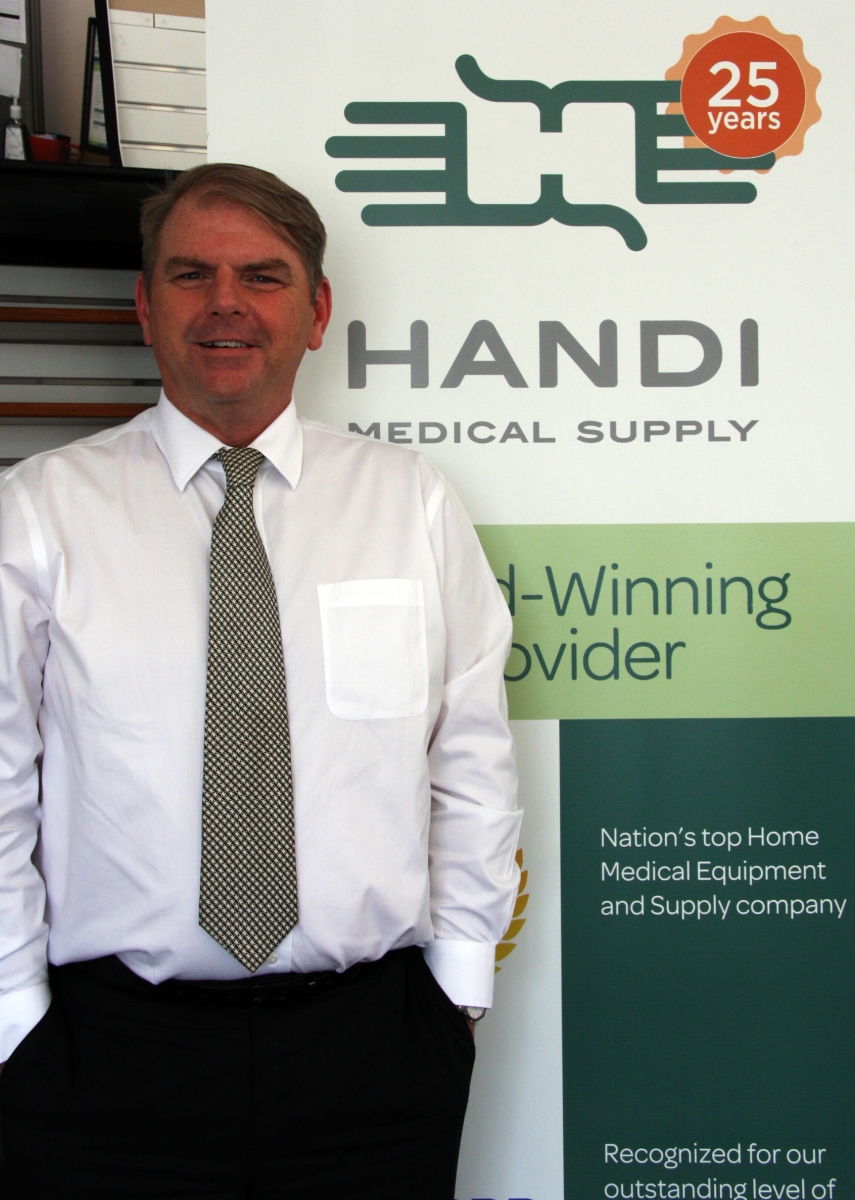 The company did repairs before it sold anything, she says. Benhardus added supplies and gradually expanded the company's roster of equipment, with the last service—oxygen—added in 2005. That's when Laurie Tomaszewski, a respiratory therapist, came aboard. She is now the company's chief marketing officer.
Handi Medical currently boasts a 7,500 square-foot retail store that generates about 120 guest visits each day, says Bailey. Employees in the retail store spend significant time with each guest in an effort to ensure they are getting the right products. An assistive technology partner (ATP) works in the showroom and the company has four others who visit patients in their homes, says Tomaszewski. In addition to the retail store, Handi Medical has staff in hospitals to help with ordering equipment. Also, says Tomaszewski, "we work very closely with a lot of nursing agencies to make sure they have all the supplies they need for their patients."
With the heavy emphasis on supplies and the determination to get patients what they need, Handi Medical has a warehouse that holds more than 1.1 million products. "We do have a very extensive warehouse," Benhardus says, noting that the company uses scanners and is considering buying an inventory tracking system. "We have had significant improvement in our inventory as far as accuracy. It isn't because of automation, it's because of discipline, cycle counting and quality assurance measurements. We have a 98.4 percent fill rate."
Nearly all orders received are shipped out that same day. "It's going to come to you the very next day. The distribution center is right here. We do not drop ship through a third party."
This results in accountability, and the ability to touch people's lives in a very simple way. Sometimes team members drop candy in with an order, or a handwritten note of thanks. In children's supplies, they often place little trinkets, "So it is positive, something exciting. Because medical supplies are not always a happy thing," Benhardus says.
To get the word out about Handi Medical's services, the company's foremost tool is an educational conference that is held around Valentine's Day every year. Targeted to medical professionals, the event is free and features a keynote speaker and about 60 vendors who underwrite most, if not all, of the expenses. Those attending can get certificates and some CEUs are available, as well. The first conference was 16 years ago. "Originally, it was to get people into the showroom and to give back to the community," says Benhardus. "We can't fit in the showroom anymore." The conference routinely draws 750 to 800 attendees. It offers exposure to Handi Medical and builds the knowledge base of the medical community. That, in turn, helps patients. "It's a win-win for everybody," says Bailey.
Linking to the Future
In addition to being of help to referral sources, Handi Medical routinely discovers ways to better serve its guests by conducting a customer survey. Bailey says, "we are learning a lot about how we're meeting the needs of our customers."
The results of past surveys have led to changes in Handi Medical's procedures. For example, employees spend more time educating customers, explaining such things as why a product is rented, not purchased. Bailey thinks it is vital for a company to understand its customers' experience. "I think there's a lot of growth potential for providers who take the customer's experience seriously," he says. "Our industry is being pressed hard on the margins that we have and customer service continues to diminish and that's a problem for some providers. You really need to think very carefully about how you're going to be more efficient, how you're going to garner the margin that is required to work in this industry and how you're going to take care of your customers both internally and externally."
All along, Handi Medical has assessed its processes, but Medicare's competitive bidding program and the escalating documentation demands of payers are requiring even closer scrutiny. "We've had to change and become more efficient in how we do business," Bailey says. "We've had to watch our expense structure, we've had to change some of our purchasing patterns and we've had to become more creative about how to make it through some of these changes in the industry."
In addition, he says, "We've had to tighten up on accounts receivable. Basically, what we are doing is making sure there are clear and definitive processes for how we are doing things. We are focusing a lot of attention on the front end of our operations to make sure that a claim is clean before it gets to accounts receivable."
The company—indeed, all providers—must reduce administrative costs, he adds. "A large number of our team members collect documents and process claims. That has to change. We cannot continue on that basis. We cannot continue to add administrative team members to do that."
Question marks loom large when it comes to the effects of competitive bidding. Handi Medical won bids for oxygen and hospital beds, but declined the contracts. It is counting on the loyalty of its guests.
"People know our mission, they know us, they know how we serve our customers. We feel sure they will come to us because of what we do," says Benhardus, adding that the company's product mix will be an asset as well. "We're going to continue to explore other supplies, new products, look at different markets. And we are signing agreements for exclusivity of some products. There are a number of things we are doing that I believe will be very productive.
"It does come back to how you do it, though," he concludes. "That really does make a difference."