Our Q&A with top players in this growing market will help you decide what questions you should consider
Tuesday, September 8, 2015
Almost every one can benefit from wearing compression products, which makes compression socks and other accessories the perfect add-on sale opportunity for HME providers. There are many variables to consider when deciding which types of products to carry in your store. Our question-and-answer session with top players in this growing market will help you decide what questions to consider before making decisions about what products to offer your customers.
Brownmed
Matt Garver, Vice President, Marketing brownmed.com
IMAK Compression Arthritis Gloves
HC: Tell us about Brownmed.
MG: One of our key lines is the IMAK Compression brand, which includes the IMAK Compression Arthritis Gloves, the only gloves on the market to receive the Ease-of-Use Commendation from the Arthritis Foundation. All of our products have a solid medical foundation.
HC: What's changing in the market?
MG: The U.S. compression market has grown significantly, resulting in a saturated market with limited points of differentiation. Customers have become more knowledgeable, moving away from gimmicks (such as products with metal alloys), instead relying on customer reviews or medical study testimonials. I believe product efficacy, more than price, will have the most impact on sales.
HC: How is Brownmed finding profit?
MG: By designing products with patient comfort in mind first, we are able to overcome the challenges associated with a competitive market. We've partnered with a review aggregating service to more fully leverage these reviews and ensure new customers are aware of the differences in quality among various compression products. We've also developed an innovative line of vibration therapy products under our Intellinetix brand.
HC: What should the customer know?
MG: Details make the difference. Customers should be wary of compression products that claim to be universal or one-size-fits-all, instead looking for products that are sized appropriately. Also, full coverage means full relief; they should be sure that the product covers the desired area entirely. And providers should look for third-party endorsements and certifications, as they provide unbiased opinions, particularly when the organization is directly related to the symptom for which your customer is seeking relief.
SIGVARIS North America
Melissa Gwozdz, Market Analyst and Communications Manager sigvarisusa.com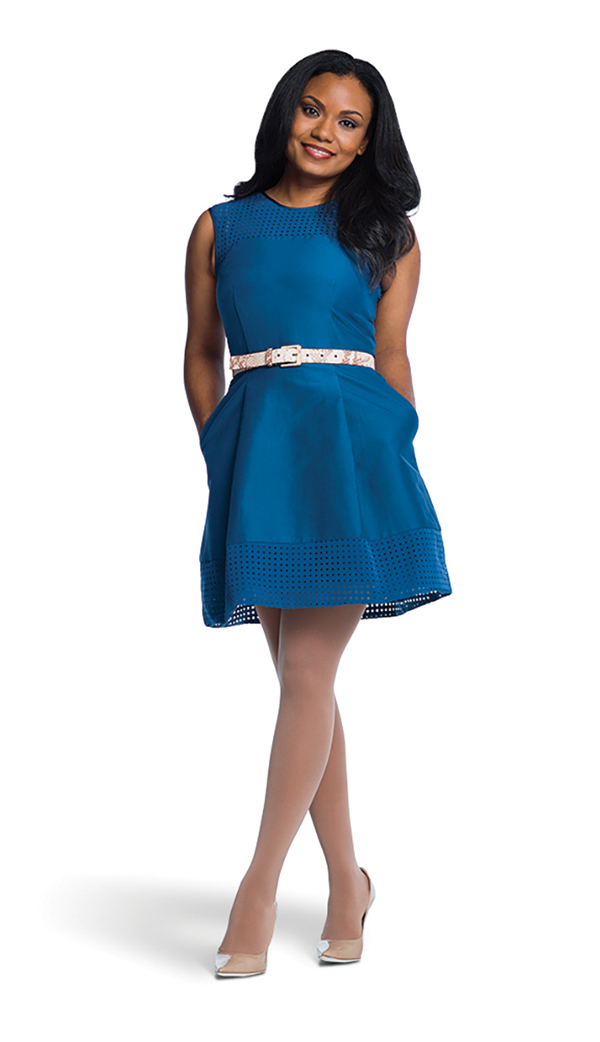 SIGVARIS SOFT OPAQUE Pantyhose in Pecan
HC: How does your company stand out?
MG: We are committed to producing the highest quality graduated compression garments in the world, and we use the finest textiles and materials to create fashion-forward styles. We create comfortable styles that incorporate easily into any lifestyle, while guaranteeing accurate compression levels.
HC: What's trending related to compression?
MG: More and more people understand the health benefits of graduated compression, and they are making leg health a priority.
HC: Where are the market challenges?
MG: Because every insurance company is different, the rules on reimbursement in the U.S. can vary. However, businesses can also benefit significantly with cash sales. While SIGVARIS does offer medical compression products, we also offer products that promote well-being in people who want to improve their circulation or help combat early signs of venous insufficiency.
HC: Compression products often trail fashion trends. How is SIGVARIS keeping up?
MG: We have launched several new styles and colors this year that were the result of listening to our customers. This includes a new gray shade with a hint of purple called lavender mist in our EVERSHEER line, a new stripe sock for men in our MIDTOWN MICROFIBER line, a new skin-tone shade (called pecan) in our SOFT OPAQUE product line and four new fun colors (pink, lime, red and blue) in our PERFORMANCE SOCK line.
HC: What's one way providers can improve?
MG: Cross selling is key, and many HMEs miss opportunities to sell compression socks and hosiery. The products are a great source of cash business and can build a new referral source for customers who may have other medical device needs in the store. For example, someone comes into the store and is purchasing health supplies for either themselves or someone they are taking care of, they might also be a good candidate for compression. The SIGVARIS WELL BEING collection features an assortment of products that help revive tired, achy legs for health care workers, teachers, factory workers, expectant mothers, travelers and more.
HC: Where does product knowledge fit in?
MG: It's important to be knowledgeable to help put patients in the appropriate product. If a patient is sized wrong or not in the correct type of fabric to match his or her lifestyle, then a lot of times they won't wear it. Educating patients on the importance of compression will keep them coming back. SIGVARIS offers educational events and seminars to help dealers expand their compression business and become a leg health resource.
medi USA
Glenn Anderson, Medical Compression Category Manager mediusa.com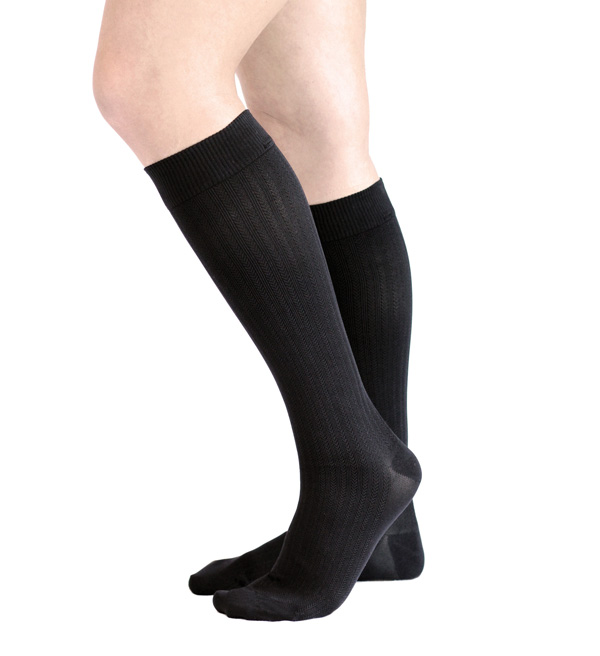 Mediven for Women Vitality
HC: What does medi USA carry?
GA: medi USA carries a full line of elastic and inelastic products, including compression wraps for hard-to-fit patients. What makes our Circaid brand compression wraps unique is the ability to apply in place of bandages and verify the compression level being delivered via our patented BPS, or built-in-pressure system. This feature enables patients to take off the product for bathing, dressing changes or other activities, and reapply easily, setting the compression level as instructed.
HC: How important is patient self-care?
GA: A clinician's time in the home or clinic is precious; thus, the more we can advance our technologies to empower patients, the better off the patient and clinician will be. We are currently rolling out a bandage replacement technology for wound care, called Circaid Juxtacures, as well as a technology for acute stage lymphedema treatment, called the Circaid Reduction Kit, which removes self-bandaging requirements for patients. We are seeing long-term acute wound and lymphatic patients experience amazing results with these technologies.
HC: Do you anticipate any major challenges?
GA: Compression reimbursement has always been all over the board, and the future will be no different. In a world where private insurers are legally required to cover compression for post-mastectomy lymphedema, but Medicare does not—well, nothing is surprising in regard to reimbursement.
HC: What's new at medi USA?
GA: We launched a compression stocking product in April called Mediven for Women Vitality. It includes mediGrip technology, a soft and supple fabric that manages moisture and odor, and includes a hidden, seamless, silicone grip top inside the band.
HC: How can HMEs improve business and customer relationships?
GA: Increasing store traffic and patient volumes through marketing and advertising are critical. We have had success with savvy HMEs who carry our CEP athletic line—this brings in a younger clientele, who is willing to make cash purchases. Service remains key. The best staff act as consultants and ensure proper fit, educate with donning, offer accessories and look for complementary product sales.
Dr. Comfort
Rob Heglin, Product Manager drcomfort.com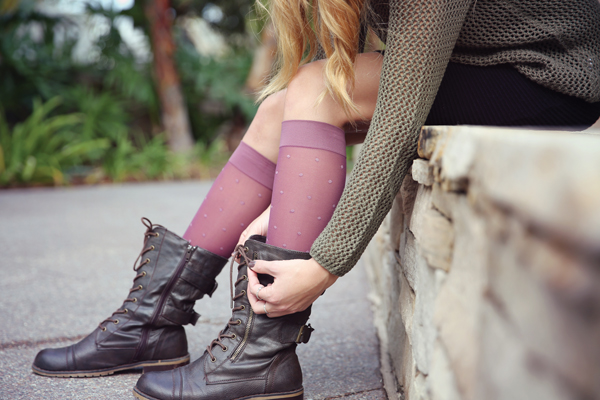 Dr. Comfort Rejuva fashion compression line
HC: Describe your company's products.
RH: Dr. Comfort started in diabetic footwear but has become a therapeutic footwear company, with expanded lines of compression, hosiery, diabetic socks, inserts and orthotics.
HC: What's one trend you see?
RH: A huge increase in compression sales related to the athletic market and runners. Compression is becoming more mainstream.
HC: What is the biggest challenge?
RH: This sounds pretty basic, but one of the issues we see is people struggling to put on compression products. This impacts whether or not they'll continue buying the products or use them at all. We are trying to provide tips and tools to make it easier for the customer.
HC: How are you meeting changing needs?
RH: Customers are demanding products that don't have a strictly medical look. Compression products traditionally come in standard, solid colors, so we partnered with Rejuva to offer a Dr. Comfort Rejuva fashion compression line that includes colors and patterns.
HC: How important is product knowledge?
RH: We strive to provide the best experience, so we created videos, brochures and tips to help educate. We also created a merchandise display for the store that is designed for the end user; it helps educate customers on compression levels and generally keeps them from feeling overwhelmed.