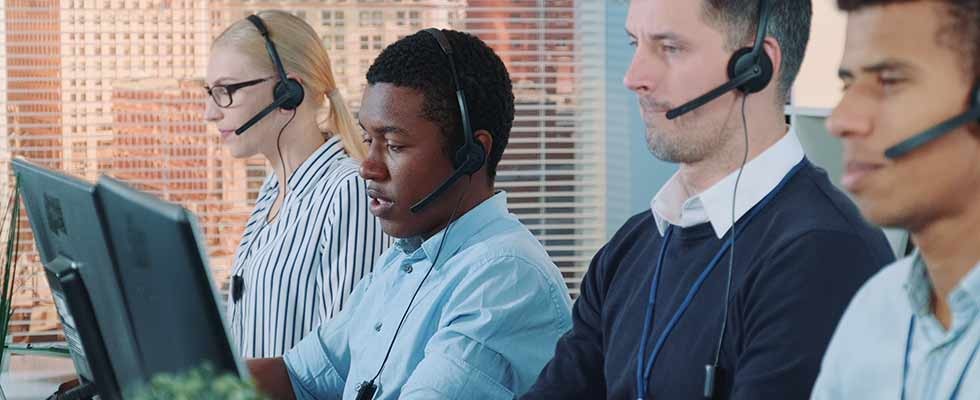 Better customer support for your team
As of 2018, there were 7,400 call centers or contact centers employing 50 or more workers in the United States. These centers handle everything from your lost Amazon package to major technology issues. But for health care providers seeking to improve care to their patients, contact centers can help take some of the burden off customer care.   
Monica Dotson, senior director of customer care at McKesson, recently sat down with HomeCare to share more about how contact centers work and how customer service has evolved in the age of COVID-19.
HC: What do providers need to know about choosing a contact center partner?
DOTSON: I would say the first thing that they should know is that contact center partners are their first point of contact. Our customers have support needs that include product support, post-sales support, account management and customer onboarding.
From a McKesson standpoint, our strategy is really to provide an effortless customer experience for our customers' needs through representatives who are specialized in their specific type of health care practice. These representatives have received extensive training so that they can really be experts when they are assisting those customers—handling their concerns quickly and identifying tailored solutions with the ability to be a liaison with internal experts. These contact center teams work hand in hand with our distribution centers and our field sales teams to ensure that the needs of each of our customers are met.
HC: What questions should providers ask themselves before moving to a contact center?
DOTSON: They should first determine what their specific needs are and determine if that specific provider can meet those needs, including the customer support that's going to be provided from that call center.
They should also ask themselves about what type of programs that contact center has to ensure that they're going to get the most reliable and the best customer experience that they can. We follow standard operating procedures. And we consistently maintain quality assurance procedures, where we have a quality assurance program where we monitor employees. We do customer surveys to get feedback directly from them, just so that we can ensure that we understand how we're doing and how we can make improvements. And we found this to be successful in achieving a higher level of customer satisfaction.
Finally, I would say that these customers should also ask themselves if that partner's mission and core value aligns with theirs.
HC: Are there misconceptions about contact centers?
DOTSON: Yes. I would say one of those is that contact centers only handle incoming calls. And that may be one reason we've kind of moved away from calling it a contact center and more specifically titling it by the type of support that we're providing, such as customer support or tech support. And that's because that support goes beyond just handling incoming calls. We support customers through email and through chat. We provide specialized support services based on the needs of that customer, including specialized types of account management. We also provide dedicated support if they're needing to work with one specific person, instead of working with different individuals from different departments.
I would say the other misconception is that some people feel like the call center industry has no future and that it's going to go away. We believe our call centers or customer support or technical support are extremely important to our customers. And I feel I can help them achieve their goals and service their patients. They are an easy way for customers to reach the company for their day-to-day support needs. From that perspective, I feel like there's definitely a future and that they will always be needed.
HC: What are the advantages of using a contact center?
DOTSON: I would say being able to reach someone quickly and to reach a specialized representative who understand that customer's practice or health system and is able to answer their questions quickly. We understand that our customers are very busy. They are trying to provide better health to their patients. We want to make sure that we have the tools available to help, whether it's providing responses through interactive voice response and updating that or providing different ways for the customer to communicate with us. We've gotten feedback that customers are open to chat. Customers told us they would like to email with us more, so we provided more support so that they can email us and we can provide quick responses.
HC: What are the challenges of using a contact center?
DOTSON: There's not a real challenge other than customers not really understanding the true capabilities of a contact center and the services available to them. So if a customer has a misconception that this is all that this contact center can do, then that can be a challenge because they may miss out on all of these other things that are services and support that a contact center provide them with.
That's why I said the contact center label has become hard to just wrap everything that we do in. We also onboard customers. If we have a new customer coming in, or they have what we call a "change size," which means they're adding a new location, we support them with that. That may almost seem like a mini-project manager, but those are additional services that we provide to our customers post-sale support.
HC: How can partnering with a contact center improve a provider's bottom line?
DOTSON: If we are able to answer their questions quickly and efficiently around product support and get them what they need quickly, then a provider's bottom line improves. So if they're calling us for certain products and they need an emergency order, for example, being able to provide them with those services helps them meet their patients' needs quicker and helps them with their bottom line, which is ultimately servicing and providing better health to their patients. That is what we are in the business of doing in our contact centers. That includes proactively tracking their packages for them and letting them know if something may be delayed so that they can be aware and prepare for whenever that patient comes in. So we just want to reduce the customer's level of effort so that they can then provide better health to their patients.
HC: How are call centers changing?
DOTSON: With COVID-19, McKesson had to make a quick shift in how we were doing business. The good thing is that we, like most companies, had great business continuity plans in place to be prepared and to be able to go from having all of our employees within a contact center to all of our employees working from home within 48 hours. So, we have had to change by doing virtual training. We onboard employees virtually and train them virtually, and we've had to shift in how we normally train employees or even interview or recruit for them. [And, like other companies,] our employees are now working from home.
It's even changing in terms of how we collaborate with our employees—we are accustomed to gathering in a conference room or training room. Now we're collaborating through technology such as Microsoft Teams and Chatter and where we can still have strong collaboration without necessarily having to actually be face to face. And in doing these things, I'll say I'm pleased that we haven't seen a negative impact on the customer experience or on productivity or employee morale. We've just had to think about how we can do things differently and still be able to provide the highest level of customer experience for our customers. But things are also changing with our customers in terms of how they service their patients and what the services that they need from us and making sure that we can modify what we're doing based how their needs are changing.