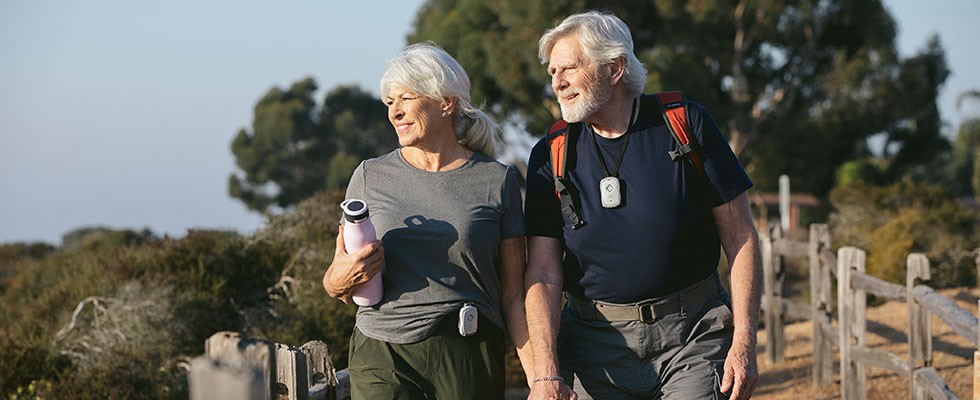 Don't let your clients be left in the dark after 3G sunset
Technology marches on and faster networking 4G LTE (short for Long Term Evolution) capabilities are now widely offered by the major wireless carriers. To phase out older technologies and to maximize their available bandwidth, carriers such as AT&T and Verizon have set dates in the next year when they will no longer support 3G-based devices.
This exit from 3G will affect users of older connected devices, who will find themselves unable to access many services and capabilities.
If you are a health care professional, you must transition your services to 4G, especially if you have customers using personal emergency response systems (PERS). Many of the core services related to these devices will require a 4G upgrade to provide continued services.
3G Sunset Dates by Major Carriers
Each of the major carriers has announced when they will end their 3G network support. AT&T has indicated it would shut down by February 2022 and Verizon has announced it would end support by Dec. 31, 2022. Sprint/T-Mobile has said that it plans to shut down its 2G and 3G networks without specifying a definite date; it has posted it would complete the shutdown of Sprint's 3G network by Jan. 1, 2022.
Other carriers using these networks will also be affected, such as Boost, Straight Talk, Cricket and several of the Lifeline mobile service providers that provide discounted phones to those in need. It is best to consult each carrier's website for the most up-to-date information about the sunset dates they have determined for 3G networks, as timelines may change.
While the move from 3G to 4G will not be sudden, like a light being abruptly switched off, it is best to be prepared ahead of time for the inevitable end to 3G service.
Benefits of Switching to 4G LTE
PERS and mobile PERS (mPERS) users who are still on 3G will realize multiple technology and speed advantages in the switch to 4G LTE. Because 4G LTE is a higher performance networking technology, it provides faster, stronger and more efficient broadband connectivity that requires less power consumption. Revamped and expanded LTE networks offer faster communication speeds. These networks are the essential foundation for PERS users, allowing each device to communicate with a monitoring service provider, send fall detection, push alert notifications, enable firmware updates and more.
Another benefit of 4G LTE technology is that users will immediately experience enhanced and expanded network coverage that results in improved reliability and extended life for the PERS device—and that reduces the need for service calls. Furthermore, 4G LTE offers faster over-the-air programming and updating, offering quick and more complete coverage when traveling. Most importantly, the transition to 4G will enable continued service for the foreseeable future while ensuring that the user's PERS device will continue working at the best of its capabilities for years to come.
What to Look for in 4G LTE PERS
So, what next-generation features and capabilities should be considered when specifying a new 4G-compatible PERS device? Beyond 4G compatibility for broader network coverage and quicker response times, PERS users can realize additional peace of mind from enhanced and new capabilities. Advanced technologies integrated into PERS and mPERS units now enable better location services, event notifications and medical alert services, along with faster emergency communication with a call center. Devices are also easier to integrate with existing monitoring systems and offer longer battery life.
The latest 4G mobile technologies, coupled with new pinpoint location (within one meter of the user) and sensor technologies, deliver quantum leap improvements to mPERS devices that help give seniors added freedom and mobility confidence. Another plus achieved with updated location capabilities is that many municipalities still rely on older 911 systems that do not have the ability to track phone calls to a location. If someone becomes incapacitated or is away from their mPERS device, this new technology allows emergency responders to locate the wearer.
Fall detection is probably the main reason users and their caregivers choose a PERS device. Accuracy in detecting a real fall depends on the quality and quantity of sensor capabilities within the device, as well as whether the analysis is completed on the device or in the cloud. The best approach is to recommend devices that utilize the 4G network to do analysis in the cloud, because the faster this information is transmitted, the better the outcome.
Professional caregivers also need to consider what state-of-the-art technologies are embedded in the device, the number and type of sensors used and how often the supplier updates the technologies that sense falls in order to ensure precise sensitivity and higher reliability and to decrease false positives.
How many people in your network rely on 3G PERS devices? It is probably more than you realize. To prevent disruptions in wellness and fall detection capabilities coverage, begin talking to users soon to map out an upgrade plan. While the idea of purchasing new hardware may seem like a hurdle for some, inform your customers that 4G LTE hardware helps offset additional costs by being much more powerful and functional than 3G, supporting more capabilities.
The beauty of a PERS device is that emergency help is on the way with just the touch of a single button. The ability to remain independent while aging greatly increases quality of life and helps people live longer, healthier and happier lives.