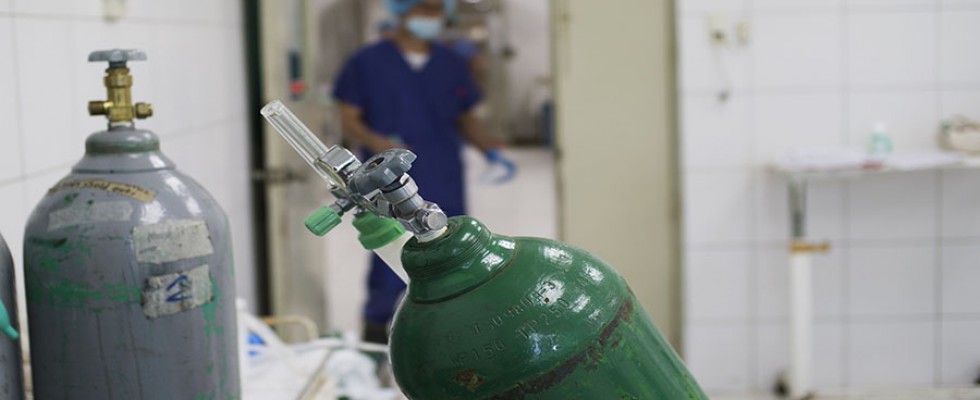 Deliveries to the hospital saved lives
Wednesday, December 1, 2021
Sometimes, the best place to deliver durable medical equipment (DME) isn't to the home at all.
That's what CalOx, a family-owned respiratory DME provider based in Los Angeles, learned during the early days of the COVID-19 pandemic. The company specializes in home oxygen therapy, invasive and noninvasive ventilation, sleep therapy and other respiratory treatments.
In the early days of the pandemic—when Chief Operating Officer Steve Yaeger was welcoming home his just-born second son and trying to keep his septuagenarian mother, the company's president, from being exposed to the virus—he got a call from a doctor at LAC + USC Medical Center, a local teaching hospital operated by Los Angeles County. Most of the patients there are primarily insured by Medicaid.
"He called me and said, 'hey, what do you think about storing some portable systems in the emergency room so that if we have patients that we think can probably recover at home, we can send them home with a system?'" Yaeger said.
He agreed. And then he soon found himself fielding 4 a.m. texts about patients needing more oxygen delivered well before his office even opened. So he partnered with hospital's clinical team to provide complete at-home setups that included a portable oxygen concentrator and pulse oximeter.
CalOx trained hospital staff on patient education and setup, and the clinicians came up with a new protocol that specified when the users should report back to the hospital (i.e., if their SPO2 rating dropped too low). The company's respiratory therapists conducted a telehealth visit with each new patient within 24 hours to make sure they were using the equipment correctly and kept a spreadsheet with data on each patient—data they shared with the hospitals.
"What we discovered was that the majority of patients that were going home on oxygen, typically they would recover within two to three weeks, and then we would pick up the equipment," Yaeger said. "And there were such shortages and crazy lead times."
In fact, at the same time—even as CalOx's program expanded to a second hospital in the Los Angeles County system—he was driving all over California to pick up broken concentrators and getting them refurbished. At the worst peaks in the pandemic, they were delivering 18 to 25 units a day.
"We would show up at the loading dock at the hospitals; we'd literally roll through their materials management or warehouse area and go up in the elevator to the floors, and as soon as we would get off, the nurses would cheer, 'Oxygen's here!'" Yaeger said.
Eventually, they realized some setups weren't being used because the patients had taken a turn for the worse and been admitted. To ensure the equipment would be used, they created a system where each patient received their oxygen equipment under a tent outside the hospital entrance while waiting for their ride home.
"It was an iterative process, figuring how we can improve the flow," Yaeger said. At the same time, he and his team were working nonstop to keep up with the demand and to find equipment despite supply chain delays.
"Everybody was getting burned out, but we said if we don't keep doing what we're doing, then there are people who will end up dying in ambulances."
Their work did make a difference: The doctor they partnered with published a study in JAMA showing that of 621 COVID-19 patients tracked, none died at home or on their way back to the hopsital, and only 8.5% returned to the hospital within 30 days. The investigators wrote that it could help optimize outcomes by "ensuring right care in the right place at the right time and preserving access to acute care."
The program continues, although CalOx is delivering only about a half-dozen concentrators per week. Yaeger says it could change the way HME providers do business even after the pandemic is over.
"I think this has opened up a lot of eyes in terms of the value proposition that DME provides to Part A facilities," he said, adding that it also boosted CalOx's relationship with county health officials and others.
"They knew that all they had to do was make a phone call and we'd be there to help take care of the patient and keep them out of the hospital—but this really showed our worth. And it showed us that you don't necessarily have to be in the patient's home to face-to-face with them."
Yaeger said it also proved the power of remote monitoring, and how well DMEs educate and document their patients, which helped the clinicians publish their study.
"As opposed to just an equipment rental company, we really are a clinical provider," he said.