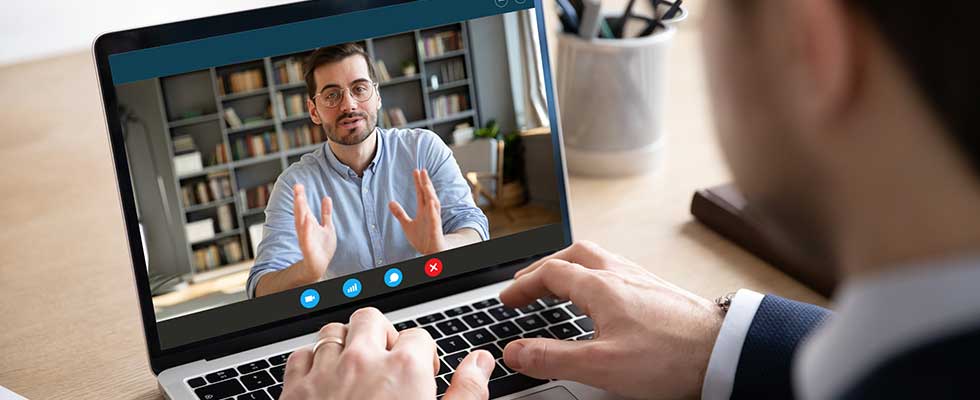 When you have to screen candidates at arm's length
Wednesday, December 2, 2020
Online interviewing and virtual job fairs have become necessary tools in the recruitment and hiring process for many home health agencies and home medical equipment companies. They have some clear benefits, including convenient scheduling when a busy hiring manager and job candidates are in different locations.
Yet online-only meetings can hinder your ability to make interpersonal connections and pick up on subtle cues about a candidate's personality. They can also make it harder for a candidate to see what makes your business an attractive place to work.
Before the coronavirus pandemic, some organizations started with a phone interview, then a video interview, then an in-person interview. Now, the in-person interview may not happen.
Given cost considerations and the need for many administrative officials to work from their homes amid the coronavirus pandemic, some homecare operators are considering moving to remote operations for good. 
Even for those still reporting to work in person, physical distancing and infection control precautions have made face-to-face meetings a riskier proposition. According to a 2020 benchmarking study from Home Care Pulse, some home-based care agencies already have shifted interviews and training to online options.
While turnover has made recruiting and interviewing a frequent need in home-based care for years, the candidate pool could be expanding as COVID-19 shutdowns lead retail and hospitality industry workers to seek new opportunities. To make the most of the hiring process in this situation, pay attention to these five aspects of virtual recruiting and interviewing:
1. Ensure that your business stands out.
To prepare information sheets that will inspire and motivate candidates to apply to your company, think about what sets your company apart.
What makes you proud of working at your organization?
What benefits do you offer?
What often seems to surprise new employees about your organization?
What aspects of your work environment do long-time employees praise?
How do you recognize excellence among your staff?
What contributions does your company make to improve the community?
Once you have a good idea of what you should highlight, think about how you will draw attention to your business's attributes during a remote interview.
2. Observe the subtle signs.
As a LinkedIn study noted, company culture is a key factor in attracting candidates who will stay with your organization, and many different aspects
of the work environment shed light on your culture.
Remote interviews don't allow candidates to observe the office environment first-hand and interact with other team members outside the interview. Another downside is that video doesn't allow managers and job candidates to see and interpret one another's body language to the same extent. Unfortunately, you will miss out on these first-person snapshots, which can give you both insight into working together.
Because face-to-face meetings aren't possible, pay close attention to what you do notice about candidates, including fidgeting, impatience, rudeness, friendliness, quick thinking and communication styles.
3. Highlight organizational strengths.
Marketing will play a key role in attracting candidates and convincing them to choose your business after the interview. Consider creating a web page discussing the benefits your company offers and include:
Quotes from supervisors and employees explaining why they like working there and what makes them proud of the work they do.
Images of people at work (with their written permission) wearing authentic smiles on their faces.
Video clips showing nurses, caregivers, sales representatives or managers talking about their personal stories about what makes their work rewarding while highlighting some of those specific organizational strengths.
To prepare team members who will be conducting interviews, supply them with talking points that call out key benefits and overall strengths.
Keep in mind that health care attracts people who want to make a difference in the lives of others. With that thought in mind, you might ask staff who will be meeting candidates to think of a personal story they could share about the satisfaction their work brings and how they've made a difference in someone's life.
4. Be ready to show & tell.
Think strategically about how you can highlight your leadership approach and your company's selling points during phone and video interactions.
Because of the challenges inherent in online-only interviewing, preparation for interviews is vital for the hiring manager. Some ways recruiters and managers can successfully communicate with candidates remotely include:
During each conversation, take the time to talk with the candidates in a calm and professional way.
Outline the interview process when you schedule an interview, including how many people each candidate will talk with and how long the interviewing process is likely to last.
Turn video cameras on during interviews. Do not just talk over the phone; that means you won't see visual cues.
Share visual materials that show your culture and your people in a good light.
5. Set the right tone during interviews.
When you get to the online interview, ask job candidates questions designed to explore their personalities and how they would fit into your culture. Some examples:
Tell me about a time when you disagreed with a teacher, manager or customer. How did you communicate your disagreement? Were you able to move past it together?
What do you see as communication challenges on the job? What would you do to bridge communication gaps?
Tell me about a time when your team was challenged to improve. How did you work through the change and motivate one another? What did you learn from
the experience?
Be ready to ask follow-up questions that draw out the emotions and motivations behind the candidate's answers and allow you to ease into a real conversation with natural give and take.
Moving Beyond the Status Quo
The preparation you have done will help you attract and hire good candidates. But your work isn't finished yet. Company cultures naturally change over time along with the employees hired and with continual shifts in the marketplace.
Since the coronavirus pandemic has spread across the United States, some things have changed in the way work is done and how managers interact with their employees. Job candidates' priorities may have shifted, too. Many job seekers now are looking for stability and work that makes a difference in the world.
Be ready to share any lessons you've learned, how your business might change over the long term in response to temporary COVID-19 adaptations, and how you will position your organization for business strength in the future. Your culture should clearly communicate all of those things: stability, continual learning, adaptability and foresight.
Those are the keys to attracting employees who are engaged and want to grow with your organization.