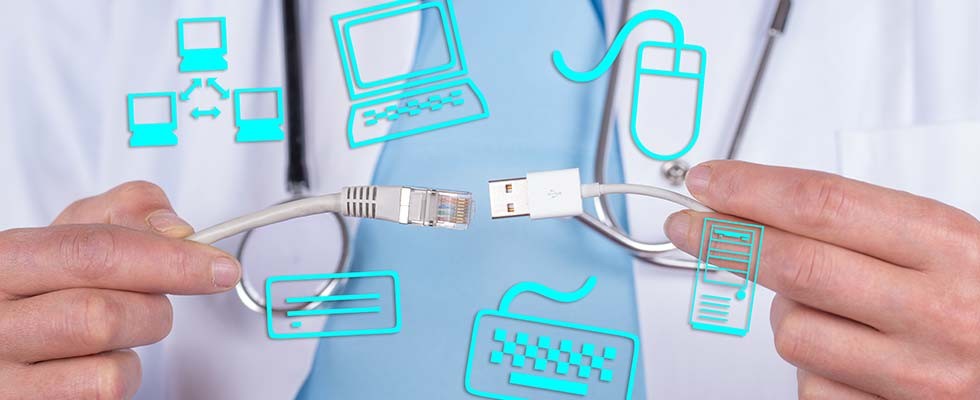 Wednesday, December 11, 2019
The home medical equipment (HME) industry is utilizing more technology than ever—starting with the point of initial contact, technology is used to service and communicate with patients. All aspects of patient engagement are facilitated by technology, from patient relationship management through order entry, claims processing, product delivery, patient invoicing and, finally, payment collections. The technology used directly impacts an organization's efficiency and ability to successfully serve patients.
To provide a complete solution, multiple information systems, applications and devices are often necessary, and the ability of those systems to share information within and across organizations impacts the efficiency of the overall process.
Interoperability—that is, the ability of computer systems to exchange data and make use of it—eliminates duplicate activities, increases operating efficiency and accuracy, and substantially reduces overhead and costs.
In billing and patient collections, system interoperability impacts an organization's ability to communicate with patients, improve internal processes and work with business partners. Better processes lead to better cash flow and profitability.
Levels of Interoperability
Recognizing that organizations in the health care industry exchange data to varying degrees, the Healthcare Management Information Systems Society has defined three levels of interoperability:
Foundational interoperability refers to the ability of a system or application to exchange data with another without requiring interpretation of the data. For example, a print vendor may provide a PDF representation of a mailed billing statement to the service provider's system for storage and future reference. The document may be retrieved and viewed, but the provider's system is not interpreting the document or taking further steps based on its contents.
Structural interoperability defines the structure or format of the data exchange. This level ensures that data exchanges between systems can be interpreted at the data field level and the meaning of the data is maintained.
Semantic interoperability is the highest level of interoperability. It allows multiple disparate systems to exchange data along with the meaning of the data. This level supports the electronic exchange of patient summary information among caregivers and other authorized parties through electronic health records and other systems. It helps improve the quality, safety, efficiency and efficacy of health care delivery.
Who Wins
Increased interoperability facilitates communication through the exchange of data and the ability to make use of that data across multiple systems, applications and devices, regardless of the data's origin or destination. As a result, increased interoperability improves operating efficiency and account activity accuracy and substantially reduces overhead and billing costs. These processes can lead to better cash flow and profitability from a patient pay billing and collections perspective.
Not all integrations require semantic interoperability, but health care industry initiatives are demanding increased interoperability to improve quality and reduce costs.
Patients benefit from increased interoperability with simplified account setup, more accurate and clearer statement balances, and multiple avenues for settling an outstanding balance. Patients increasingly prefer to directly manage their accounts online. Providing a single patient portal to manage accounts, regardless of the number of underlying applications involved, reduces confusion by simplifying the user experience For example, a single portal allowing a patient to reorder supplies, view invoices for previous purchases and manage outstanding balances works more smoothly than requiring a patient to log in separately to multiple applications.
For the provider, interoperability brings automation. Providers also enjoy more flexibility as they combine applications from multiple providers to build their workflow. This leads to more consistent messaging, as all accounts are processed and reviewed under consistent guidelines regardless of the system being used to service the patient.
Patient-pay balances shared between a provider and a medical billing and collections system can lead to the development of automated communication campaigns—such as statements and reminder calls—and then moving aged balances to third-party collection services. Predefining and automating these processes reduces or removes the need for manual involvement, and the integration and interoperability of systems allow multiple applications to be perceived as one comprehensive solution.
As disparate systems are pulled together to share data, opportunities arise for improved analytical reporting and management dashboards. The integration of data residing in or originating from multiple organizations or applications allows for a more complete view of the business and eliminates the time-consuming and sometimes inaccurate process of manually combining data from multiple locations.
A provider's partners experience similar benefits and opportunities from increased interoperability. Internal workflows, reporting and automation can all be improved by increased sharing of the data they need for processing and the ability to act on that data, by improving accuracy, by enhancing efficiency and by providing the ability to collectively provide the highest level of service possible.
Where Does This Lead?
In an ideal world, all providers and vendors would be able to easily access and use the real-time data they need, regardless of where it originated or resides. Government and industry standards are helping foster better communication between disparate systems, but providers must be willing to share the information they control with one another. This is a challenge, as many large providers use proprietary systems that can be costly to change.
Interoperability leads to more efficient and better patient care, from avoiding duplicate orders for the same tests to helping specialists communicate quickly with referring physicians. Providers must prepare to provide industry recommended communication methods and protocols.
As providers improve patient pay billing and collections processes, areas of change will include:
1. Additional methods of communication, such as:
Using text messaging for balance reminders, statement notifications, payment receipts and payment authorization;
Online chat for personalized service that's specific to a client's needs and available on-demand; and
Social media platforms for product or service queries as well as to enable product feedback and reviews.
2. More patient-driven services, such as:
The ability to allow patients to select their preferred communication methods and the frequency they hear from you;
Flexibility in payment methods, including additional payment options such as PayPal, Apple Pay and other online wallet apps; and
More options for payment timing, including options for deferred payments and payment plans.
3. Improved reporting allowing the provider more flexibility and customization options, customizable dashboards for quick access to key performance indicators, and the ability to drill down to the level of detail required.
4. More seamless interaction between the applications used to manage a business, including single sign on, which eliminates the need to log in to a separate system to manage collection efforts.
In addition to the opportunity to improve patient care, increased interoperability within an organization and across partners will lead to the automation of processes with improved accuracy at a lower cost, a more holistic view of the business through more complete dashboards and reporting and an improved overall patient experience.