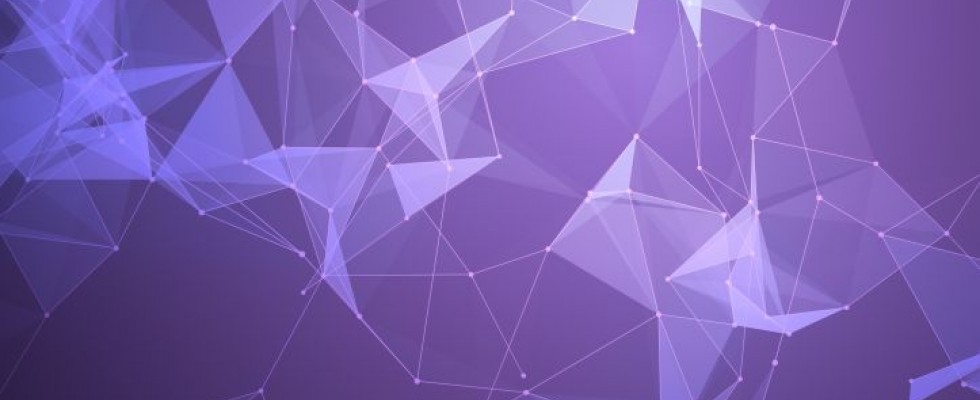 Evolving market requires focus on local market dynamics
Thursday, October 4, 2018
Despite ongoing consolidation trends, hospice remains an attractive market for providers and investors. A rapidly aging population, combined with patient/caregiver preference, the high cost of end-of-life care and the shift to value-based contracting serve as catalysts for sustainable growth.
The hospice industry has been consolidating for many years. The largest 100 competitors account for "only" 42.4 percent of hospice providers.
However, the hospice market is changing. Scale is becoming increasingly important to fund information technology (IT) and other infrastructure requirements. The Centers for Medicare & Medicaid Services (CMS) Hospice Compare quality and experience of care reporting became mandatory in August 2017, thereby increasing the potential for consumer selection and differentiation. Other factors contributing to the evolving hospice market are provider consolidation, the growing role of analytics and changing referral patterns.
Scale is most evident in the top 10 industry competitors with 26,312 Medicare hospice users per agency, followed by a significant dropoff in the number of users for the next tiers of competitors (i.e., an average of 5,112 users for competitors 11-50, and 2,774 users for competitors 51-100).
Scale can be regional, statewide or local, and is required for the development of an IT platform (EMR/care management, customer relationship management, quality reporting and analytics), DME and drug sourcing and staffing. It's also required for those who want to negotiate directly with consolidating providers (e.g., hospitals, health systems, SNFs, oncology practices).   
According to CMS, Medicare spending for hospice care has increased from $2.9 billion in 2000 to $16.8 billion in 2016, reflecting a compound annual growth rate of 11.6 percent. The annual growth rate 2014-2016 was a still robust 5.7 percent. During the 2000-2016 period, the number of hospice agencies increased from 2,255 to 4,382, with a significant mix change from not-for-profit, 57.8 percent in 2000, to for-profit, 67 percent in 2016.
Drivers of growth include aging demographics, the high cost of end-of-life care, Medicare Advantage financial incentives, patient/caregiver preferences and growing acceptance of advanced directives and medical orders for life-sustaining treatment (MOLST).
Significant variation in the use of hospice differs based on the state and local markets; e.g., utilization per 1,000 Medicare beneficiaries ranges from 14.8 in New York to 32.7 in Utah. Barriers to market entry are limited, with 14 states having non-inpatient certificate of needs (CON) requirements, including New York, North Carolina and Tennessee.
The hospice value proposition is based on symptom management; assistance with activities of daily living and instrumental activities of daily living; prevention of avoidable (adverse) events; provision of equipment, supplies and medications; and family support. Differentiation is based on timely service delivery (e.g., symptom management, staff availability, care coordination) and the experience of care (e.g., communication, education, emotional and spiritual support). The advent of quality reporting requirements since August 2017, combined with its likely evolution, potentially adds another differentiating factor. 
The hospice business model is based on referrals, length of stay and service delivery costs. Referral sources are diverse, and include hospitals, nursing homes, assisted living facilities, oncologists, primary care physicians, and occasionally, the consumer. Given the short duration of care, strong relationships are essential to generate a sustainable pipeline of patients to maintain the average daily census.
Regarding service delivery costs, Medicare hospice staffing requirements are limited, with a nurse mandate for an immediate needs assessment within 48 hours; a more comprehensive physical, psychosocial, emotional and spiritual needs assessment and integrated care plan within five days; and a patient visit every 14 days. The frequency of certified nurse aid visits is not mandated. 
Referral Source a Determinant in Hospice Length of Stay
The trajectory of a terminal illness is somewhat predictable for cancer patients (non-responsive to treatment in final one to two months), and to a lesser degree for those with end-stage chronic disease (acute exacerbations), and the cognitively impaired frail elderly (steady decline). The location of the referral source is also a determinant of hospice length of stay.
Cancer is the leading diagnosis, accounting for 27.2 percent of hospice deaths, followed by cardiac/circulatory (18.7 percent), dementia (18 percent), respiratory (11 percent) and stroke (9.5 percent); other conditions account for the remaining 15.6 percent.
Hospice labor costs are highest at the beginning of care (during intake) and the week prior to death. The median length of stay is 18 days, whereas the average is 88 days. Reimbursement, with exception for continuous home care and inpatient care, is constant at $193 per day for the first 60 days and $152 thereafter. The cap per episode of hospice care is $28,689 and cannot be exceeded by an agency on an aggregate basis. Reimbursement is adjusted on an annual basis by CMS.
One-third of patients receive hospice care for less than one week; 48 percent for less than two weeks. Many physicians, with input from patients and their caregivers, often aggressively treat patients in hospitals until nearly "the end." The proportion of patients receiving chemotherapy at the end of life increased successively from 2000 to 2005 (from 25.7 to 32.7 percent) and from 2005 to 2010 (from 32.7 to 44.2 percent). It is presumed to be even higher in 2018 due to advances in genomics and advent of immunotherapy.   
Opportunities clearly exist to change patient, caregiver and physician behavior regarding end-of-life care. A clear patient preference exists for dying at home. Palliative care is becoming an increasingly attractive precursor to hospice in the emerging value-based ecosystem with high Medicare Advantage penetration.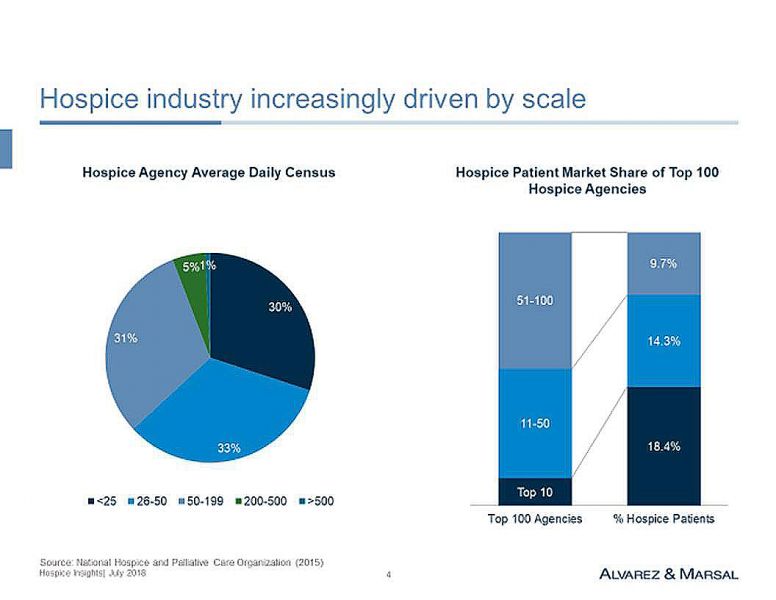 The average cost per day of not-for-profit hospice agencies ($176) is 31 percent higher than for-profit agencies ($134). Similarly, hospital-based agencies have higher costs per day ($213) as compared to home health based ($159) and freestanding ($143) hospice agencies. Higher costs reflect patient acuity and care intensity requirements, management execution, leverage of fixed costs (scale) and the accounting treatment of hospital overhead allocation. As a result, margins at for-profit agencies are a multiple of non-profits. This was seen in 2014, as for-profit agencies had 14.5 percent margins while non-profits had -0.7 percent margins.
On July 2, 2018, Humana Inc. and private equity firms TPG Capital and Welsh, Carson, Anderson & Stowe (WCAS) finalized their $4.1 billion acquisition of Kindred Healthcare, Inc. The Kindred at Home business unit, comprised of hospice, home health and community care resources, will be operated as a standalone company owned 40 percent by Humana, with the remaining 60 percent owned by TPG and WCAS. Humana paid $800 million for its interest and will have an option to buy the remaining ownership interest through a put/call arrangement.
Humana, TPG and WCAS also finalized their $1.4 billion acquisition of Curo Health Services, the sixth largest hospice in the U.S., announced April 23, 2018. Curo Health Services was founded in 2010 and includes 10 local brands, including Avalon, SouthernCare—New Beacon, Regency and Hospice Plus.
Enrollment in Humana Medicare Advantage (MA) plans exceeded 3 million in the first quarter of 2018. A transfer of patients from MA plans to hospice is financially attractive to payers, as they will no longer be at risk for expensive end-of-life care.
The acquisitions of Kindred at Home and Curo Health Services by Humana highlight the convergence of payer-provider business models, the potential integration of claim and electronic health record (EHR) analytics, and the need for care delivery transformation. Management execution capabilities, both strategic and tactical, are essential for sustainable growth.
Important Considerations for Hospice Acquisitions and Buyouts
Despite recent consolidation, the hospice market remains attractive. Spending in the last year of life is estimated to account for 25-28 percent of Medicare expenditures or approximately $100,000 per deceased beneficiary. Hospice is cost-effective, and consistent with a patient preference for dying at home.
Acquisitions and buyouts alone, without strong management execution, are unlikely to be successful. An evolving market requires infrastructure investment and a focus on local market dynamics. Customer service and the care experienced by the patient are also essential.
The entry of Humana into the hospice (and palliative care) market highlights the evolutionary shift to value-based contracting, integrated care delivery and the total cost of care. The aging baby boomer generation, along with their need for chronic disease management, represents the paradigm for care transformation.