Answers from industry experts
Tuesday, April 26th, 2016
GF Health Products
Cynthia Counts, Vice President,
Product Management & Homecare SBU
grahamfield.com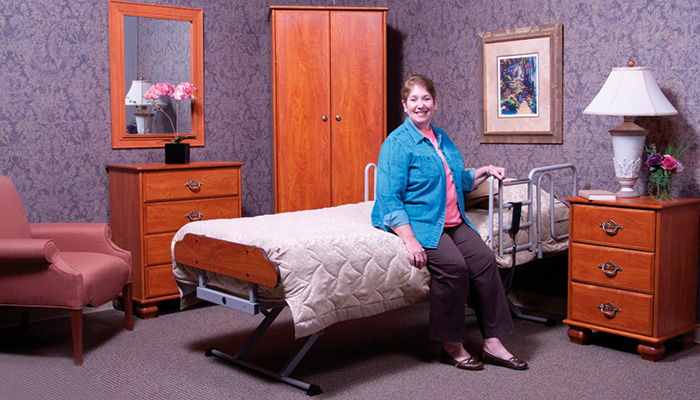 Patriot LX Full-Electric Bed
What makes your products stand out in the industry?
COUNTS:
Our Patriot series of homecare beds are unique in the market because they focus on quality and durability. They are designed with a grid deck sleep surface versus the traditional spring deck, which will not sag over time.
Are there any trends on the horizon in the beds and support surfaces market this year?
COUNTS: Changes in how hospitals are reimbursed for pressure ulcers that occur while in the hospital will help them focus more on preventative solutions, where quality is more important than price. Our focus on technologies that can help prevent pressure ulcers and bedsores will have a positive impact on our customers.
How do you plan to stay competitive?
COUNTS: We plan to continue to offer quality solutions. In the homecare bed market, with products such as our more recent Patriot LX, we focused on features that would appeal to both the patient and to the provider.
For HME providers looking to improve their businesses, how important are customer service and customer education?
COUNTS: Critical. If a patient is referred to you or comes to you for one product, you hope to earn a patron for life—and quality customer service is key to earning that patron. How that patient was taken care of is what resonates with them.
Flex-A-Bed
Ben Groce, CFO
flexabed.com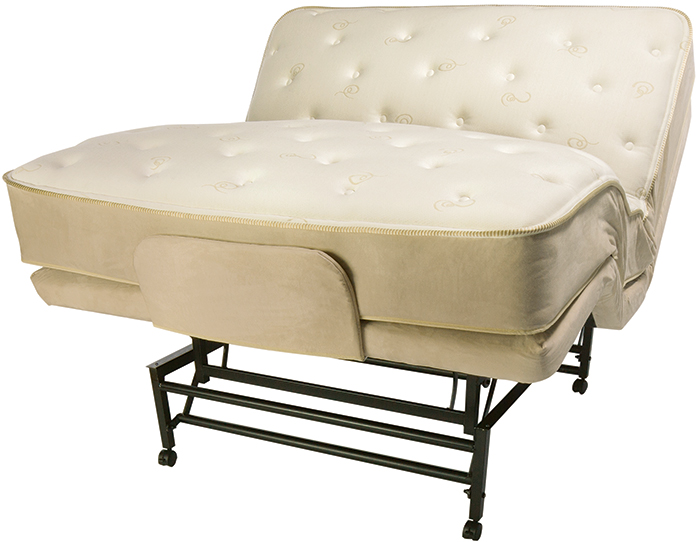 Hi-Low Model Queen Bed
Tell us about your product line.
GROCE: We specialize in meeting the needs of the upscale tier of the market. It's all we do. Our three core model lines (Premier, Hi-Low, and Value-Flex) stand out as custom-built, high-quality beds that are both attractive and fashionable.
How are trends affecting HME dealers?
GROCE: One trend we are watching closely is consumer interest in quality and durability. Our dealers tell us that consumers are wary of shoddy manufacturing practices and are increasingly willing to invest in getting a high-quality product.
Do you anticipate any challenges in the beds and support surfaces market in 2016?
GROCE: At Flex-A-Bed, our challenge will be what it has long been—competing against low-cost overseas manufacturing. We are a cash sale with no Medicare involvement, and though our beds do offer many of the mobility features you would find in a hospital bed, that is not what we make and not how we go to market.
How will Flex-A-Bed stack up against competition this year?
GROCE: We will compete by delivering high-quality manufacturing and industry-leading warranties, plus attractive margins and excellent service for our national dealer network.
In your opinion, what is the single most important thing that HME providers can do to remain competitive in 2016?
GROCE: Forward-looking HME providers will want to open up their cash-sales pipeline and build revenues on that side.
How do you help HMEs stay current with their product offerings and overall product knowledge?
GROCE: Clearly customer service and product knowledge are key to successful retailing, and as a manufacturer, we view it as our role to help get our dealers up to speed and keep them there.
Merits Health Products
Katie Ball, Marketing Specialist
meritsusa.com

B310 Full-Electric Bed
Tell us about your company.
BALL: Merits Health Products offers semi-electric beds, full-electric beds, full-electric low beds, bariatric beds, bed rails, innerspring mattresses, fiber mattresses, foam mattresses, gel overlays and air mattress systems. Merits also makes many of the bed motors in the industry.
Will you face any challenges in the market this year?
BALL: Lower reimbursement has really affected everyone. Providers need a cheaper product, which has caused many manufacturers to cut costs and remove necessary items, like the hand crank. In the end, patients and/or caregivers suffer most.
In this challenging market, how will Merits remain successful this year?
BALL: This year we are spending a lot of time, money and effort to give dealers more of the support they need to sell our products with confidence.
Any advice for struggling HME dealers?
BALL: Continue to produce high-quality products that are economically sound, without compromising quality for cost.
How does customer service fit in?
BALL: Customer service, customer education, and overall product knowledge are all ways that providers can improve their businesses. These are key to establishing customer satisfaction, customer referrals, and repeat business.
SleepSafe Beds
Earnie Taylor, Account Representative
assuredcomfortbed.com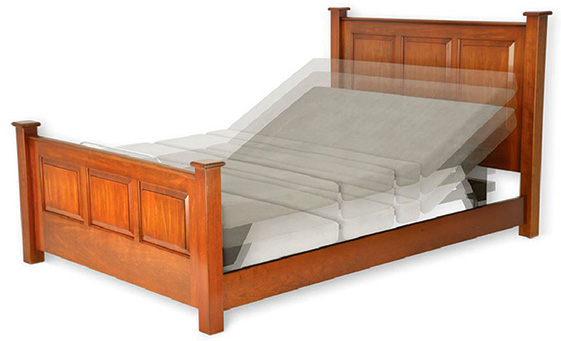 Hi-Low Convertible Bed
What makes your products unique?
TAYLOR: Assured Comfort Custom Adjustable Beds takes pride in providing the industry with a quality Virginia-made product. It is the only completely customizable adjustable bed frame offered today. Simply tell us your needs, and we will assist you in choosing the best bed.
How is your key sales demographic changing?
TAYLOR: Statistically, the number of aging persons (over 55 years) is growing, and as this happens, the expectations of care grow with them. Assured Comfort tests new products and accessories to existing products on a weekly basis to meet and exceed the needs and requests of the aging population.
What changes or challenges will the bed and support surfaces market face this year?
TAYLOR: The expectations, demands, and requests of the clients. Assured Comfort meets these requests head on with a willingness to do what it takes to assure we are providing each customer with the most comfort possible. We know that each client is different and this is why we do complete customization.
How will your company stay competitive this year?
TAYLOR: Assured Comfort stays competitive in the market by listening to our clients. If it weren't for the requests and feedback from our faithful clients, we would not be able to make the product we do.
How can struggling HMEs keep up?
TAYLOR: Take the extra time to search out what product would be best for each individual scenario. \
How does customer education fit in to a successful business model?
TAYLOR: Good, educated and caring customer service will help any company stand tall over competition. In all products, customization is key; the ability to turn something that typically has a hospital feel into fine furniture or accessories will make the client feel much more at home with their medically needed products.
Blue Chip Medical
National Clinical Sales Team
bluechipmedical.com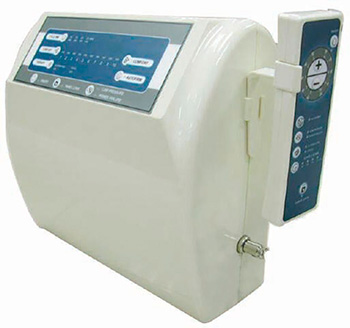 Tradewinds ATS Pump
What makes Blue Chip Medical stand out in the industry?
BCM: We manufacture support surfaces to meet the needs for standard sizes, as well as custom-size requests. Our "Made in the U.S." capabilities allow Blue Chip Medical to oversee all facets of the production process to assure high-quality, cost-effective products that deliver positive clinical outcomes.
Do you foresee any trends popping up on the market this year?
BCM: Increased documentation challenges partnered with continued reimbursement cuts will mean that fewer health care dealers will be willing to provide support surface services. Technology can impact the market by creating efficiencies in documentation and scheduling logistics.
Where are the most significant challenges in your market?
BCM: On January 1, Medicare competitive bid rates were rolled out to rural communities throughout the nation. One way to make up lost revenue is to add product lines that can be provided to your existing customer base, and to move the focus beyond just support surfaces to items that the patient may need based on the condition being treated.
How will Blue Chip Medical stay competitive this year?
BCM: Blue Chip Medical Products continues to provide quality craftsmanship in all our products in the face of fierce pressure to reduce costs.
How can HMEs find room to grow?
BCM: The single most important thing an HME provider can do to increase revenue is do it right the first time and avoid doing it over. Additional service calls and delays in providing equipment or in receiving payment can erode already thin margins and decrease customer satisfaction.
How can HMEs create better and more productive relationships with their clients?
BCM: The companies that provide excellent customer service, choose the right product for the individual and operate with efficiencies needed to manage decreasing margins will be successful.