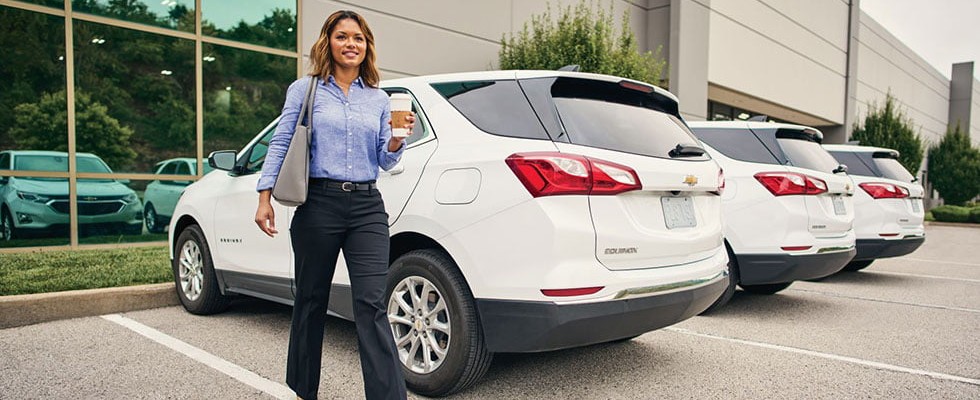 How having a dedicated fleet can improve business, staff morale & safety
Editor's Note: This article was updated on Sept. 20, 2022. We incorrectly identified Brice Adamson as Brice Anderson. 
You may know Enterprise as the people who say they will "pick you up" when you rent a car from them. But you might not realize that the company also provides fleets of vehicles for medium-sized businesses. Brice Adamson, president of Enterprise Fleet Management, sat down with HomeCare to talk about some of the benefits of having your own fleet rather than relying on employee-owned cars.
HOMECARE: Some of our readers may not be familiar with this side of Enterprise. Can you share a little more about how it works?
ADAMSON: Enterprise Fleet Management provides full-service fleet management for companies, government agencies and organizations operating medium-sized fleets of 20 or more vehicles, as well as those seeking an alternative to employee reimbursement programs. We operate a network of more than 50 fully staffed offices and manage a fleet of more than 745,000 vehicles in the United States and Canada. Additionally, Enterprise Fleet Management supplies most makes and models of cars, light- and medium-duty trucks and service vehicles across North America.
For homecare agencies, we offer expert-level support to help agencies make better-informed decisions about their fleet operations—from vehicle acquisition and resale to day-to-day fuel usage and routing.
As a homecare agency's fleets continue to grow, a fleet management partner can be particularly valuable when determining the best time to sell, replace or conduct maintenance on vehicles. Fleet management companies (FMCs) closely follow market trends and transitions—like which manufacturer updates are being implemented each year to meet vehicle safety regulations and ensure optimal performance and driver safety.
HOMECARE: What are the benefits for a homecare company of having a dedicated fleet of vehicles instead of using employee cars?
ADAMSON:Your fleet is more than just a collection of vehicles. It's your reputation—and a message to your customers! By having a dedicated fleet of vehicles, you can choose vehicle models that make the most sense for your business (which ultimately helps maximize performance), ensure a consistent brand appearance when employees are on the road and reduce risks that could have a financial impact on your business, from vehicle damage to general liability concerns. Many FMCs offer a small plug-and-play telematics device in their vehicles to capture important details that improve safety and monitor driver compliance—with data delivered directly to the business point of contact.
Contrary to popular belief, a well-managed company fleet often costs less and is more efficient than an allowance or reimbursement program—cutting overall costs 10% to 20% annually for industries that traditionally use reimbursement and allowance programs, such as health care, courier services, security and sales.
HOMECARE: Fuel prices continue to rise. Can a fleet help control those costs?
ADAMSON: While we may not have control over the price at the pump, you still have some control over your fleet fuel expenses. One way to control fuel costs is to right-size the vehicles your homecare business needs to help prevent excessive fuel consumption. An FMC will conduct the analysis and help by providing suggested vehicles that are right for the business.
Enterprise also uses a fuel card to help organizations monitor and control their fuel costs. We've found organizations can save up to 10% on fuel by using the program to set purchase limits, control the type and quantity of fuel that drivers purchase, and manage nonauthorized purchases. The fuel card can also help drivers locate the lowest-cost fuel in the area.
HOMECARE: How can a fleet help increase safety?
ADAMSON: For organizations with employees who operate motor vehicles as part of their jobs, safety on the job must be an absolute priority. A fleet can help in a few ways.
First, swapping aging vehicles with newer models improves the likelihood that occupants will be protected from impact in a collision. Today's standard models often come with improved safety and crash-avoidance technology, additional airbags, electronic stability control and many other essential safety features. Proactive vehicle maintenance can also help organizations ensure that their vehicles are in good working order.
Enterprise Fleet Management also collects telematics data and offers tools to identify at-risk drivers, assess individual driver performance and enforce driver policies. While many organizations check their drivers' motor vehicle reports (MVR) periodically, driver monitoring technologies are considered more effective than sporadically running MVRs.
By using a small plug-and-play fleet telematics tracking device, operators can monitor their fleets in real time. A fleet telematics system should provide a wealth of data (e.g., GPS location, speed, fuel usage and engine performance) and capture critical details to improve fuel usage, optimize routes and plan maintenance.
HOMECARE: There's a major staffing shortage in homecare right now. Can providing a company vehicle help with recruiting and retention?
ADAMSON: Company cars are an exciting, valuable benefit that can boost employee satisfaction as well as recruiting efforts. A company vehicle can also be a positive force for your business's visibility and reputation.
Many of our clients report a positive change in their organization's brand awareness when shifting to a company fleet—they'll often see heightened sales and awareness due to more vehicles on the road with a branded wrapper. They've shared examples of hard-to-fill positions attracting new staff due to the perk of a company vehicle.
Company fleets are a win-win for many organizations—your employees will love the added bonus of their own company vehicle, and as a business owner or operator you will be able to ensure vehicles are safe and compliant and excellent representatives of your brand.
HOMECARE: How should an agency vet staff for safety and reliability behind the wheel?
ANDERSON: Many organizations who employ drivers with serious moving violations often perform, on average, more than 20 points worse in loss ratio results than organizations whose employees have clean driving records. A fleet management company will provide the visibility you need to identify at-risk drivers, assess individual driver performance, reduce accidents and enforce driver policies.
A small plug-and-play telematics device can also provide real-time risk and safety reports, in-vehicle coaching, accident notifications and insights on seat belt usage.
HOMECARE: What are some things homecare agencies need to look for in a fleet partner?
ADAMSON: It's important to remember that partnering with an FMC is no different than hiring any other specialized expert—the best fleet partner should be able to offer a depth and level of expertise that companies themselves may not ever attain as they grow.
Be sure to seek out a fleet partner that makes it a priority to stay relevant in the automotive industry, whether that's partnering with manufacturers and service vendors or investing in the latest fleet technology. In turn, you'll benefit from having a national infrastructure with local, dedicated services. A good local fleet manager will also work to know and understand the challenges your company faces—allowing you to focus on what matters most for your business.
Ultimately, the expertise of a fleet management company should help your homecare agency reduce administrative costs, maximize vehicle performance and reduce human error, all while aligning their strategy with your agency's goals.
HOMECARE: What are some obstacles to more homecare providers using company fleets, and how can they be overcome?
ADAMSON: Many homecare agencies begin their operation with internal infrastructure and resources to manage their vehicles. However, as the operation grows, managing more vehicles each year can often become its own full-time job. Choosing to outsource fleet management to an FMC like Enterprise Fleet Management can help free up a homecare agency's most valuable resource—its people—to focus on the core operating activities of the organization.