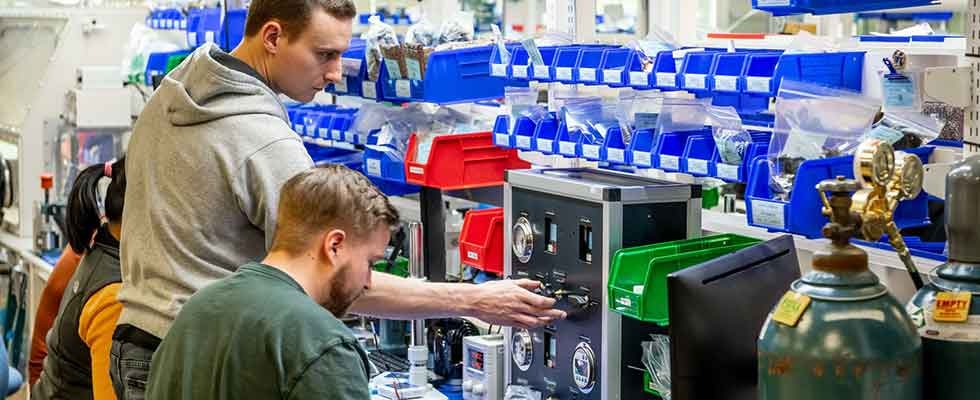 Ventec Life Systems tackles the pandemic head-on
Ventilation made it into the public eye in March with the onset of the COVID-19 pandemic, and Ventec Life Systems was at the forefront, as the small company teamed up with General Motors to build 30,000 ventilators for the national stockpile. Ventec is the creator of VOCSN, the first ventilator that integrates five separate devices: a ventilator, oxygen concentrator, cough assist, suction, and nebulizer (that's what VOCSN stands for). HomeCare talked with Chris Brooks, chief strategy officer for Ventec Life Systems, about the move and what's down the road for the company.  
HOMECARE: You've had a busy time! How did the General Motors partnership come about? Where does it stand now?
BROOKS: Yeah, it's been a very busy few months for everyone in the homecare industry, particularly those in the respiratory industry. We do all of our design development and manufacturing in Bothell, Washington, which is just about 30 minutes north of Seattle and only a few miles down the road from the initial outbreak of COVID in the United States, so we were acutely aware of what was going on; at that time it wasn't yet a pandemic but it was quickly spreading. We were very vocal in the media, discussing what is respiratory care, what does a respiratory pandemic look like, at that point—and we continue to learn today about how to care for these patients—recognizing that patients that suffer from COVID were going into full advanced respiratory distress syndrome and needed a true critical care ventilator to give them a chance to allow their body to fight this disease and get healthy again. And so we were very vocal about what is a critical care ventilator as opposed to a lot of the other devices out there ... about not just needing a ventilator but needing other equipment as well, and, more importantly, needing respiratory therapists to manage these devices. The world very quickly became aware of respiratory care and what is a ventilator and what is a respiratory therapist.
We knew that while we were a growing company and we were scaling our production month over month, that when you hear Gov. Andrew Cuomo in New York say that they need 40,000 ventilators and that's nearly half of the crucial care ventilators that are created globally each year, we knew that we were going to have to massively scale our manufacturing. We were fielding calls from a wide variety of different partners who were offering their services to us, and from that we ended up being introduced to General Motors. We had our first phone call with General Motors on March 17. From that phone call, we very quickly understood that we could go from a phone call to a partnership. They were bringing together both their global supply chain, which was our biggest constraint at the time, really needing parts to build ventilators, and they also understood scaled manufacturing. We were producing on the 100s and we needed to produce on the 1,000s and we knew that General Motors could bring that to bear.
Very quickly ... they identified a location in Kokomo, Indiana, where they were making advanced electronics, and we were able to replicate the facility we have here in Bothell, Washington, on a much larger scale in Kokomo and build that out to be able to have multiple production lines for VOCSN. Less than 31 days (after the first phone call), we were shipping ventilators that were made in Kokomo to frontline health care providers in the Chicagoland area who were battling COVID. In that process, we received a federal contract for 30,000 ventilators to go into the federal stockpile, which we are in the process of completing right now. That'll be done at the end of August. We're happy to report that we're on schedule with that production.
HOMECARE: Do you think that we're better prepared for a second wave of the virus?
BROOKS: We certainly have more ventilators. Ventilators are a piece of the puzzle. As we've said all along in this process, the person with ALS who wakes up in the middle of the night unable to breathe because the disease has taken over their respiratory system—that need for a ventilator is just as acute as a COVID patient. We have tried not to lose sight of the homecare market and the need for ventilators there. Ventilators are part of the public health safety net, so as we begin to open economies and people go back to work, our hope and prayer is that we never need to use the 30,000 ventilators that are going into the stockpile. But knowing that we have access to those tools allows us to begin to reopen and allows medical professionals to have the peace of mind knowing they have the tools to take care of patients … We certainly have not taken our foot off of the accelerator. We're still making ventilators as quickly as possible and trying to fulfill the orders that we have on backorder plus the new orders that continue to come in.
HOMECARE: What lessons have you learned since March?
BROOKS: I think you can never be too prepared. We've learned a lot about manufacturing at scale and doing it as quickly as possible. I think it has reinforced one of the core values of ours, which has been training. A ventilator is only as good as somebody who knows how to use it, and we've always been proud of the training that we've offered, whether that's a new mom who's taking care of a child on a ventilator, or that's a respiratory therapist at a facility … All of our training is open source and available for anyone who wants on our website and that's important during a respiratory pandemic, where you're going to have a lot of people perhaps using equipment they've never used before because they're getting it from the stockpile or perhaps even non-respiratory therapists who are having to use equipment as well. I think it also kind of reinforces the idea of integration to be able to more efficiently care for patients and to be able to care for more patients with fewer people, which is typically what happens during a pandemic.
HOMECARE: Let's talk about the Centers for Medicare & Medicaid Services (CMS) rolling back competitive bidding in April. How has that helped the noninvasive vent market as a whole?
BROOKS: This is a huge win. And sadly, care for ventilator patients—the payment for that provided to the homecare companies— continues to get reduced year after year, and competitive bidding was going to do that as well. We fully support both invasive and non-invasive (ventilation) not being part of competitive bidding. Our code, E0467, was not part of competitive bidding, but regardless, this was a huge win for all ventilator users to ensure there are proper funds in place to support the care for ventilator users. We were very happy to see CMS roll that back.
HOMECARE: In a victory for your category of vent, HCPCS E0467, they removed the "same or similar" language recently. How is that going to help patients receive care?
BROOKS: Traditionally for ventilators you would have to bill for invasive or noninvasive, so E0465 or E0466; when we introduced VOCSN, it combined multiple devices into one. You can't bill multiple codes against one piece of equipment—that's fraud—and so we needed to come up with a new mechanism to reimburse for VOCSN. CMS in 2019 introduced E0467 for a multifunction ventilator, which is defined as a ventilator that also combines an oxygen concentrator, cough assist, suction pump and nebulizer; VOCSN's the only device that meets the requirements for E0467. Patients are eligible for E0467 if they have a prescription for a vent plus one of the additional therapies (oxygen, cough, suction or neb) and, as we discussed, almost every ventilator patient has a prescription for a ventilator plus one of those other therapies. ... The implementation basically precluded any patients who had previous billing history of any of that equipment. So, if you had a nebulizer that you billed for two years ago, you were precluded from getting access to VOCSN. That "same and similar" provision has been removed, and that was a big win; it really opens access to all ventilator users to have access to integrated care with VOCSN. The homecare company realizes anywhere from 15-20% higher reimbursement for that device and now they're only having to bill for one code. It significantly streamlines care for the homecare company, makes it a lot easier for patients and caregivers, and provides a lot more access to VOCSN.
HOMECARE: What are your future plans? Where do you envision Ventec being in five years?
BROOKS: This idea of integration in the health care space has certainly been much talked about … This idea that every time you leave the house and you take your ventilator with you, you also have cough, suction, nebulizer, oxygen, so you're not intentionally leaving those therapies behind. You're becoming more compliant with them because they're easier to use and they're with you at all times. You can begin to see where the clinical benefits play into integration as well, so we're excited to continue to expand upon that.
There's a lot that we will be adding to VOCSN. We launched multi-view this year, the ability to track and monitor all five therapies, to begin to understand what is going on holistically with your patient—not just what are your breath rates and when are patients triggering the breath, but how is there secretion management with cough and suction impacting their oxygen usage and then what are we seeing as a result in their data. Building out a platform for physicians and DMEs to begin to log in and monitor those patients, not just what's going on with the ventilator but holistically what's going on with their care, and then certainly the trend for continuing to provide high-level care in the home.
Listen to the HomeCare Podcast to hear the full interview with Brooks.