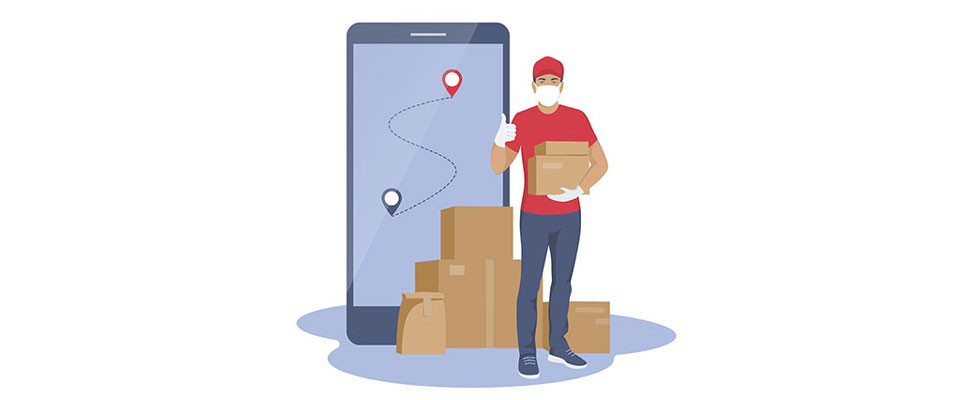 When equipment absolutely has to be there
Wednesday, August 5, 2020
The COVID-19 pandemic has accelerated technology adoption across the home medical equipment (HME) industry, from e-referral to remote patient setups. And one thing has become clear: A more technology-enabled HME provider is better equipped to survive—and thrive—in this new environment of virtual care and contactless delivery.
One technology that HME companies are increasingly turning to in order to achieve business continuity and success in this time is mobile logistics software, which automates and tracks the delivery of medical equipment, supplies and services. In fact, there has been a 21% year-over-year increase in providers newly adopting a mobile delivery solution from March through June of 2020, according to data from Brightree. Providers who have already implemented and benefited from the technology are expanding their use as well, with a 40% increase in users from existing customers over the same period.
Given changes to the industry imposed by COVID-19, it makes sense that the use of these solutions is on the rise; a mobile logistics platform helps optimize productivity, improve cash flow and increase operational transparencies. It also supports contactless delivery, a feature that has become incredibly important for HME dealers, employees and patients throughout the pandemic.
New Expectations
Even before the pandemic struck, HMEs were working to streamline their delivery processes while meeting ever-increasing regulatory requirements. The need to safely deliver medical equipment and supplies to patients' homes reached an all-time high this year, however, with providers transitioning to contactless delivery methods as they shut down their retail locations in an effort to flatten the curve of COVID-19 and keep patients and staff safe.
A March 2020 study from the National Institutes of Health found that COVID-19 remained infectious for up to 24 hours on cardboard and paper. At the same time, providers transitioned back-office staff to work from home, putting more pressure on paper-based delivery process. And as one provider new to mobile delivery stated, "It's hard to disinfect paper."
In response to the pandemic—and to make sure patients at home continued to receive appropriate health care—the Centers for Medicare & Medicaid Services (CMS) announced temporary regulatory waivers for the duration of the public health emergency, temporarily waiving signature and proof-of-delivery requirements for durable medical equipment, prosthetics, orthotics and supplies when a signature cannot be obtained. In response to this new temporary guidance, an update to help providers meet demand throughout the pandemic has been the addition of photo capture as part of order service documentation within a mobile delivery solution. This has allowed drivers to take a photo that acts as proof-of-delivery, along with automatic timestamps and geocodes and a notation on the electronic delivery documentation that notes the patient signature was not available due to COVID-19. As a result, patients receive their medical supplies safely, drivers remain shielded from disease risk and HME companies can accelerate both billing and collections.
Reducing Paper
Replacing paper-centric processes with electronic workflows is nothing new to the homecare industry. That said, when it comes to managing deliveries, it's estimated that around half of HME providers still use paper. This significantly slows down operations and impacts a business's bottom line.
Mobile logistics software allows providers to run completely paperless delivery processes: Electronic delivery tickets automatically load orders onto drivers' handheld devices and wireless syncing enables automatic, real-time documentation filing. Eliminating paper-chasing means shops are able to bring cash in quicker, while minimizing the manual errors that can lead to billing disputes.
DASCO Home Medical Equipment, which provides delivery services to patients across Ohio, West Virginia, Kentucky and Indiana, was using a paper-based system for its delivery tickets. It was costing the organization more than $10,000 in paper and handling costs, and resulted in technicians making approximately more than 150 duplicate trips due to missing tickets or signatures each month. After implementing a mobile logistics platform and handheld devices across its delivery staff, DASCO has made revisits a thing of the past and increased cash flow by 14%.
Similarly, Texas-based supplier Angel Medical Supply, which specializes in acute respiratory care and supplies, was able to bring its number of missing sales orders from 20 per month to zero after moving its delivery process to an electronic platform. The organization also dramatically reduced the amount of time required to confirm a sales order from 30 days to only two.
Improving Transparency & Tracking Deliveries
Mobile logistics software also offers fleet management capabilities, enabling real-time visibility into drivers, field technicians and the status of orders, as well as route optimization to decrease vehicle wear and tear, improve mileage and reduce maintenance costs. In addition, with spikes in demand for home delivery, HME providers need an efficient way to manage same-day orders and add or update orders in real-time so they're able to respond to urgent requests efficiently and minimize disruption from schedule changes.
"The amount of time ticket processing and delivery routing took previously was atrocious. With customer service being an essential part of our business, it was unacceptable to not know delivery statuses when customers would call to check on their order," said Stephen Hernandez, senior director of operations for Angel Medical Supply. "Now we have complete communication between the driver, patient and internal teams so we can work to schedule urgent requests and monitor progress. This transparency in our delivery teams has allowed us to provide updates in real time with patients and caregivers, which can often be critical to their care."
The transparency offered by a mobile logistics platform also ensures drivers are making the most of their time in the field, granting managers the flexibility to focus on other aspects of their business.
Before implementing a mobile logistics platform, DASCO was not able to properly monitor its team of 35 technicians and was concerned that drivers were taking care of personal matters while on the job. Now, dispatch managers know exactly where each delivery technician is at all times and can evaluate staffing needs. This has allowed DASCO to streamline routes and develop a daily routine for its technicians, enabling the company to complete more than 3,000 deliveries each month.
Going High-Tech
Automating manual paper processes has allowed these and other providers not only to improve service to patients, but also to streamline the entire delivery side of their businesses.
DASCO now confirms approximately 2,500 more orders per month without adding more full-time employees. And Angel Medical Supply has increased its bottom line by 40% thanks to its ability to service an average of more than 700 deliveries each month. These examples demonstrate technology's impact on HME providers who are increasingly looking for ways to do more with less.
As providers continue to grapple with changes brought on by the COVID-19 pandemic, solutions such as mobile delivery that can drive efficiency, maximize productivity, improve cash flow and increase transparency are becoming more widespread. HME providers who are equipped with such solutions are well positioned to not just meet but exceed today's market expectations.