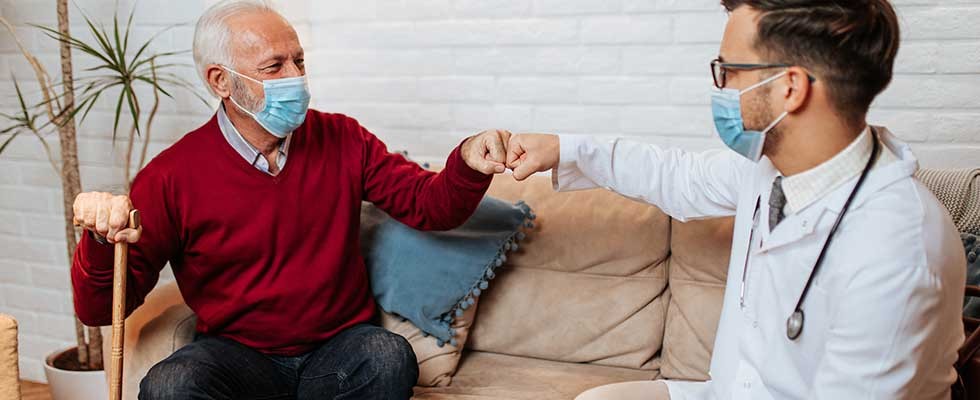 Homecare can offer solutions & a new career for many
Wednesday, April 7th, 2021
In the future, 2020 will stand out as the year that homecare truly came into its own. From taking the burden off overtaxed hospital intensive care units by providing around-the-clock clinical care at home, to supporting seniors facing isolation, those who offer home-based care proved they can answer the call when needed most. The past year has also revealed some stark truths about the health care ecosystem: that there are still a multitude of siloed structures, and that we desperately need real solutions for continuous improvement—and that we must be prepared for the next major health care crisis.   
There were countless instances over the past year when, if the industry had improved care coordination, providers could have preserved and optimized resources and potentially had better outcomes as a whole. Speaking as both a registered nurse and an experienced home health care leader, I know that the services home health care offers are crucial to bridging these widening gaps. Propelled by home health care's momentum over the last year at the forefront of the COVID-19 response, providers can continue to break down silos and make quality health care accessible to our communities' most vulnerable and to those who can experience the greatest benefit. To do so, we'll need the right kind of staff to do the job—and we'll need to bring new workers into the industry for future success.
Meeting the Demand
Over the past few years, there has been a steady uptick in the requests for home health care services. As the number of seniors, the number of chronic conditions to be managed, and life expectancy increase, so does the desire to safely age in place. AARP has reported that three out of four adults over the age of 50 want to stay in their homes and communities as they age. Both the health care industry and the federal and state agencies that oversee the industry's many moving parts need to recognize the home health care community for what it is: an indispensable service that will make health care as a whole stronger and more resilient.
The home setting is known to produce higher quality of life and improved outcomes, and, as we learned in the pandemic, it is also where virus transmission is minimized. In fact, a study from the University of Pennsylvania School of Nursing showed that 94% of COVID-19 patients discharged to home health care, including skilled nursing and physical therapy, showed significant improvements in both symptoms and overall outcomes. In the early days of the pandemic, however, homecare professionals were left out of high-level conversations as the country prepared for the growing crisis. This had ripple effects that extended far beyond the industry and ultimately affected how the United States was able to respond to this disaster.
It ultimately took advocacy from many individuals and joint task force leadership at both the federal and state levels to ensure that America's 3.2 million home health care workers were classified as essential, empowering them to continue their work to care for critical-needs patients amid lockdowns. If industry leaders had been looped into these conversations earlier, trained homecare staff could have alleviated the strained resources at hospitals and nursing homes nationwide and avoided the rush to set up field hospitals that ultimately went unused. Furthermore, as shortages of personal protective equipment (PPE) emerged, homecare agencies were left scrambling to find the materials necessary to continue to work safely. Through ingenuity and determination, the industry was able to navigate these trials and come out on the other side. But these efforts proved that better collaboration is essential to moving the country forward.
Meeting the Challenge
The industry shape-shifted with amazing agility and resourcefulness in response to the pandemic, further proving that home health is earning its place in the care continuum. COVID-19 vaccine distribution is one area where homecare staffing could fill a void in communities across the nation, as many agencies do for flu season every year. Agencies from coast to coast are in the unique position to coordinate with local departments of health at the community level to be the staffing solution and regain momentum in the vaccine rollout by providing experienced health care personnel—who are trained to follow safety protocols and to keep those at the highest risk safe—to administer doses.
Some locations are even going so far as to set up call centers to provide local hospital systems with on-demand staffing support, sending qualified clinicians to assist with administering COVID-19 vaccine doses when necessary. In addition, home health care agencies have direct access to those patients at the highest risk of contracting COVID-19 and are able to safely provide vaccinations without the individual needing to leave their home—providing increased access for those most susceptible to falling through the cracks of the vaccination effort. Home health care nurses and other paraprofessionals have stepped up to help, volunteering to join the vaccine distribution process and further showcasing the tireless, unwavering dedication that they've exhibited over the past year.
The other area the industry can continue to make a positive impact in is bringing in new workers. According to McKinsey, health care- and aging-related jobs could grow by 50 million to 85 million globally by 2030. Employee shortages are a rising issue that must be addressed if companies want to meet the increasing demand for services. Over the past year, many workers from across various industries have been displaced due to pandemic-related layoffs, and many more are reevaluating their careers and looking for a path with more purpose. Now is the perfect time for them to start a rewarding career in homecare.
Home health care professionals manage some of the most medically complex cases, help hospitals manage surges, provide priceless peace of mind for family members and much more. Transitioning these high-quality, passionate individuals from other medical and nonmedical service industries into stable jobs in health care is important for moving forward, and to help meet increasing patient needs.
The entire health care industry still has a lot of ground to cover to truly break down the silos that exist—across the care continuum, within different health care sectors and spanning advocacy groups—in order to safeguard ourselves from the next major health care event. Through increased awareness of the value of high-acuity care that can be provided in the home, advocating for payment reform, and continuing to meet the demand for homecare services, homecare leaders can make a big step towards strengthening the overall health care system. This industry is at an inflection point, and the 2021 outlook is already strong for mergers and acquisitions. It's time for the people of home health care to step into the light and own their place as an indispensable part of health care and the key to futureproofing it against forthcoming challenges—whatever they may be.