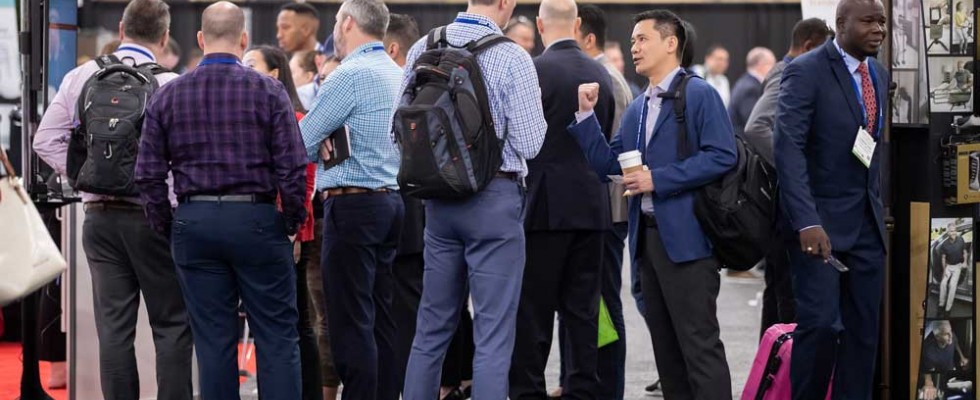 There was some fear that Medtrade Spring might not happen, as travel to the show in Las Vegas corresponded with the early stages of the novel coronavirus outbreak in the United States. Show organizers proceeded as planned, and the event was well-attended, despite the absence of a few China-based exhibitors who were kept away by travel restrictions.
Some of the biggest news about the show came just before the show: Medtrade's spring
exhibition will continue, albeit with changes. In 2021, it will be in Phoenix, Arizona, and dubbed "Medtrade WEST." (See the sidebar at right for more.)
In his twice-yearly update, Tom Ryan, president and CEO of the American Association for Homecare, told home medical equipment (HME) providers and advocates that the group has broadened its mission—and that it's time for the HME community to step up.
He said he has set a goal for the organization to raise an additional $1 million this year to support the larger role it plans to play; AAHomecare has an annual budget of around $3.5 million. At the Stand Up for Homecare fundraiser and reception held during the show, the group raised $25,000 toward its advocacy mission.
While AAHomecare hasn't shifted from its focus in Washington, D.C.—which for this year includes pushing to keep noninvasive ventilators out of competitive bidding and finding financial relief for rural and nonrural areas—the group has rebranded to make sure members and nonmembers are aware of its work at the state level and in regulatory affairs.
"We did a survey about a year ago and found out that the nonbelievers really had a perception that we were just one lane in D.C.," Ryan said.
"We had to rebrand ourself and let the nonbelievers understand that we are everywhere, we are in your hometown, and the challenges are tremendous."
---
Medtrade Rebrands, Heads to Phoenix in 2021
In an exclusive podcast with HomeCare magazine, Medtrade Show Director Mark Lind discussed the changes coming for Medtrade and Medtrade Spring.
Lind, who has been with Medtrade for just over four years, has held the director role for a year. He wasted no time putting his own stamp on the show.
The biggest change is location, which is moving from Las Vegas to Phoenix, Arizona. But the show is also getting a new name: Medtrade WEST, scheduled for the Phoenix Convention Center April 12-14, 2021.
"We surveyed providers about what they wanted," Lind said. "Phoenix came up as a blip for the providers out west."
The name change reflects the division in attendance between the spring show, and the fall Medtrade in Atlanta; the two currently have only about a 10% crossover in attendees. In 2021, the Atlanta show will become Medtrade EAST.
Medtrade WEST will also change in format, shifting  to dedicated show and expo hours. In a news release, show officials said the new schedule would set aside about 75% of the expo time without any conference sessions overlapping.
"This will be a huge opportunity for exhibitors who want to go to the conference, but feel stuck at the booth," said Lind. "They will be able to come and exhibit, but get educated, too."
---
Products Take Center Stage
On the expo floor, the New Product Pavilion, sponsored by HomeCare, drew providers looking for the latest products to bring to their stores. With nearly 20 entries across a wide spectrum of HME categories, from mobility to sleep to respiratory, providers had plenty of choices to take home to share with their colleagues and customers.
The winners of the Providers Choice awards, as chosen by attendees, are:
GOLD AWARD: Ageless Innovation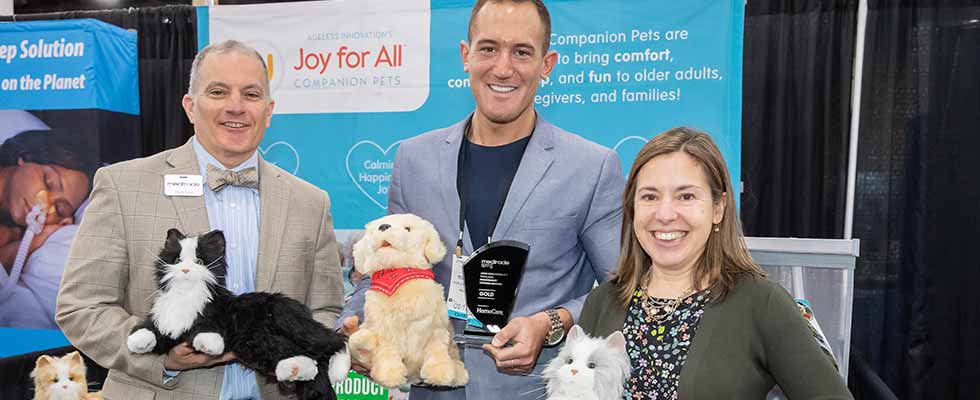 Pictured L-R: Medtrade Show Director Mark Lind, Ageless Innovation's Tom Canterino and HomeCare Editor Hannah Wolfson with the pets
The Gold Award went to Ageless Innovation's Joy for All Companion Pets, which are designed to bring comfort and companionship to the elderly at home or in long-term care without the hassle of pet ownership. The pets include a dog, a kitten and three cat options. 
SILVER AWARD: Philips Respironics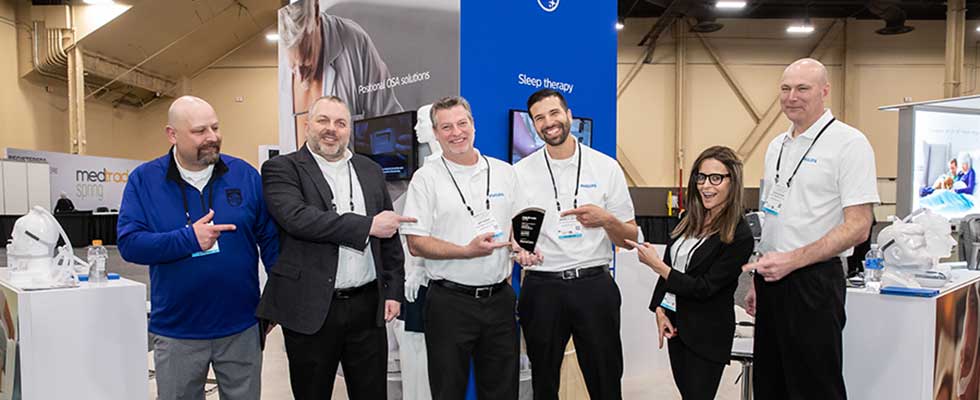 Pictured L-R: Shawn Rojas, Jeff Marshall, Jeff Murray, Andrew Blancas, Stephanie Menaro and Kevin Coldren of Philips Repironics
The Silver Award went to the Philips Respironics Mask Selector, a tablet-based application that allows respiratory therapists to custom fit CPAP masks by using a camera to capture a 3D scan of the patient's facial geometry. Philips has said that the product will improve fit for CPAP users and could assist with compliance.
BRONZE AWARD: Let's Move Rollator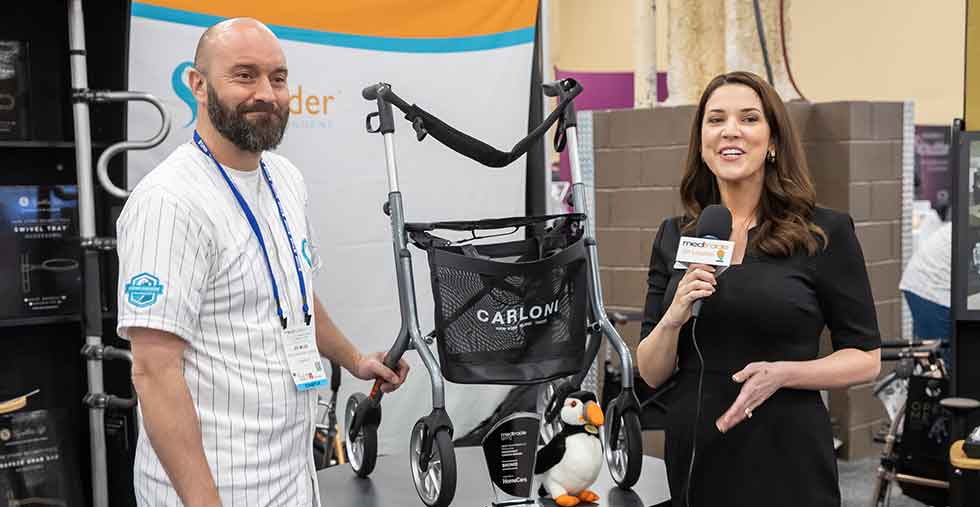 Pictured: Jason Howell, Stander's regional sales manager, being interviewed at Medtrade
The Bronze Award went to the Let's Move Rollator from Trust Care by Stander. A perennial favorite on the floor, Stander debuted a full line of luxury rollators from Sweden featuring ergonomic design, easy handbraking and simple adjustments. The Let's Move is a lightweight version with a carrying bag, back strap and easy folding ability.