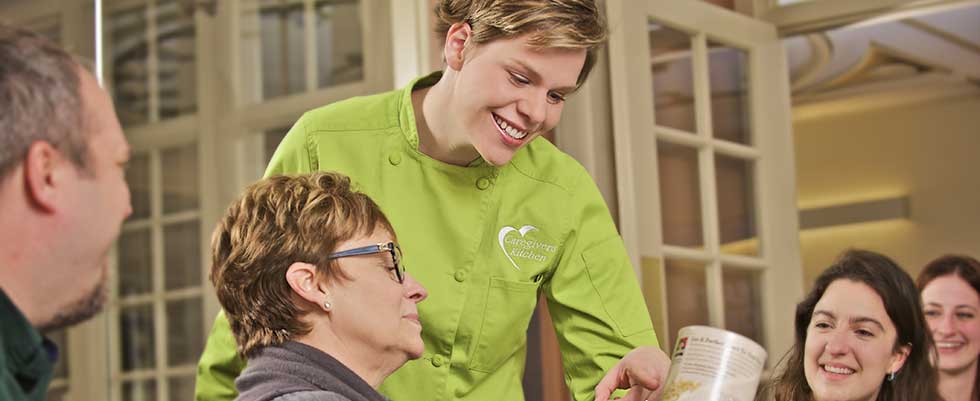 Culinary training for caregivers goes beyond meal prep
Chef Beth Scholer is a classically trained chef. She studied in Paris and learned the culinary techniques that go along with five-star cuisine. But as she cooked, she realized her true passion was educating people young and old about healthy meals. With a background in food safety and nutrition, she became a certified dietary manager, which eventually led to the creation of Caregivers Kitchen, an online and in-person culinary training program for in-home caregivers.
Caregivers Kitchen was born when a homecare agency in Scholer's hometown of Ft. Wayne, Indiana, approached her to create a training program after hearing complaints from clients that caregivers couldn't make coffee or cook eggs. When that agency started marketing its specialized staff training, the idea mushroomed.
"Mealtime is very important for elderly clients and their families," Scholer said. "They want to be assured that caregivers can accommodate their loved one's food preferences or special dietary needs. And for elders experiencing a decline in physical or mental health, having choice in their meals gives a sense of personal control and offers comfort."
As basic as the need may be, it's something homecare agencies struggle to provide, she said. She cited a survey her group conducted in which 90% of homecare owners or administrators revealed that they had received cooking-related complaints from clients.
Scholer said that if a homecare company is promoting cooking services, it's important to know that clients have expectations about mealtime—and that nutrition matters, too.
"Clients want to enjoy their meals and nutrition is so important when it comes managing chronic disease and avoiding hospitalization. Well-nourished elders will have more energy for daily activities, less depression, respond better to medical treatments and enjoy improved overall health," she said.
But making healthy, condition-appropriate meals isn't always elemental. In that same survey, she said, 88% of caregivers revealed they needed more training making meals for seniors with chronic diseases and in other areas such as food safety, nutrition and cooking skills.
With Caregivers Kitchen, there's a professional development component as well. Caregivers who learn specific kitchen skills and mealtime management are recognized as Culinary Specialists.
"Companies who acknowledge their staff's achievement will enjoy greater loyalty," Scholer said. And because everyone eats every day, caregivers can use their new cooking skills and recipes at home for themselves or their own families.
The classes are offered online, ranging from basic skills to more specialized courses addressing cooking for chronic conditions such as diabetes, heart disease, food allergies, celiac disease and more. Caregivers can also learn about improving mealtime for seniors with Alzheimer's and dementia.
A hybrid version of the program offers online courses blended with in-person cooking classes, either in partnership with training organizations, or through a train-the-trainer program at the Caregivers Kitchen office. Caregivers Kitchen recently launched an exclusive partnership with In the Know Caregiver Training to give more caregivers access to the online program.
In Basic Cooking, there are lessons on safely cooking, storing and serving meals, from grocery shopping to setting the table.
"Older adults are more susceptible to foodborne illness, so it is vital that caregivers know and practice safe food preparation in the elder's home but also take steps to make meals a meaningful time," she said.