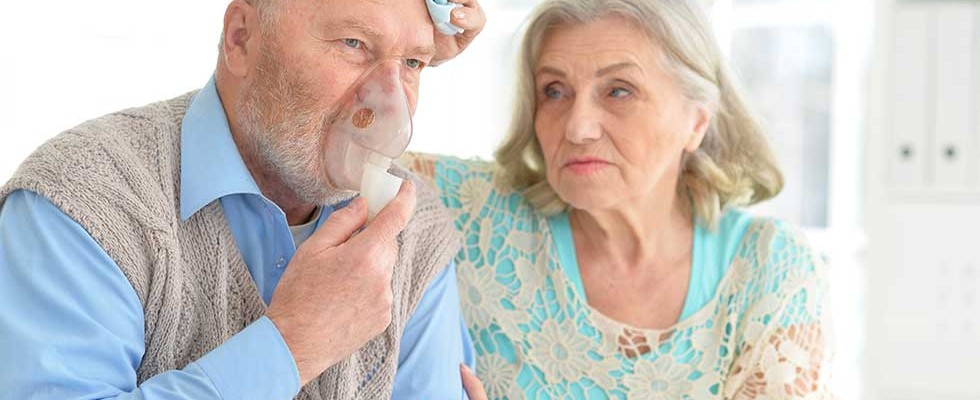 Remote monitoring support for complex needs
Chronic Obstructive Pulmonary Disease (COPD) continues to be a leading cause of death, accounting for approximately $50 billion in direct and indirect health care costs in the United States alone. Despite—or, perhaps, due to—the growing prevalence of COPD and related comorbidities, durable medical equipment (DME) providers continue to face challenges to addressing patient and caregiver needs and improving overall patient outcomes.
The introduction of virtual and telehealth solutions has allowed clinicians, DME providers and patients to connect in new ways to help better manage this  chronic condition. Recent studies have shown that combined COPD treatments could potentially reduce COPD patient hospitalization, delay patient readmissions and lower cost of care. Yet providers continue to see issues with hospital readmissions and low therapy adherence rates among their COPD patient populations.
While technological advancements have improved the administration of health care and innovation continues to fuel the evolution of patient care, DME providers should consider an omnichannel approach to improve COPD education and engagement. This would involve the use of various modes of communication—including phone calls, text messages, emails and digital applications—to reach the patient via their preferred channel. With digital tools and processes, DME companies will be able to drive down operational costs and reduce unnecessary calls and home visits while addressing education on device set up and operation, patient engagement and adherence—helping new and existing COPD patients navigate their treatment options. They will also have improved visibility on patient status and condition progression at a lower cost per patient, with the potential to increase revenue through better outcomes.
A Shifting Landscape
The challenge for most DME providers starts at the beginning, with initial patient engagement. As they continue to face an increasingly competitive landscape and growing pressure on reimbursements, the consistency of quality patient education and home management delivered by their staff across the network may decrease. If the initial education and guidance provided does not adequately prepare the patient or their caregiver, the result will be additional—and unnecessary—calls to the provider and physician, or worse, an increase in preventable readmissions and lower quality outcomes. This may then also be compounded as a provider's patient base grows and can lead to increased costs and lower revenues. This disconnect can lead to significant challenges for DME providers and a potential lack of appreciation for the true value they bring to patient care.
To gain the trust of patients and their caregivers, engagement should not begin and end at the point of diagnosis. Patient engagement is one the of the most critical factors to adherence, and it is in part the responsibility of the DME providers to continue such communication through the channels that work best for the patient and their caregivers.
And while technology has certainly helped advance COPD programs in terms of remote patient monitoring and at-home therapy, the maturity and scalability of such programs require a significant investment in technology assets that are beyond the reach of most providers.
An Omnichannel Approach
Addressing these gaps requires an omnichannel approach—one that integrates both traditional methods of communication and technological interventions. This will allow DME providers and health systems to interact with patients in their preferred communication mode, while also integrating digital processes such as a content management system. Doing so will empower providers to increase the scale and effectiveness of their COPD or noninvasive ventilator (NIV) program, while keeping costs down, educating patients and assessingcare to win more business and operate more efficiently.
Content management systems can help organize all of a DME company's patient- and clinician-facing information in one place and allow providers to efficiently share new information with the patient, their caregiver and/or their own staff. With a patient's information loaded on the system according to their disease state, condition and type of therapy they are following, the system then triggers the type of information and cadence of communication that the care provider or clinician wishes to have sent to the patient.
Providing Early Education
The period immediately before and after a patient's initiation to therapy may be the most integral and sensitive time during a patient's care journey. While it is the responsibility of the clinician to inform and educate them on their disease, it is also important for DME providers to educate them on the appropriate therapy utilization and on COPD treatment therapies from stationary oxygen through NIVs based on their individual needs. A better system must be put in place for clinicians and providers to manage and follow-up with leads—one that can take the form of a digital platform that allows for omnichannel outreach—via live call, text, email or in-app communication, where necessary. In-person visits can prove to be inefficient and unsustainable in the long run, so DME businesses should use digital intervention to drive down costs and improve overall outcomes.
Continuous proactive outreach and education is necessary to help drive patient awareness of the need to use therapy and improve adherence. This information is retained better when served up in comprehensive, digestible chunks rather than in a single training episode. Rather than wait for inbound inquiries, clinicians and DMEs should feel empowered to call, email or text patients and caregivers who are in constant need of up-to-date information. This will not only help keep the involved parties informed, but can also help reduce patient anxiety.
Continued Engagement
While education from the point of diagnosis is necessary, we should not forget that the patient may be on a long journey and must continue to be engaged. With a chronic disease like COPD, conditions evolve and must be closely monitored (while also acknowledging that self management is key). It's important for DME providers to be equipped with the tools they need to anticipate questions from patients or caregivers.
The patient journey is not linear; rather, it is multifaceted with many touchpoints along the way. This means that DME companies should be encouraged to digitize some of their processes in order to increase the efficiency, consistency and credibility of their COPD and NIV programs. These tools give providers the opportunity to stay in touch with their patient populations at every stage—whether they are just starting therapy, need their NIV programs augmented or are in the maintenance phase. This type of engagement can benefit patients suffering from other chronic conditions like obstructive sleep apnea, but is vitally important for COPD patients. Digital tools allow DMEs and clinicians to take note when a patient's therapy might no longer be keeping up with the progression of their disease. With digital survey tools, providers have a scalable solution they can use to triage their patient base and identify therapy alternatives.
While we look for ways to improve the current processes to better deliver such solutions and programs, we must not forget that patient engagement does not begin and end with a single encounter. We must meet patients where they are on their health care journey to encourage continued adherence to treatment. Health care professionals should focus not just on delivering the right type of therapy and care each individual patient needs, but also the continued support they require to maintain a higher quality of life.