How the Willams Bros. Health Care Pharmacy team fosters ROI & the well-being of employees & customers
Longevity and tireless commitment to serving the community personifies Williams Bros. Health Care Pharmacy (WB), founded in 1899. Five generations of pharmacists, starting with great-grandfather Charles C. Williams, WB began as a single pharmacy. Today, the company's services include home medical equipment (HME), home and vehicle modification, compounding, home infusion, and long-term care and retail pharmacy, and employs more than 500 people across 13 locations.
While most pharmacies were focused on growing their pharmacy business, the Williams brothers did that and more. Starting with a single location in a strip mall in 1988, Chuck Williams, Mark Williams and Jeff Williams expanded services to 13 locations throughout Indiana, Illinois and Kentucky. WB prides itself on meeting the needs of the customer as if they are family.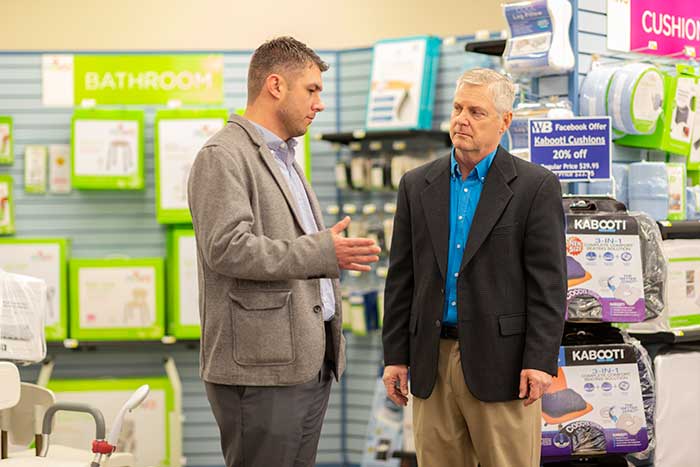 Daniel Stearns and Williams have a conversation.
When asked how the company has survived and grown despite the challenges in the HME industry, Vice President of HME Operations Chuck Williams said, "Our success is principally due to the energy and initiatives of our managers in the HME department. Without their dedication and hard work, we certainly would not have been able to accomplish any of the successes." This humility is a sign of a senior executive who understands the concept that a company is only as good as its employees.
I visited with Williams at a trade show, where we discussed the continuing success of WB and its ability to weather the market volatility of the last decade. For many HME companies, it has felt more like a doom-and-gloom era, while WB has been focused on process improvements and growth.
Williams is certain that, in addition to the core management team, part of the company's success is due to its financial strength, which allowed it to make many moves that other companies have been unable to make.
The Core Team
Knowing that a strong core group of individuals can accelerate progress and growth, it is clear that WB has invested in and focused much attention on the development of its management team. Williams shared details about four of the key employees within the HME division of WB. They are Daniel Stearns, Julie Mize, Derek Johnson and Kelly Trissler. These four individuals effectively run the day-to-day HME operations at WB.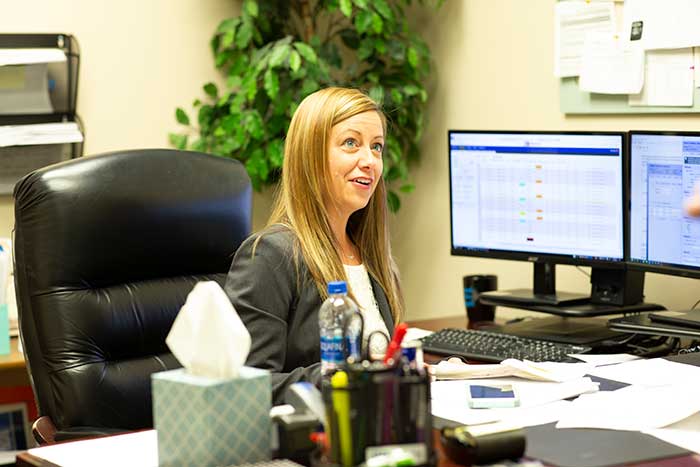 Kelly Trissler in action.
Stearns is the regional manager, overseeing retail, and he also works to develop people through enhanced vendor trainings to focus on superior customer service. He has also established key processes and protocols to streamline upfront documentation collection. Stearns oversees all things retail. He conducted the expansion of the diabetic shoe business, which now includes a certified pedorthist and a streamlined documentation process. He also instituted a customer query and conversation starter process that has resulted in increased self-pay revenue and more satisfied customers. Stearns holds off-site employee training sessions, complete with vendor demonstrations, which he is incorporating into the new-hire orientation program. Stearns has been a leader who takes initiative and embarks on innovative changes to promote increased revenue, operational efficiency and exemplary customer service.
Mize, customer service manager, has worked to centralize order intake. Her team has realized operational efficiencies and improved quality control, in addition to reducing overall headcount by 35 percent. Mize has made great improvements to the customer service area during her 10 years with WB. Centralizing customer service at the corporate location, Mize has reduced staff from 18 to 10 utilizing a fax triage plan to route sales orders to the correct branch location. In addition to streamlining customer service, Mize was instrumental in doubling the size of WB's continuous positive airway pressure (CPAP) resupply business in 2.5 years.
Johnson, inventory manager, has spent countless hours honing inventory costs. He is credited for controlling costs by using metrics and reporting to measure branch location inventory. The quintessential inventory manager, Johnson has been instrumental in reducing WB's cost of goods. He has developed uniform inventory accountability processes for branch locations to ensure current and accurate inventory figures. To clarify purchasing levels for branch managers in real time, he helped create reports that have proven invaluable in improving gross margin percentages.
Johnson is continuously searching for ways to reduce costs using data analysis. In so doing, he cut freight expenses by over 50 percent and has capitalized on reducing cost of goods by 10 to 15 percent through bulk purchases. Johnson constantly works to spend more wisely and reports on inventory metrics to rein in on costs for WB.
Trissler, billing manager, understands what it takes to seize control over accounts receivable collection efforts. She has developed her staff by creating effective accountability measures and metrics.
Over the last nine years, WB's billing department has endured a software conversion, new management and an outsourcing of billing that was eventually brought back in house. Trissler was brought in 3.5 years ago with no HME industry knowledge but a solid management background, understanding the importance of process adherence and accountability measures, including goals and metrics. She has led her team to a 3-percent bad debt percentage and a better than industry average of 36 days sales outstanding, an achievement well beyond industry standards. Not only has Trissler's team embraced and mastered accountability goals, they repeatedly demonstrate that they can accomplish whatever goals are established. This is due to Trisslers's ability to listen and lead her staff. She has created an environment that is healthy, productive and open.
Growth Opportunities
WB also concentrated on diversifying its book of business. In 2014, WB expanded into the home modification market, adding three employees. By the end of 2015, the company had completed 78 jobs. WB finished 2018 with 351 jobs and 12 employees—a sizable accomplishment after four years in business.
In 2016, the Williams brothers realized they were not capitalizing on the resupply side of the CPAP business. Consequently, as mentioned above, they outsourced their CPAP resupply business and were able to double their CPAP resupply revenue in a little more than two years.
These two revenue initiatives allowed WB to maintain positive revenue growth despite the drastic cuts in reimbursement by Medicare and sole source provider issues by Medicaid managed care plans.
Serving Medicare Patients
While adding home modification and doubling its CPAP resupply business were instrumental in growing WB to the scale it has reached today, its geographic positioning allows the company to pursue Medicare Part B durable medical equipment, prosthetics, orthotics and supplies (DMEPOS) business, in spite of the challenges of competitive bidding.
Roughly half of WB's 13 locations have experienced improved reimbursement as rural providers, meaning the company is able to service Medicare recipients in small towns with physical locations throughout their coverage territory, in large part due to their pharmacy business. When Williams mentioned that the company is fortunate to have other business lines upon which to lean, this is a case in point.
WB will service the Medicare customer while monitoring the Medicare portion of the receivables and securing documentation up front. When Trissler and her team conduct a return on investment (ROI) to find the company will lose money on Medicare reimbursement despite the rural fee schedule, they simply render the transaction nonassigned, as WB is not a participating provider.
In this case, WB collects upfront payment from the customer and bills Medicare on the patient's behalf. When WB can provide proper service and still make a profit, they accept the assignment, provided the patient qualifies under Medicare's strict medical necessity guidelines.
Improving Operations
WB takes seriously the medical necessity requirements to qualify each patient and knows how to evaluate the ROI to ensure the business is sustainable. This is due to a leadership team that understands the business inside and out, and is mindful of what it takes to operate efficiently. Using the core management group as a vehicle to navigate the latest challenges in third-party reimbursement, WB examines and analyzes internal processes and costs, constantly conducting ROI studies to improve operational efficiencies.
While not an option for all HME companies, for WB, returning billing operations back in-house from a billing service, once the proper staff were in place, helped stabilize the business. Further, the company has used accountability measures and metrics to improve productivity while reducing overhead. Utilizing automation and technology, they have grown and scaled their business by always looking for new ways to develop improved processes.
Another straightforward but essential management technique used by WB management is to always stay close to their employees' goals and metrics. With an eye on accountability measures, staff and management always know where they stand. So, when Williams discusses his input in the company and why he believes it is his core employees who have helped the company become successful, he is right. It is the leadership and counsel of his core management team who spend their time developing staff, achieving and exceeding goals that are quantifiable and measurable and always aiming higher.
At a time when the HME industry feels it has, yet again, fallen prey to the woes of third-party reimbursement reductions and excessive scrutiny, companies like WB continue to lean on their leadership to march forward, looking for their next business maneuver to grow the company. All the while, they know that their internal leadership focus is what nurtures the family-oriented values their customers experience when they choose WB.