Answers from industry experts
Tuesday, April 17th, 2018
The bed is an integral part of care, affecting quality of life for all end users. Developments in mattress systems, accessories and in the functional capabilities of the beds themselves are helping health care providers prevent pressure ulcers, reduce safety hazards and improve comfort. Many of today's bed systems are complex.
HomeCare checked in with several companies active in the bed and accessories market. While reimbursement rates are unfortunately low, some said rental income offers a profit margin, if done correctly.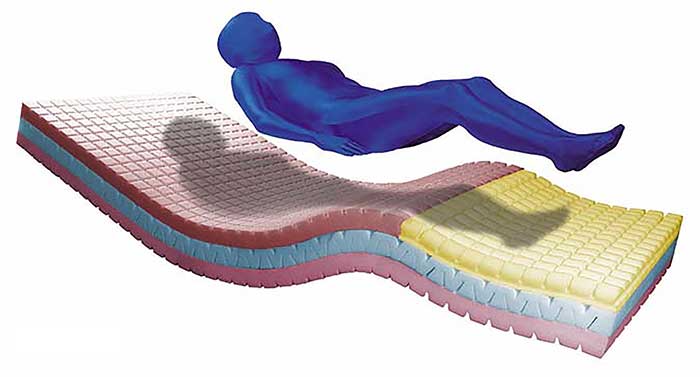 Blue Chip Medical Pre-Vent II
New York-based BLUE CHIP MEDICAL (bluechipmedical.com) is a "Made in the U.S." manufacturer of a full line of pressure redistribution specialty mattress systems, and seating and positioning solutions. Blue Chip offers powered, non-powered and convertible mattress systems to fit any bed frame—a private label, OEM manufacturer for other bed frame companies, in addition to offering products under its own name. Blue Chip's clinical team, Trip Handy, Sarah Bandzak and Chris Sojka contributed expertise.
"There's been a lot of pressure from dealers to purchase very low cost products as their reimbursements are way too low," according to Blue Chip. "While a low-cost product might seem attractive initially, the service levels are higher as the dealer has to make more service calls."
Mattress systems are used throughout the health care industry: acute, sub-acute, hospice and long-term care facilities. Providers are recommended to step out of their normal call patterns and reach out to other departments within these areas.
What should patient/caregivers know about beds?
BLUE CHIP: By having some basic information, we can assist patient/caregivers choosing an appropriate mattress system. We are patient advocates. It helps to know the diagnosis, type of room setup, weight, length and how the patient transfers in and out of a bed, as well as the type of bed frame.
The Changing Bed Market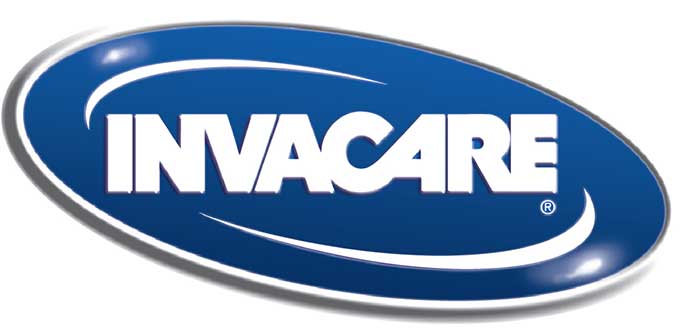 Invacare Logo
"We've seen an increase in demand for products with longer life cycles," said INVACARE'S Robert Hanley (invacare.com). "Competitive bidding initially drove a knee-jerk reaction to seek the lowest-cost product available, but many providers are now looking at the total life-cycle cost of the product and maximizing as many rental cycles as possible."
How do you differentiate your products?
INVACARE: To help with infection control and cleaning, our beds and their electronics are double insulated and sealed to provide a water-resistant enclosure for easy cleaning and added safety. Universal bed ends make it easy for warehouse staff to choose correct components prior to delivery.
PROACTIVE MEDICAL (proactivemedical.com) has seen its low-air-loss and alternating pressure mattress business triple during the past two years, according to CEO Brian Goldstein. Proactive offers a broad range of products, including support surface products.


Proactive Medical Logo
"Providers are now starting to realize that there is an additional cost (fixing broken pumps, service calls to a patient's house and possibly damaging their reputation). Providers are now investing in higher quality products with longer warranties," Goldstein said.
How do you differentiate your products?
PROACTIVE MEDICAL: Providers need flexibility and customization when ordering an air mattress system. Since most of our pumps and mattresses are interchangeable, we allow customers to mix and match to accommodate any type of budget or clinical requirements. Our air mattresses can be made with foam or air safety bolsters.
Special Needs Focus
Based in Germany, KAYSERBETTEN US (kayserbettenus.com) has been a global supplier of beds for special needs for more than 35 years. The company's products are suited for children with mental and/or physical disabilities and are usually covered by health insurance, said Masood Qurashi, owner and president of KayserBetten US.
What do patients/caregivers need to know about special needs beds?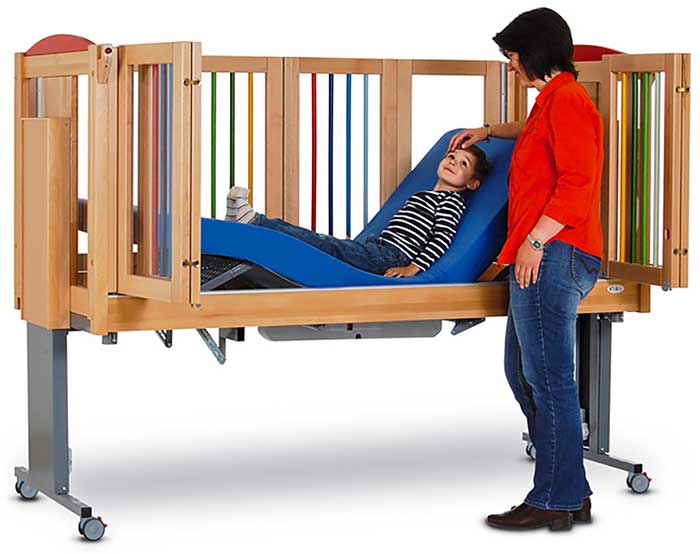 KayserBetten US Ida I
KAYSERBETTEN US: Regarding beds for special needs customer/caregiver should take the following factors into consideration:
The bed should provide an environment that makes [special needs children] feel they are part of their surroundings. This means proper ventilation and crib-like slats.
The bed should allow the caregiver easy access through partially opened door for controlled access, or fully opened doors for inside cleaning, and ergonomic height adjustments.
The bed should allow the patient as much independence as possible.

Above all, the bed must meet FDA guidelines concerning safety, fall and entrapment.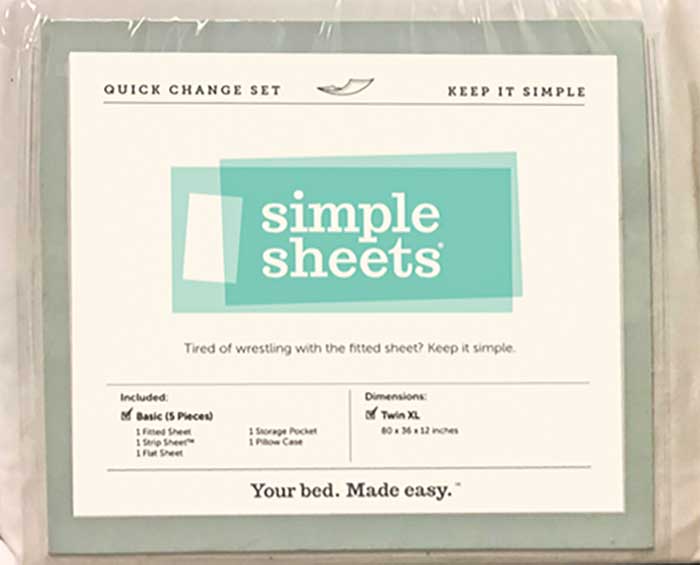 Simple Sheets
Bedding Considerations
Most patients are unaware when renting or purchasing a bed that bedding is not included, said Krissy Toth, VP of sales of SIMPLE SHEETS (simple-sheets.com), which specializes in bedding for the home, medical facilities and commercial environments. Simple Sheets products range from soft, wrinkle-free fabrics for the home to quick-change bed sheets.
Style Meets Function
ASSURED COMFORT (sleepsafebeds.com) makes beds to order, with features such as side safety and assist rails, in addition to the traditional bed. "The beds offer some of the features of a hospital bed without looking like one. Our beds can 'normalize' a sleeping environment," said Edward Hettig, director of marketing.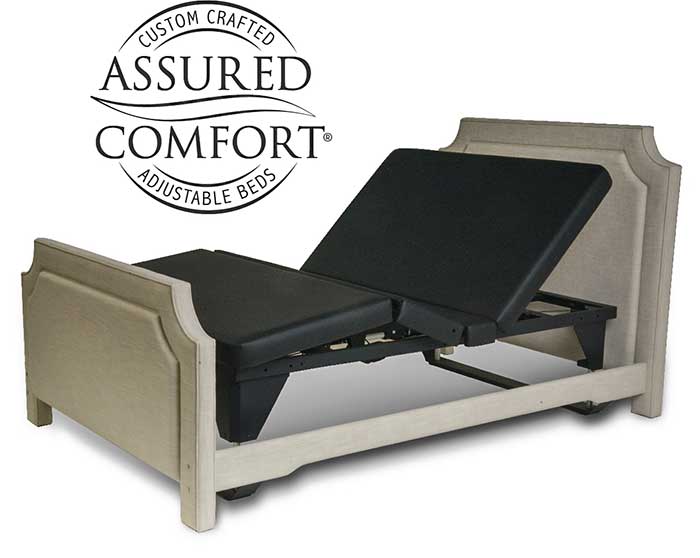 Assured Comfort Hi-Low Bed
What should patients/caregivers know about beds?
ASSURED COMFORT: [Our beds] are market driven. We pay close attention to the concerns of not only those who use our beds, but to the needs of the caregivers. For example, the ability to control the transfer height of the bed is important to both parties. If therapists need to work with their patients, the bed can be raised to a more suitable position.
TRANSFER MASTER (transfermaster.com), maker of hi-low adjustable beds for consumers and medical facilities also aims to combine function with style. "If dealers are already selling lift chairs and aids for daily living, the Supernal Recliner System is an obvious cross-sell," said president Aaron Goldsmith. In June 2018, the company plans to launch an "e-commerce-friendly" bed.
What are the key considerations to know about beds?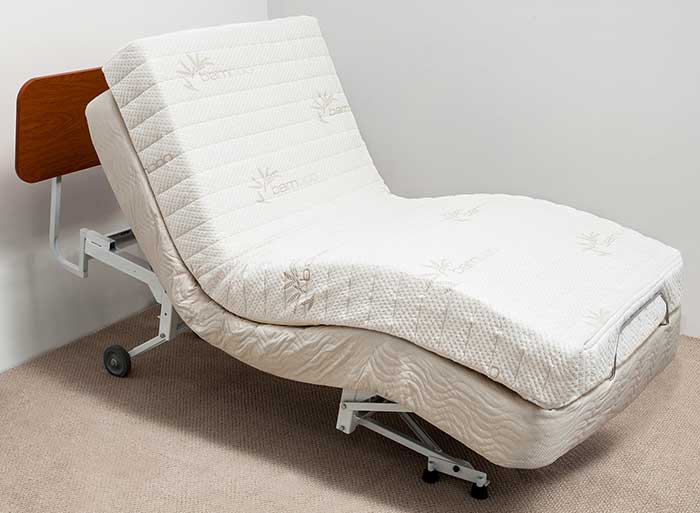 Transfer Master Supernal 5
TRANSFER MASTER: Our bed experts can help dealers address any consideration patients and caregivers should know. Typically, individuals with impaired mobility have a wide range of needs. A quick assessment (e.g. height, weight, range of motion, dexterity, etc.) will identify the most appropriate bed for any prospective customer. In the case that the client has a more complex set of needs, our dealers are able to turn to Transfer Master's traditional rehab products and meet the needs of any person.