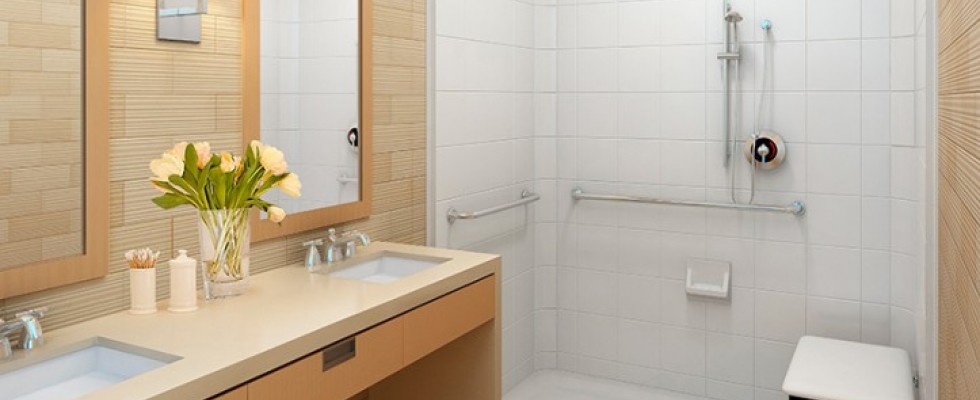 Monday, September 19, 2016
Plenty of smart seniors and baby boomers are thinking about how to remain in their homes longer, effectively aging-in-place well into their advanced years. They know that remodeling a key functional space such as the bathroom can help make their lives simpler and more comfortable. Increasingly, younger homeowners planning a remodel are also thinking about ways to make the space work better for themselves, their children and their aging parents.
Mention accessible bathroom design, however, and most people think of sterile, hospital-like fixtures and cold, institutional spaces. The good news is accessible bathrooms for people of all ages and abilities can also be beautiful—it is part of a concept known as universal design.
The secret to a successful bathroom is to blend beauty and functionality seamlessly by integrating universal design features into a thoughtful layout. Many of these features can work without having to expand a bathroom's square footage or move plumbing. Following are 10 ideas for products and design tricks that can help a bathroom meet any need.
1. Visual cues and good lighting
To help with diminished depth perception and weakened eyesight—or for anyone with impaired vision—consider using contrasting colors for key areas such as countertops, showers and toilet zones. Consider adding sconces or other lighting on either side of the vanity mirror to help eliminate shadows and glare. Make sure you have adequate lighting in the shower, and make the most of any natural light.
2. Hand showers with slide bars
A flexible-hose hand shower, mounted on a vertical slide bar and paired with a standard showerhead, can be placed low enough to accommodate seated and standing users. Some slide bar models also function as grab bars, a brilliant idea for purists who prefer a pared-down space.
3. Barrier-free shower
A shower with a low or no threshold makes entering the space easy for those who use wheelchairs or walkers. Some designs feature decorative drains at the shower's edge, blending water removal with a subtle visual cue that helps guide users. Barrier-free shower modules are available in dozens of styles and configurations.
4. Accessible sinks
Wall-mounted and pedestal sinks make use easier for those with mobility devices. The design choices are endless, with classic, modern and transitional styles to suit any space. Installing side-by-side sinks at different counter heights is smart for seated users, as well as couples of different statures.
5. Adjustable or customizable cabinets
A vanity cabinet with a removable base or pocket doors is a great solution for wheelchair users. Cabinets and counters that are wall-mounted on shelf brackets can be adjusted for height or removed to add space for mobility.
6. Lever and pull handles
When it comes to faucets, opt for lever-style models instead of knobs that might be difficult to grip and twist with arthritic or weaker hands. Lever models are easier for children's small hands, too. Likewise, choose pull-type hardware for drawers and doors.
7. Nonslip floors
Designers agree that matte tile and textured or honed stone such as travertine are better choices for floors than polished surfaces. Aside from better traction, they offer simple maintenance.
8. Grab bars
Today's grab bar products are designed to look more like traditional towel bars and soap dishes than the institutional-looking products most people are used to.
9. Built-in shower seats
More streamlined and design-friendly than a plastic shower chair, built-in shower seats offer a more comfortable experience for users who have trouble standing. Most models save valuable space by folding up against the wall.
10. Chair-height toilets
Toilets that sit a bit taller, around the height of a standard chair, can work better for people who have knee or back limitations because they don't require bending or stooping; they can also make transferring to the toilet from a wheelchair smoother and easier. However, these models are not ideal for children or shorter adults. Test a model at a plumbing showroom to see if this style will suit your needs.
Experts agree that whether you include all of these features or pick and choose, the key is to think about your future needs and plan accordingly. For example, younger homeowners might decide they are not ready to install grab bars. But integrating hidden structural changes during a renovation allows you to add features later, such as adding plywood reinforcements behind walls so that you can install grab bars at a later time.
Designing bathrooms with an eye toward the future is a growing trend. As homeowners plan for the needs of their elderly parents and more young people consider how they can get the most out of their remodel in the long term, it's an investment that pays off—not only daily in added comfort and safety, but also potentially in their home's resale value, too.
"Universal design is not just a trend, it's a change in our way of thinking about safety and long-term housing," says Nate Jensen, vice president of channel sales at Bestbath. "It gives us the opportunity to future-proof our spaces."