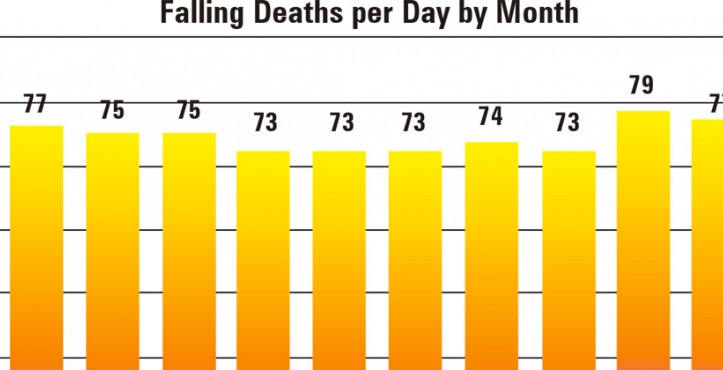 Wednesday, November 2, 2016
Growing up in northern Minnesota, I spent many winters around snow and ice. As children, my friends and I made great sport sliding down slippery hills and sidewalks and trying not to fall. From an adult perspective, such childish antics are—in reality—no fun at all, as they can turn into catastrophe in a split second. That's when a slip and fall changes the course of someone's life.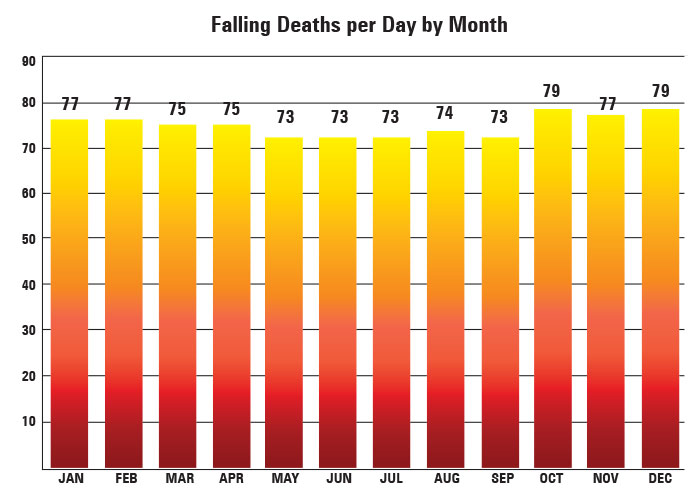 Prepared by Thom Disch for "Stop the Slip." Source: National Safety Council analysis of National Center for Health Statistics-Mortality Data for 2011 and information provided through the Vital Statistics Cooperative Program.
The truth about slips and falls, however, may be surprising to many. Many people believe the affect of an individual's age and geographic location on falls would be a predictable science. For example, northern Minnesota, where I grew up, would be a likely location for a high number of slips and falls, and my 93-year-old grandmother—who still lives in Minnesota—would be an ideal candidate for such a fall. Facts show us, however, that slips, trips and falls do not follow the geographic weather patterns we may expect. New Mexico, for example, has one of the highest rates of falls, both fatal and nonfatal, per capita. Time of year does not show much variation, either. Additionally, falls do not affect one specific age group only. Statistically, 21-year-old individuals are just as likely to suffer a fatal fall as are 79-year-olds. Taking each of these areas into account shows the vast nature of the problem; as of 2014, falls equaled motor vehicle accidents in the number of deaths, according to the Centers for Disease Control and Prevention (CDC).
It is increasingly clear that developing a strategy and providing products that help minimize or eliminate this hazard before it occurs is important. A typical HME store will provide the greater share of its product offerings toward an older demographic and, in some cases, pigeon hole themselves into a niche because of the normal nature of business. Expanding this strategy by having products and solutions that address real needs and issues as well as expanding the demographic of the customer base can assist in expanding the reach of the business and the revenue stream.
Determining the strategy that can best be used to add assistive products and let the public know that you have these products available can be a challenge. Randomly choosing products to sell without a solid marketing strategy behind them can lead to a garage sale-type appearance for your store, resulting in inventory that does not move. Industry expert Thom Disch presents a strategy that allows for quick implementation of this type of product in HME stores in his book, "Stop the Slip." The strategy is simply known as ALERT: Aware, Learn, Early, React and Train.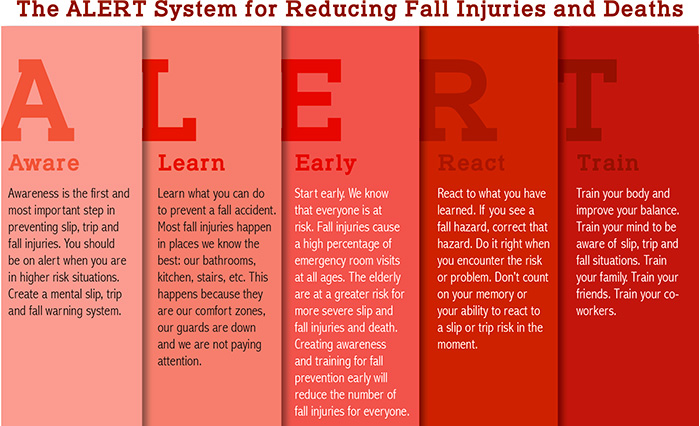 ALERT strategy as outlined in "Stop the Slip" by Thom Disch
Implementing this into the HME model can be simple and can also provide a great service to your customers, their families and their friends. As in any marketing plan, it is important for you to be fully aware of the need you are serving. If you cannot demonstrate or explain the need, your customers will never see it until a catastrophic life event has occurred, which may be too late. Learn and become a business expert about not only the need to prevent falls, but also the solutions and products that resolve and mitigate or eliminate the risk of falls. In the medical community, everyone wants answers and education about their illnesses or conditions. Becoming an expert and being able to educate your clients will set you apart from your competition. In your marketing strategy, it is important to have tools that will identify this need early to your customers.
Once you have identified products that fall into this category, look for marketing tools provided by the manufacturer to assist you in marketing these to the clients. Most companies will have flyers and brochures, but look for displays and banners that will call out the products and their purpose. These may also include looping videos that can draw quick attention to the products in your store. If you have the opportunity to utilize the product in your own store in an appropriate way, you can draw attention to the product in a practical application and actually demonstrate the effectiveness of the product. As with anything you learn, it is important to react to what you have learned. Within the HME space, being quick to react will set you apart from others that simply ride the wave of products that enter the HME space. Being one of the first to react to this need and adopt a proactive approach can expand your reach as a business and increase your revenue opportunity.
Finally, knowing how to train your staff and customers is key to your success. Give your staff some key information to grab the attention of your clients to help them see the need that is there. As a natural part of human behavior, we do not like to admit that we are fallible or getting older and not as capable of doing the things we used to be able to do. This human pride may sometimes cause your aging clientele to resist practical behavior to add some safety precautions and eliminate some seemingly new hazards in their lives. However, showcasing a practical solution for a need that will protect the safety of their children and grandchildren is a no-brainer for most baby boomers, and will again expand your reach as a business.
Many products we offer today in the HME space are a result of life-altering physical conditions. Fall prevention products can help prevent life-altering physical conditions and better your clients' lives by eliminating additional hazards that can hurt not only them, but also their family and friends as well. For specific product recommendations, you can contact me directly, or see the new release of "Stop the Slip" (stoptheslip.com/book), scheduled for publication this fall.
This article is the third in a six-part aging-in-place case study series. Each segment will focus on a particular aspect of aging-in-place. Read other articles in this series here.