Walk through a home's hazard areas to help provide the best solutions
In our previous articles, we defined the current market segment and assessed home accessibility equipment needs in specific rooms of the house. This month, we are moving to the overall concept of home safety, including the evaluation of the entire home in addition to the need for accessibility equipment. According to the Centers for Disease Control and Prevention, one in three adults ages 65 and older fall each year. Of those who fall, 20 to 30 percent suffer moderate to severe injuries that make it even harder for them to get around. We've found that a large majority of these falls are related specifically to the lack of something to grasp, meaning most of these falls are preventable with the proper equipment and home setup. With the senior population being the largest market segment we have ever seen in this industry, the need for us to become experts in home accessibility and evaluating not just the equipment needed, but also the entire home for fall and injury prevention, has dramatically increased. We recommend walking through the hazard areas listed below to help provide the best solutions for their needs.
Entryways
The focus here is on whatever is needed to get into the home safely, such as handrails along steps, a well-lit entrance or even a mobility ramp. You will also want to take a close look at the welcome mat, as well as the actual door. Mats have a tendency to shift and become a tripping hazard, and the door depends on the individual and his or her dexterity skills. Examine how the individual will unlock the door and use the door handle. Lever-style doors are often a good solution over typical knobs. Once inside the home, assess what the individual will do first. Most likely, it will be remove shoes, coats, etc. Is there a convenient place for them to perform this task? Consider placing a solid seating surface, such as a sturdy, decorative bench, in this area.
Floors
Next, assess hidden obstacles covering the floors and in hallways. (This area is often missed.) Hardwoods and tile can make for a slippery surface, but even more dangerous are throw rugs and mats. These items should either be removed or attached to the floor using adhesive strips. If the home has carpeting, watch for wear and tear, as older carpeting can ball up and create a tripping hazard.
Basic Maintenance
In addition to floors, another commonly missed area is basic maintenance. Many falls occur in the home when able bodied individuals are trying to change a light bulb or reaching to grab something. The solution for basic maintenance is simple: use a sturdy stepladder.
Electrical
Make sure there are more than enough outlets to discourage the use of extension cords or cords running beneath walkways. Consider installing outlets at mid-room level to avoid unnecessary bending. If installing new outlets is not an option, reposition furniture so that electrical devices are near outlets. This is also a great opportunity to examine lighting throughout the house. Make sure all hallways and doors have great lighting with light switches that are easily accessible for individuals of all dexterity levels.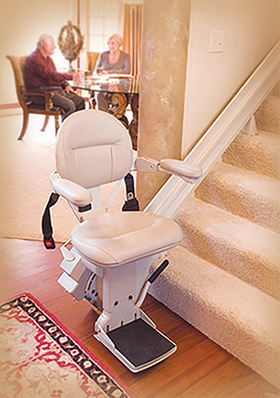 Kitchen
In addition to what was covered last month, there are a few more items that could greatly reduce falls or injury in the kitchen. Because reaching for items often leads to falls, it is preferred to have cooktop controls at the front of the appliance instead of the back so that individuals don't have to reach across burners. You will also want to make sure the kitchen is well ventilated. In recent studies, poor ventilation was shown to lead to small kitchen fires—a scenario in which someone needs to move out of the house quickly and is more likely to fall. Kitchen countertops should also be examined. Make sure they are at adequate height to complete common tasks. Keep the most used items at a convenient area on the countertop to avoid too much lifting or carrying. Also within the kitchen, place utensils in a spot where they are easily accessible while cooking to avoid a slip due to reaching.
Bathroom
You may recall that Ann B. Davis, who played the role of the beloved housekeeper on "The Brady Bunch," passed away recently from injuries sustained in a bathroom fall. According to the National Institute on Aging, 80 percent of falls each year by seniors above age 65 occur in the bathroom. Make sure there are ample gripping surfaces. Most falls here relate to bathing, so watch for proper footing in the tub as well as just outside of it. Bathmats must be nonslip and secured to the floor. You will also want to ensure all common items are within reach without bending. Of course, grab bars are the best items to have throughout the bathroom.
Communicating the Needs
The biggest challenge is discussing home accessibility needs with families. Many seniors don't want to feel like they are getting older or need help. One thing that has been successful is working with the family on ways to improve the lives of the client. Incorporate aesthetic improvements that offer functional safety using the concept of universal design. An example of this would be a towel holder that looks great in the bathroom, but is also solid and sturdy, unlike the standard towel rack that just rips out of the wall with a little force or pressure. Expressing the need for safety improvements to a family or client is also important. You are recommending changes to a person's home, so it is vital to emphasize that your solutions will increase their safety. The more you can show how the family's aging parents or the client themselves will be safer, the less resistant they will be to change.
This article is part of a 12-month home accessibility series. Each segment will focus on a particular aging-in-place need to provide the insight and resources necessary to be successful in this growing market.