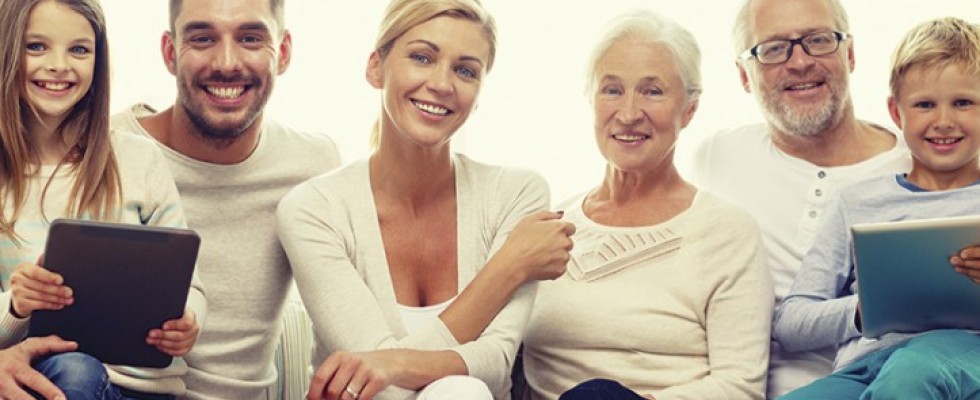 Many programs are emerging to create purposeful engagement between generations, regardless of a familial relationship
Multigenerational housing is making a comeback. In 1940, nearly a quarter of the country lived in a home that included more than two generations. Those numbers hit an all-time low in the 1980s. A 2011 study by Generations United revealed that number has risen since the recession to 17 percent. It has continued to rise each year since. Estimates place this number at 50 to 62 million Americans living in a multigenerational living situation.
Why Now?
This phenomenon has a number of contributing factors. MetLife's New American Family study reports the number of multigenerational households tends to increase during difficult economic times. During the past 10 years, a record number of parents with small children moved into their parents' homes, creating three-generation households. These households are very different from those of the past, where the elders were moved into a bedroom in their children's homes. Today the grandparent is usually the head of the household and owner of the home.
Many young adults struggled to launch their adult careers and lives, following the recession that began in 2007. Due to underemployment, they returned to their family homes in record numbers. Many are marrying later than previous generations and staying in their family home longer.
Hispanic and Asian families are more likely to choose a multigenerational living situation than their American-born counterparts. The black population is 10 percent more likely to be living with multiple generations of family.
Finally, a full 10 percent of American children are being raised by a grandparent, sometimes with, but more frequently without, a parent present. There are many reasons for this, including the deployment of single-parent soldiers, leaving children requiring care. Also, the rise of drug addiction and incarceration has left many young children in kinship care with their grandparents.
Regardless of how or why multigenerational families evolved, members of every generation believe the results are overwhelmingly positive. Studies appear regularly about the positive long-term affects on children and older adults. Many programs are emerging to create purposeful engagement between the generations, regardless of a familial relationship.
More Caregivers for Aging in Place
"Kin availability" is a term that demographers coined to describe the fact that elderly adults have around 50 percent more adult children to share a household with than in generations past—an artifact of the baby-boom generation. With more than 90 percent of older adults reporting the desire to age in their own home, the availability of resident family caregivers is important. Should they begin to need day-to-day assistance, 82 percent would still prefer to stay at home—less than 10 percent would consider moving into a senior living community.
The National Association of Home Builders (NAHB) reports 75 percent of contractors in the remodeling industry have reported an increase in inquiries related to aging in place. NAHB predicts the value of this remodeling to be $20 billion to $25 billion. This number is roughly 10 percent of the $214 billion home improvement industry. Add to this the growing interest in planning and designing for multigenerational living.
Styles of Living Multigenerationally
Architects and remodelers report an uptick in remodeling of older adults' family homes to better accommodate multiple generations. This includes ground-floor master suites, additional en suite bathrooms, additional bedrooms, second living spaces, and enlarging driveways for additional cars.
The tiny house movement has also captured the attention of older adults. Some are vacating their family home to give their adult children and grandchildren more space, while taking up residency in a tiny house on the property. These small homes have all of the amenities of a typical home in a more manageable space. Usually ranging from 250 to 750 square feet, these types of buildings can be created with seniors in mind, accommodating level entries, safe flooring and thresholds, accessibility features in kitchens and baths and monitoring systems. Older adults have privacy and control of their living situation—plus all of the engagement with their family that they want.
National homebuilders have recognized the trend of multiple generations living under one roof. Lennar, one of the nation's largest, has created the NextGen home that is built specifically for this purpose—it is quite literally a home within a home. In nearly 3,000 square feet, the family has plenty of places to engage together, but when needed or wanted, the elder family member(s) have their own private main floor retreat away from the family. The model includes it's own entry and porch, outdoor space, and garage. These models have also proved valuable to families with returning military service members who require assistance and also to parents of disabled adults.
The typical multigenerational homebuyer is between 50 and 60 years of age, and is likely still employed. Other family members may contribute to the purchase and will ultimately be influencers in the purchase decision.
Benefits
Families cite many benefits of living in a home with multiple generations: 

Shared costs. Most home purchases are large. Typically those costs are shared in some way among the adults in the household.
 
Family security. Elder family members feel a sense of security and even legacy knowing that everyone in the household is well cared for and engaged. Practically, the home may be an asset left to younger family members as part of the elder family member's estate.
 
Sense of purpose. Older adults feel as if they are contributing to the greater good of the family. They have purpose and a role to play late in life.
 
Caregiving network. The living arrangement may have started with grandparents providing care for young children. It will likely end with younger family members caring for aging loved ones.
The Shopper, The Buyer, The Influencer
Some analysts report that it was the baby-boom generation who spent us out of the recession. They held on to higher wage earning jobs and worked longer. Many were sandwiched by caregiving for their elderly parents and supporting their adult children who were underemployed or out of work. 52 percent of grandparents report helping their adult children financially with expenses of daily living.
Multigenerational households create complicated buyers' journeys. When it comes to a purchase for a grandchild, the child may identify the need or want. Their parent likely influences the purchase by requesting it from the grandparent. The grandparent actually purchases the item. It is difficult for brands to know whom to focus on. A message that is too exclusive may fail.
In the case of a caregiving relationship, adult children may identify a need for their older parent, but the older parent may be slower to recognize the need, and consequently the need to purchase the product. This certainly happens often enough with hearing aids.
Increasingly this is happening in the category of monitoring devices. Adult children may want their parents to have a device, but their parents see it as a loss of their independence and privacy. When adult children bring these devices into the home and push them on their parents that compliance is very low, if at all. When a parent recognizes the need, and asks an adult child to help research available devices, the compliance is much higher.
Final Thoughts
Older adults are delaying retirement, and plan to work much longer than previous generations. The demands 
of supporting a multigenerational household certainly drive this need. Older adults may also delay making health care decisions, purchasing products or engaging services that may them look or feel older.
Many older adults are entrepreneurs, consultants and/or working from home. Technology-adept older people can work much longer with the right support in the home. This means the home has to have the right spaces, technology must be supported and workspaces accessible.
Speaking of accessibility—multigenerational homes must be functional for the least able member of the family. In some homes this may be a child, in others it may be an elder. When design and function are in synch, the home works better for everyone, regardless of age.