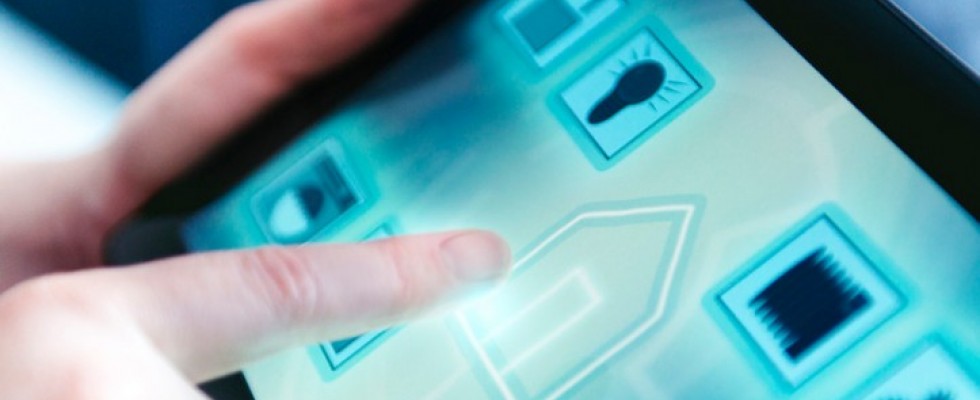 Technology can offer peace of mind for patients and families, even from a distance
Thursday, February 2, 2017
No matter the age, we're always adjusting to new lifestyles. Whether changing a work schedule, moving to a new city or retiring, the progression of our lives takes us into new experiences and habits.
One thing remains constant as we age—our desire to remain healthy and safe. A growing population of seniors is looking for ways to stay in their homes and remain independent longer.
Compared to living in assisted care or with a family member, living alone can put seniors at increased risk for falls either in their home or out during daily activities, which may prevent them from confidently living an active lifestyle. According to a study from Carnegie Mellon University's College of Engineering, emergency rooms see a fall victim over the age of 65 every 13 seconds. To help seniors with this transition, advanced technology is now available that can help them do it safely.
This technology enables the elderly to remain at home longer while still continuing to live active lives with the peace of mind that help is at hand in the event of a fall or other health emergency. Mobile personal emergency response systems (mPERS) and medical monitoring allow seniors to live independently and connect so they can have assistance when needed and keep in touch with their loved one's activities through notifications. Though the concept of a personal safety device isn't new, the use of advanced fall detection technology and the advent of the cloud, along with better wearable designs have modernized this solution and made it more useful and appealing.
These systems can be used by seniors who are living alone but can also be beneficial to those who are living with family and still at risk for a fall. With an mPERS pendant, the emergency response capability provides fast assistance in case of a fall or health emergency when seniors are home alone and allows their caregivers to know that their loved ones are safe even when they are not with them.
There are different types of devices that seniors can choose from to allow them to maintain their daily activities independently while help is still close by; most of these will include emergency response monitoring from a call center and fall-detection sensors that will automatically notify the call center. But the quality and precision of this system is crucial, because an inadequate fall detection technology can sometimes send false alarms—activated simply when the device is placed on a table—to cause worry and stress to both the user and their caregiver. To prevent this from happening, wearable devices have evolved to include advanced fall-detection technology that can analyze input from different sensors. An example of a device with this technology is the Numera Libris mPERS, which is available across the United States through security dealers and monitoring service partner resellers.
The aging population and increased desire to live at home later in life is not being ignored—many manufacturers, homecare providers and elder care experts are looking at ways of mitigating risks for this group. Included in that mix is nationwide monitoring facility Dynamark Security Centers, a security monitoring service—but Dynamark saw an opportunity go to beyond traditional home security to help seniors and their families with their emergency response services through an mPERS device. Because Dynamark Security Centers understood the importance of quality fall-detection technology for their aging-in-place program, they rigorously tested a myriad of device options to ensure that they can provide the best fall detection and emergency response capability to their customers and clients. Hank Groff, Senior VP of Sales and Business Development for Dynamark Security Centers, shared insight about their trial process, "In the trial we were testing the unit to determine whether [the Libris] had all the standards we look for. We tested two or three others, which didn't meet our standards."
Groff explained how other mPERS devices do not always have sufficient algorithms to differentiate between a fall where emergency response was required and other events, such as a patient lying down for a nap. This can create user fatigue, where the device becomes a nuisance to both the senior who is using the technology and the caregiver team.
Groff pointed out that an mPERS unit has to work well, or it doesn't serve the user in providing peace of mind. In fact, it can create unnecessary anxiety about the unit working properly. At the conclusion of their device testing, Dynamark Security Centers chose the Numera Libris, an mPERS device with fall detection, emergency response and cloud activity tracking. The features that were important in this device included the advanced fall detection technology that has a lesser chance of reporting a false alarm, and the capability of two-way communication anywhere using 3G cellular service. If a fall occurs, the wearer can communicate with a security center representative through the device, and their caregivers can be notified of the fall. This provides protection for their activities outside of the home such as exercising, shopping and socializing with friends.
An additional feature that caregivers can take advantage of in mPERS products is cloud services. These services can include GPS location, recent device activity (i.e., low battery status) and notifications to a caregiver's phone or email when a fall occurs. This facilitates communication and involvement of caregivers, including families who live far from each other or their loved one, so they can be involved in their loved one's care and participate without intrusion of privacy. This feature also makes the device applicable for other uses; for example, those who may be at risk for a fall or other health emergencies from a chronic condition. The mPERS device allows them to live independently and safely, with connection to emergency services and their caregivers for added peace of mind.
An mPERS pendant enables seniors to live independently as they age, with support from their family, friends and caregivers. Not everyone needs to be in assisted care simply because of the threat of a fall, and mPERS pendants help bridge the gap between being cautious of these dangers and needing full-time care. Since starting their national mPERS program, Dynamark Security Centers has seen how it can grow in just a few years, and that there is opportunity for the security and alarm market to extend their businesses with these types of programs.
After seeing how this partnership worked, it affirms our understanding of the opportunity that mPERS systems bring to seniors, caregivers and others managing chronic conditions. Instead of jumping right into assisted care, technologies that are available and continuing to develop allow seniors to age in place with protection in their own home and connection to their own care team and family. But the choice of technology is important in order to create a lasting impact where the user feels comfortable wearing the device, and the family or caregivers feel comfortable with the information they are receiving.
The most important thing to a family with aging or ill loved ones at home is knowing they feel safe and well-taken care of, and with today's fast-paced society, having personal emergency technology that is responsive, adaptive and accessible is a game changer.