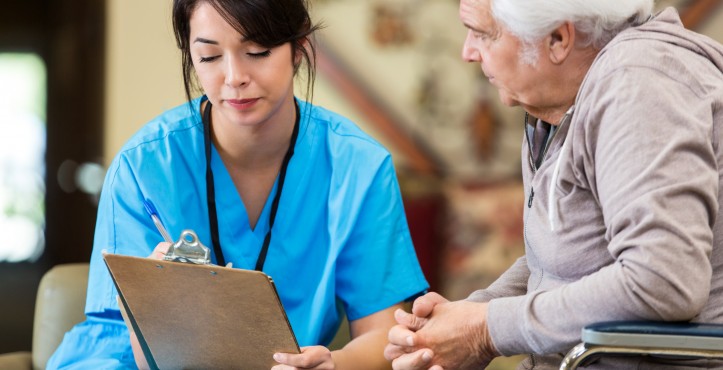 Assess these four areas to help ensure a safer work environment and quality patient care
Each and every day, people all over the world walk out of their front doors with the intention of returning home safely at the end of the day.
When we think of the comfort of our own home we generally have a feeling of safety; however, for homecare professionals there are safety risks all around—risks to both patients and to the ones providing their care. It is important to recognize the safety risks in homecare, and do what we can to take the necessary steps to create a safe and healthy environment.
Below are some of the top safety risks patients and caregivers will face in homecare, and tips for mitigating these risks.
Slips, Trips and Falls
According to the CDC, 1 in 3 adults age 65 and older will fall each year and, as a result, falls are the leading cause of fatal and non-fatal injuries in this age group. There are a few simple steps everyone can take to help prevent falls.
Ensure there has been a proper and full fall assessment prior to starting care, whether from the hospital or a short- or long-term care facility. Always adhere to the guidelines, and document any issues that may need to be modified, such as the addition of grab bars.
 
Wear non-slip shoes if a homecare aide, and ensure the patient wears non-slip socks or shoes.
 
In the bathroom, add a product, such as SlipDoctors non-slip tub treatment, non-slip shower treads, shower chairs, handrails and even removable shower heads.
 
Remove excess clutter from floors, chairs, baseboards and stairs.
 
Be aware of household pets, as they cause many falls.
 
Tape down area rugs, or remove them completely.
 
Infection Control
Infection control is a majorconcern in any health care environment. One of the top reasons for hospital readmissions is infection. Taking some of the following steps can help reduce the infection risks in a home environment.
Always use appropriate personal protective (PPE) equipment.
 
Properly dispose of all medical waste and secure all sharps containers away from pets and children.
 
Use proper hand-washing techniques. Utilize hand sanitizer between hand-washing—some new tools are antimicrobial 24-hour hand sprays, such as Qore 24, which can be less harsh than alcohol-based sanitizers.
 
If working with patients with infections such as MRSA, limit the use of non-disposable patient care equipment. If possible, leave equipment such as blood pressure cuffs and stethoscopes in the home for the duration of care.
 
Clean and disinfect all surfaces that are frequently touched or that come into contact with bodily fluids, especially railings, remotes, light switches and handles.
 
Protect yourself and your patients by carrying functional, practical and professional work gear, such as New Gear Medical's antimicrobial medical gear bags, using the latest antimicrobial materials.
 
Medication Management
Managing medication is another important task when working in homecare. Whether a patient is self-managing medications or a caregiver is administering medications, here are a few tips to help reduce the risks.
Make sure to carefully track a patient's medications.
 
Count medications before and after you start your shift to document the amounts.
 
Keep a daily log of medication administration times. This log is helpful for a patient, family and caretaker in case of a medical emergency. It's equally important to document any changes or side effects observed from medications.
 
Talk to the pharmacist about putting large-print labels on all medication bottles, especially if a patient self-administers.
 
Think about blister packs. Many local pharmacies will blister-pack medications—printing the medication name, date and time it should be taken.
 
Memory Care
Homecare for someone with memory impairment needs can present higher safety risks than with other populations. For these caregivers, their loved ones and the patients themselves, it is important to maintain quality of life and independence as much as possible. However, it is also important to mitigate as many safety risks as possible to create a healthy, positive environment.
Understand your patient's physical and mental health baseline.
 
Learn your patient's triggers (if any) that cause aggression, increased agitation or anxiety. Take cues from him or her, and adjust care accordingly to reduce the stress that comes with memory care.
 
Consider removing stove knobs, installing a hidden gas valve, or using products such as FireAvert, which automatically cuts off power to the stove if the fire alarm goes off, to prevent accidents in the kitchen.
 
Remove cleaning supplies, tools and chemicals that can be hazardous and misused.
 
Keep an extra set of keys hidden near the door in case you get locked out. Remove locks in bathrooms or bedrooms to ensure a patient does not get locked in.
 
Keep the house well-lit, especially in the bedroom, to reduce disorientation at night. The addition of night- lights, LED touch lights and touch lamps are good in reducing falls, slips, added disorientation and accidents.
 
When you choose a career in health care, you choose to selflessly serve your community, to ensure your patients receive the quality of care they deserve. It is important to take what steps you can each day to protect yourself and your patients, allowing you to continue to provide a healthy and, above all else, safe environment of care.