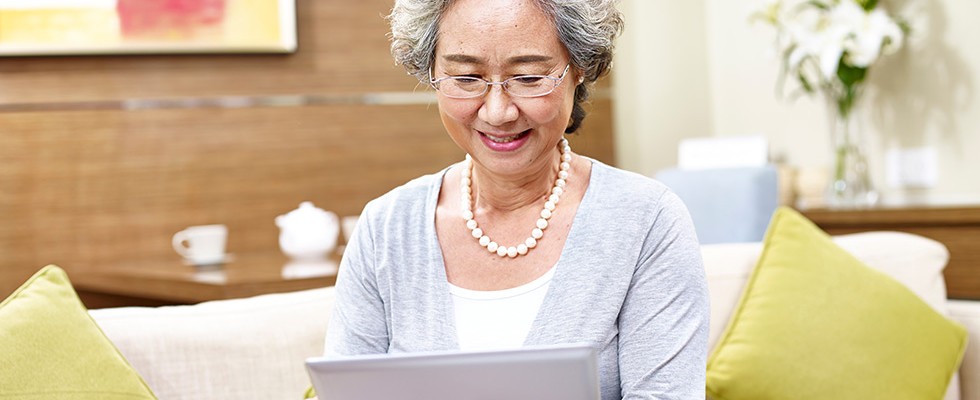 Thursday, December 15, 2022
By 2030, all of the baby boomers will be older than 65, and in the United States, people over 65 will make up 20% of the population. A recent study found that 90% of people over 65 want to age in place—in other words, they want to stay in their homes for as long as possible. Considering the growing caregiver shortage, technology is stepping in and making major strides to assure that this can happen.
As aging-in-place technology continues to evolve, the next few years will be a time of major advancements. From artificial intelligence and voice-activated care companions to virtual lifelong learning and health tech that helps people live longer, today's innovations will blend with smart home technologies to improve how we age and become essential tools for aging. Let's take a look at some of the trending technology for 2022 and look ahead to the future of care.
1. Robot Companions
Social isolation is a big concern for older adults. Loneliness in this population may increase the risk of early death by 26%. That's where artificial intelligence comes in. While it may sound futuristic, robots and other voice-activated devices are currently helping the elderly age in place by assisting in the home.
Through artificial intelligence and machine learning, robots can be used to provide companionship by playing games and talking with the elderly, who often feel lonely and isolated.
For example, ElliQ is a care companion that helps older adults live independently through voice command features. It is also equipped with on-screen instructions that guide them through its use. Users can set up their own personal preferences so that the robot will suggest things based on what it knows about them and their home. The device can perform daily check-ins, track wellness goals, assess general health and play cognitive games—and it can even
tell jokes.
Therapeutic robot pets from Ageless Innovation are another trend in technology for the elderly. These are often used for dementia and Alzheimer's patients. They're interactive and can improve feelings of loneliness and depression. They are designed to look like dogs, cats and even birds, with simulated personalities that respond to their owners' voices or movements. The theory is that they offer stimulation, make people feel comfortable and help seniors maintain their independence. They require less care than live pets (they live without food and exercise) and don't burden older adults with additional long-term expenses for vet care, food and more.
2. Wearables, VR & More
Health technology is another trend for older adults. From wearable technology to virtual reality, there are a plethora of new devices that can help older adults continue to remain active and engaged in their
daily lives.
New advances in smartwatches have made them a life-changing and potentially life-saving piece of equipment for older adults. Falls are the leading cause of injury-related death among older adults. Smartwatches often come with built-in fall detection technology that can be set to automatically alert emergency services if they detect that the wearer has fallen and doesn't get up again within a certain amount of time. Smartwatches can then alert family or friends if someone is unable to reach out and let them know that they need help.
Heart rate monitoring is another feature that many smartwatches have built-in, which can be invaluable for seniors who want to keep track of their heart health and make sure they're staying within normal ranges.
Virtual reality (VR) for health care treatment is also an emerging technology. VR technologies such as Neuro Rehab are valuable tools in dementia-related research and care for use in cognitive and physical assessments and therapeutic interventions. Virtual reality technologies are computer-generated simulations of real-world environments that can be interacted with in a realistic way by a person wearing a head-mounted display or connected to an interactive platform. Many of these systems are designed to provide an immersive experience, incorporating multiple sensory modalities. A recent study showed that VR improved high-fidelity memory, a type of long-term memory, in study participants.
3. Smart Home Technology
Smart homes allow residents to control their appliances, thermostats, lights and other devices remotely through an internet connection. Users can monitor these home appliances through apps, which they can often control easily from smartphones or tablets. Smart homes can help people save money, reduce expenses, prevent accidents and set reminders for medication or therapy.
Devices that are voice-automated can help those with limited vision and can link to cameras and locks that allow people to safely see visitors before allowing them to enter; they can also prevent people from being locked out and allow them to approve entry for known caregivers without getting up. Some smart devices can even tell you what is in your fridge these days!
Voice command devices are becoming popular as well. These devices include Google hubs and Amazon's Alexa, which allow older people to live independently by helping them manage their smart devices without having to move around the home. These devices can be used to control lighting and thermostats, play music, order items through Amazon Prime or even call for help if needed. When integrated with other smart devices, they can also be used to monitor health conditions and get reminders about medications or appointments.
4. Virtual Lifelong Learning & Social Communities
Online learning for older adults is another trend that's here to stay. These platforms help older adults learn new things to benefit brain health, offer social connectedness and motivate older adults to stay physically fit.
GetSetUp is an online platform that empowers older adults by offering live interactive classes taught by other older adults. The platform helps bridge the digital divide by teaching learners computer basics and other technology. It also helps older adults stay socially connected through an interactive social platform where they can interact with others with similar interests. It offers opportunities to stay fit and healthy and offers re-skilling and upskilling classes for older adults who want to stay in or reenter the workforce. Many states, health plans and other organizations offer these services for no cost to seniors who are residents or members.
Senior Planet from AARP uses technology to enhance the way people age. Their courses, programs and activities help seniors learn new skills, save money, exercise, make new friends and so much more. Their webinars help older adults find their purpose in life and boost their confidence by giving them the knowledge they need to be successful in their chosen fields.
Modern Elder Academy is a social enterprise dedicated to offering people the tools to navigate midlife and emerge refreshed, inspired and better equipped to flourish in their next chapter. They provide workshops and events that offer practical advice on how to navigate the changing tides of middle age successfully.
In Conclusion
We're in a time of readjustment and redefinition of what it means to age in place. When we think of aging in place in the future, we will likely have access to technology that will provide support for aging individuals in ways that today's elderly simply don't. And, in just a few short years, the aging community will reap many rewards as new innovations are brought to market.
It's hard to predict what the future holds, but we can feel optimistic about how technology will continue to improve our lives starting in 2023.