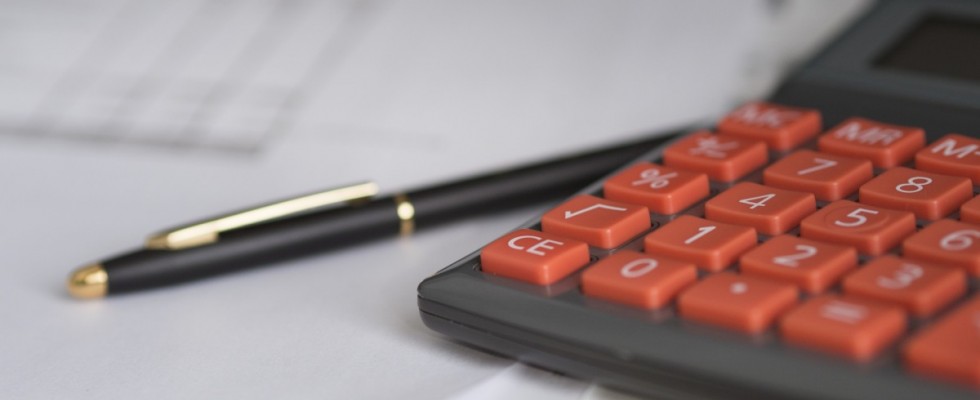 Health care insurance deductible resets can add pressure for customers and dealers
For patients with certain medical conditions, getting the right medical equipment can be life changing. However, the reality is that today's health insurance plans often cover less than they used to, especially when it comes to medical equipment. This can be especially challenging as deductibles continue to rise. Since 2006, insurance deductibles have risen 396 percent, raising the average from $303 to $1,505 according to a KFF report.1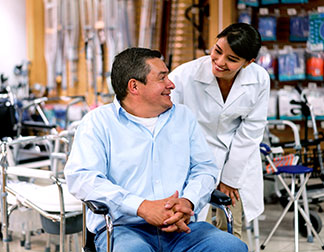 As a result, patients often forgo important medical equipment or purchase lower-quality equipment that may not meet all of their needs. This is especially true around the first of the year, when deductibles reset and customers are required to pay their entire annual deductible before insurance coverage kicks in. If customers have a need for equipment during this time, they may be surprised at their high out-of-pocket expenses. Customers may need help getting appropriate high-quality equipment, as well as finding a convenient way to pay for it. At the same time, dealers are facing the prospect of shrinking CMS reimbursement when Medicare covers all or part of the costs for customers. Depending on the dealer, item, and scenario, competitive bid requirements may also be a factor, potentially removing coverage and reimbursement from the equation entirely. This can be problematic at any point in the year, but when customers are facing maximum out-of-pocket obligations due to a deductible reset, the situation can be especially challenging. Let's take a closer look at how the insurance deductible reset, and the resulting customer response, might affect you.
1. Customers who rush purchases in December
The holiday season is a flurry of shopping and purchasing, and the medical equipment market is no exception. Those customers who have already met their deductible will rush to make purchases before the deductible reset hits. As a result of this pressure, customers may forego the proper research of medical equipment products. Be sure to spend additional time with customers to discover their unique needs, educate them on the various products, and present the ones that are right for them. This can help build their trust in you as a retailer and helps them get the equipment they really need.
2. Customers who delay health care purchases until January
If customers have not met their deductible by the end of the year, they may wait for the reset and apply the amount toward the new year's deductible.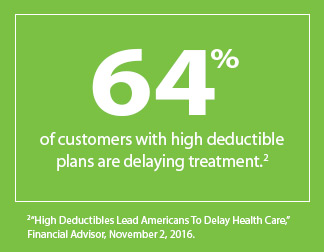 In fact, 64 percent of customers with high deductible plans are delaying treatment.2 Customers who make a large purchase at the beginning of the year may reach their deductible faster and maximize their insurance coverage for later expenses. This can be beneficial for customers facing high health care expenses in 2019. However, this practice may be detrimental to those who choose to go without needed medical equipment until the start of the new year.
3. Customers may become anxious over unexpected costs
Many customers don't understand their deductibles and other coverage elements and may rush to a purchase decision, opting for less expensive equipment that may not completely meet their needs, or going without necessary equipment altogether. Customers' confusion about their coverage can make asking for payment stressful for you, too. In a recent HomeCare Magazine survey, 87 percent shared that for many of their customers' insurance doesn't cover the full cost of equipment, and 61 percent reported that insurance doesn't cover preferred products.3
Financing can help
Financing options such as CareCredit provide flexibility during a time when many customers feel constrained by the calendar and look for payment options that can help them manage their out-of-pocket costs. Research shows that having a simple solution like CareCredit may be a welcome solution to those ready to start the new year with new equipment.
CareCredit cardholders have an 8-times higher average ticket than spending on a typical general-purpose credit card.4
97 percent of cardholders say they would recommend CareCredit to a friend.5
42 percent of cardholders say they would have postponed or not proceeded with the full recommended treatment plan if CareCredit was not available.5
Financing provides an easy way to help customers fit high deductibles into their budget. The CareCredit health, wellness and personal care credit card with promotional financing options lets customers make convenient monthly payments that are budget-friendly.* With CareCredit as a payment solution, your customers can:
Pay over time for deductibles, copays, coinsurance and other costs not covered by insurance
Use it to pay for the right medical equipment for their needs
Move ahead with the care they want or need, without delay or compromise
CareCredit offers an easy solution for your business, too. When your business accepts the CareCredit health care credit card, you become part of a network of providers with the ongoing support of a leader in promotional health care financing for 30-plus years.
You get paid in two business days with no recourse if the customer fails to pay.**
Your staff can spend less time on billing and collections.
You have access to a customized online payment link that gives your customers an easy way to pay online 24/7 with their CareCredit credit card.
Help ease customers' stress with a convenient payment option to help fit their budget, as well as their calendar.

References 1 2018 Employer Health Benefits Survey". Kaiser Family Foundation. October 3, 2018. 2 High Deductibles Lead Americans To Delay Health Care," Financial Advisor, November 2, 2016. 3 Readership survey conducted by HomeCare Magazine on behalf of CareCredit, August 2017. 347 responses collected 4 CareCredit 2017 Analytics and The Nilson Report–February 2016 ed., 50 largest U.S. Visa & Mastercard Credit Card Issuers data table 5 Cardholder Engagement Study, Q2 2018. * Subject to credit approval. Minimum monthly payments required. See carecredit.com for details. ** Subject to the representations and warranties in the CareCredit Agreement with Participating Providers, including but not limited to only charging for services that have been completed or that will be completed within 30 days of the initial charge, always obtaining the patient's signature on in-office applications and the cardholder's signature on the printed receipt.