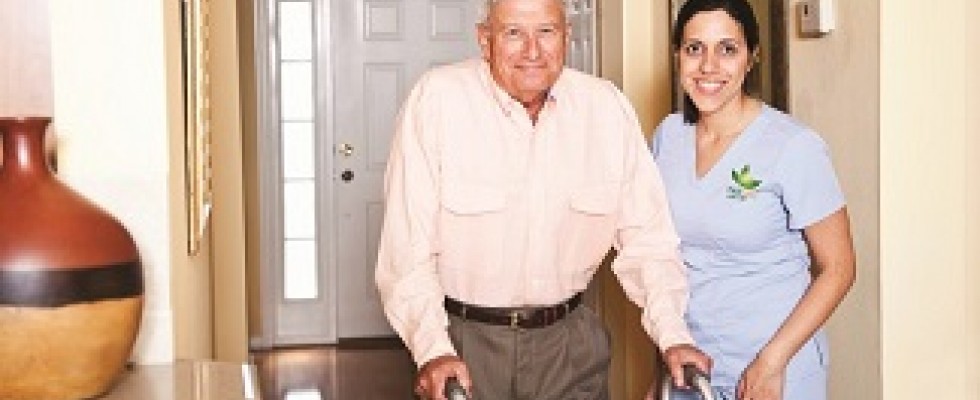 Comprehensive health care management keeps patients at home
It's no secret that America's population is aging rapidly. According to the United States Census Bureau, by the year 2030, all baby boomers will be older than age 65—1 in every 5 U.S. residents will be retirement age. With age comes the potential need for some type of care. The Home Care Association of America reports that around 70 percent of adults aged 65 and older will need assistance at some point in their lives. This could include personal care, such as help with bathing, hygiene and mobility, assistance with daily tasks around the home, and even dementia care. What if we could help ensure that our aging population—those who need some type of care but want to remain in the place they call home—lives happily and safely while still maintaining some dignity and independence? At FirstLight Home Care, we think this is not only a possibility, it's a reality when we take a client-first, comprehensive approach to care. Taking this approach means being more than just a homecare company for clients. It also means being a trusted advisor and providing access to a variety of resources that could help seniors live a quality, independent lifestyle for as long as their health will allow. That's why our non-medical homecare company is focused on building trusted relationships with other providers who are committed to taking care of the same people, and who take a similar comprehensive approach to that care. Together we can do everything in our power to protect seniors' physical and emotional health and well-being and keep them safe, healthy and engaged.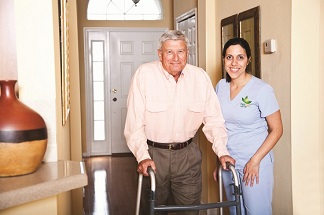 Forging Relationships with HME/DME Companies
As the fastest-growing homecare system in the U.S., FirstLight Home Care is proud to offer a brand-new program that enables DME/HME companies to partner with us to help expand and diversify their services. For many seniors aging in place, one important source of help comes in the form of home medical equipment (HME) or durable medical equipment (DME)—devices that are designed to assist individuals with safety and disease management at home. HME/DME use in the home can assist seniors with their daily activities. This equipment can include items such as wheelchairs, walkers and hand rails, as well as hospital beds, Hoyer lifts and blood and glucose monitors. FirstLight often works with patients who are being discharged from the hospital and need to have HME/DME in place before they return home. We are also able to help clients and their families make informed decisions about the type of equipment that might be needed. Caregivers inside the home are often in the best position to understand the best HME/DME options. In many cases, they have a greater awareness of what the client needs to be able to enjoy improved mobility and better disease management. Once the equipment is in place inside the home, appropriate training on the caregiver's part also is critical to ensure proper equipment usage and safety.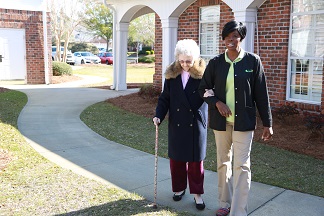 Focusing on Advanced Technology Solutions
As more people choose to age in the home, more family caregivers—as well as professional caregivers—are using of a wide variety of technologies that provide support not only for care related to acute and chronic medical conditions but also for disease prevention and lifestyle choices. These solutions can help in a variety of ways, including keeping aging seniors healthy and active, allowing them to remain somewhat self-sufficient, and encouraging them to stay engaged with friends and family. These advanced technologies also give families peace of mind when they can't physically be present to take care of their loved one.
Health monitoring technology
FirstLight Home Care has had a longstanding relationship with Philips Lifeline, our preferred partner for medical alert systems and medication management services. The peace of mind clients and their families gain from personal safety monitoring and alert systems is priceless. That's why we offer a comprehensive suite of solutions that feature advanced technologies to effectively manage medication schedules, monitor vital signs and provide immediate assistance and response in the case of emergencies. Philip's Personal Medication Adhearence Solutions (PMAS) and Medication Dispensing Service are intelligent reminder systems that automatically dispense correct doses of medications and vitamin supplements according to doctor's orders. These systems can help caregivers oversee the medication management and ensure there are no missed doses. HomeSafe with AutoAlert is a personal emergency response system (PERS) that provides help to clients whenever they need it, whether it's due to a fall or other health emergency inside the home. FirstLight also has partnered with TruSense, a smart home monitoring solution that uses sensor and GPS technology to provide insight into the health and well-being of a loved one. It also provides insight into the way a person lives, such as time spent sleeping, in the kitchen or outside of the house. When a potential safety issue arises, TruSense alerts the appropriate family members through custom notifications. The senior can also be instantly connected to the TruSense 24/7 emergency response center with a simple voice command via integration with the Amazon Echo Dot. Family members can even ask Alexa how their loved one is doing anytime using their own Echo device. Because every home and every individual is different, TruSense is completely customizable. The system, which uses sensors and not cameras, can be installed in homes of all sizes, and it does not require a lifestyle change.
Cognitive therapy technology
Another key relationship for FirstLight is with Constant Therapy, a mobile speech and cognitive app featuring more than 100,000 brain exercises across 75+ evidence-based tasks. The program helps people who are living with dementia or recovering from stroke or traumatic brain injury. Individuals who have cognitive deficits can practice memory, attention or language exercises on their digital devices while at home or in a health care facility. Seniors who use Constant Therapy work on tasks connected to slowing the cognitive decline associated with aging. The program provides mental stimulation, assists in redirecting behaviors and it encourages interaction with caregivers. FirstLight Home Care is the first national non-medical homecare company to use the Constant Therapy program to help enrich the lives of older adults, especially those living with Alzheimer's disease or another form of dementia.
Conclusion
What if we could help our aging seniors who need some type of care live safely and independently in the place they call home? By taking a client-first approach to care, we can give our aging population greater access to resources and thus better opportunities for comprehensive health care management, enabling them to do just that. FirstLight Home Care is a lifeline not only for seniors, but for people recovering from illness, injury or surgery; adults with disabilities; and anyone over the age of 18 who needs extra assistance. Care can be provided at private residences, as well as independent and assisted living communities and other health care facility settings. For more information about FirstLight Home Care franchise opportunities, call Larry France at (877) 570-0002, or email lfrance@firstlighthomecare.com. Visit our website at firstlightfranchise.com.