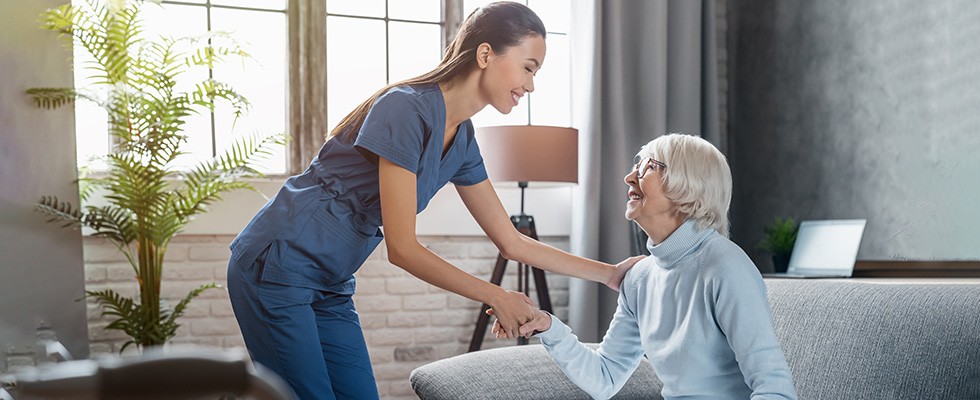 Protect your clients and your agency from these serious actions
Sponsored by: Philadelphia Insurance Companies
More seniors than ever before are choosing to age in-home rather than move to a nursing home or assisted living facility. Currently, 7.6 million individuals have made the choice to receive care or assistance for daily living activities in the comfort of their own homes.
Aging at home is possible because home health care agencies like yours are stepping in to provide the Active Daily Living (ADL) assistance seniors want and need. But unfortunately, while a wonderful option, independent living can expose seniors to opportunities for abuse.
Statistics show that 1 in 10 adults over age 60 suffers from elder abuse. In large part, this abuse is by home health care providers or another person the senior trusts. The most significant risk factor for abuse is the provider's exclusive one-on-one exposure to the client, ranging from two to 24 hours a day. Because the senior may be isolated, others may not be there to recognize abuse or prevent it from happening or continuing.
Three Serious Types of Abuse Faced by the Elderly
Seniors living on their own and depending on a provider for care are more vulnerable to abuse than other age groups and more likely to encounter and suffer from these top three abuses:
Physical and/or sexual abuse. The client is hit, pushed, slapped, restrained or harmed by the provider's neglect or inadequate training. Additionally, sexual abuse can occur through unwanted sexual interaction and harassment.
Emotional abuse. The client experiences verbal or non-verbal behavior such as humiliation, intimidation, isolation, or threatening by a provider that causes mental pain, fear or distress.
Financial abuse. The client discovers fraudulent credit card use or that money or belongings have been stolen. It can be as simple as keeping change from a purchase or as serious as forged names on a will.
Whether alone or in combination, these three threats pose a significant danger to vulnerable individuals. This abuse is so prevalent that all 50 states have introduced legislation to help protect those dependent on others for their care.
However, it is also essential to understand that abuse is not just the incident itself but also a failure to act if abuse is suspected or recognized. That is why it is critical for home health care agencies like yours to protect the clients who put their trust in you.
How Home Health Care Agencies Can Help Reduce Elder Abuse Incidents
Most abuse is able to happen because of the one-on-one exposure and lack of supervision between client and caregiver. Even though your agency can't be present for all of those interactions, several measures can be implemented to reduce the risk of abuse situations occurring.
Start with hiring practices: Background checks, including criminal, sexual abuse and driving records, as well as confirming credentials and reference checks help establish both the caregiver's qualifications and commitment. You should never use a caregiver with an unknown background. Make sure to perform checks annually.
Provide training and continuing education: Agencies should give their caregivers proper training for their services. Training should be repeated and updated on a schedule to help ensure safe interactions with your clients. Having your caregivers develop a daily maintenance journal can also help with awareness of what is happening in the home.
Make house checks and random visits. You may find that the most significant deterrent of abuse is to frequently stop in, often unexpectedly, and personally witness the relationship between the caregiver and client, observing the usual (or unusual) activities in the client's home.
Making these procedures part of your agency's routine will go a long way toward eliminating abuse and the opportunity for it to happen. Additionally, they can also help lessen your claims exposure. If your agency doesn't have access to the infrastructure or tools to implement procedures such as these, you might be surprised to know that your insurance company may be able to help.
Choose an Insurance Company That Can Help you Manage Elder Abuse Risk and Exposure
As part of their coverage package, an insurance company may often provide additional services that can help you run your agency and prevent elder abuse claims. These services can include:
Background checks and lawful hiring practices
Active Daily Living (ADL) job training such as:

Introduction to homecare
Safety in and around the home
Fall prevention and scalding prevention
Essential bedrest skills
How to help someone using wheelchairs, walkers or canes
Home health abuse prevention
Elder abuse and neglect prevention

Implementing observation and reporting skills
Implementing slip and fall incident reports
These risk management courses and services can go a long way toward ensuring a safe experience for clients and a rewarding experience for employees while reducing claims.
You would also want an insurance company that can tailor your coverage to your needs, including separating out abuse and molestation coverage and offering it on a first dollar basis, along with primary and contingent medical professional liability and employee dishonesty coverage.
At Philadelphia Insurance Companies (PHLY), we've been providing home health care insurance to agencies of all sizes for over a decade. The coverage is combined with our unmatched risk management services and enhanced by our in-depth experience protecting over 120 specialty niche industries' unique concerns.
Trust the right partner
PHLY understands your need to protect both the vulnerable clients in your care and the business that means so much to you. We can work with you to develop a complete protection package, including risk management for your home care agency. You can put your trust in PHLY to provide the coverage and guidance you need to help keep those who put their trust in you safe.
Interested in finding out more about the insurance coverage and risk management services PHLY can offer you? Contact our experts today.
Sponsored by