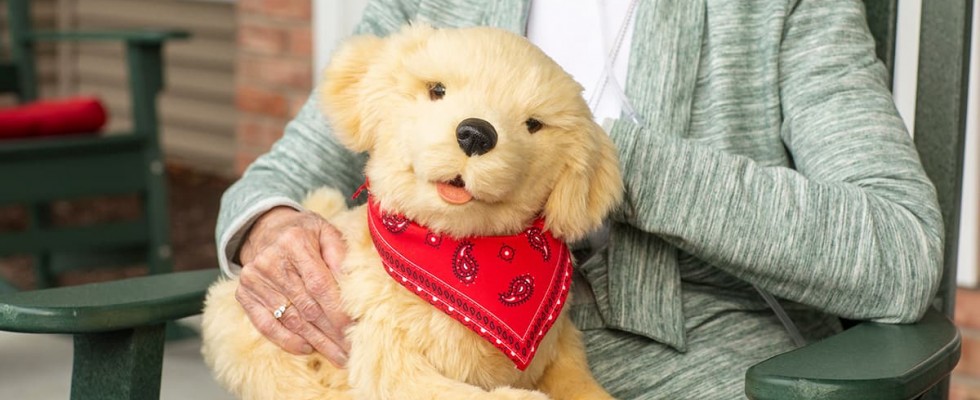 Pilot study finds Joy for All robotic companion pets improve interactions, behaviors and quality of life in hospice dementia patients
Sponsored by: Ageless Innovation
It has been widely reported that animal-assisted therapy can help individuals cope with stress, reduce depression, prevent loneliness and improve socialization. However, for a home health or hospice patient, a pet can also be burdensome. The added responsibility of caring for a pet is often too much for the patient and their family.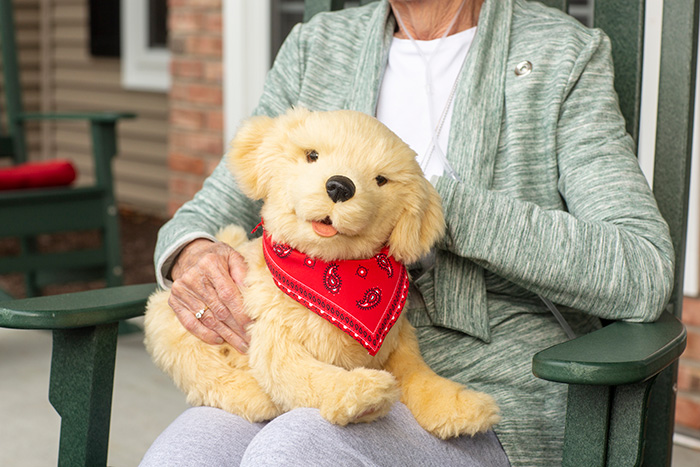 While the benefits and value of pet-assisted visits and therapies with homebound patients can't be dismissed, the liability risks of incorporating live pets into a home health care setting mean it is not always an option.
Committed to finding an alternative solution, Alacare Home Health & Hospice president John G. Beard discovered Joy for All Companion Pets from Ageless Innovation: lifelike, robotic cat and pup pets that were uniquely designed to address the needs and wants of older adults, their families and caregivers to promote fun, joy and play.
Developed with extensive input from older adults, Joy for All Companion Pets look, sound and feel like real pets without the responsibilities of pet ownership. Built-in sensors allow the companion pets to respond to a person's presence and touch and react to the environment, establishing a true two-way companionship between a pet and its owner.
"We often considered pet therapy with volunteers using real pets, but not only was there concern for how our patients would interact with a live pet, the visits would be temporary and periodic. When I found Joy for All robotic pets, I knew this could be a way of offering a soothing companion for some of our patients experiencing loneliness, depression or anxiety," said Beard.
Beard and the team at Alacare Home Health & Hospice began working on a project that would allow them to investigate the effects of robotic pets on their patients, and in 2018, the Companion Pet Pilot Study was conducted.
Hospice patients "experiencing anxiety due to advancing dementia and other patients perceived at risk for social isolation" were considered for participation in the study. Patients were paired with a robotic Joy for All Companion Pet (either a pup or cat model), and clinical data was collected before, during and after pet placement.
Seven older adults were given a Joy for All pet and studied for their reactions. The patient's caregivers and family members were also able to participate in the study to discuss how the pet helped them interact with their loved one and how the change affected their loved one and their relationship.
In six out of seven instances, the patient's interactions with the robotic companion pet decreased feelings of anxiety, increased communication abilities, and/or increased the general well-being of the patient. In four of these six instances, the older adult was suffering from dementia as well as another condition such as Parkinson's disease, hypertension, renal disease, congestive heart failure, and/or another illness. In one instance, an individual was suffering solely from Alzheimer's disease.
Overall, the data collected through the Companion Pet Pilot Study showed a significant reduction in agitation, social isolation and expressions of sadness among the study participants; some also required less medication. Primary caregivers expressed benefits as well. For the majority of the individuals studied, the introduction of a robotic companion pet into the home led to benefits that increased quality of life considerably.
"Patients who were not communicating began interacting with their pet, and they were willing to speak to others; it has been amazing," said Beard.
Seeing a loved one who struggles with communication open up toward another person can be monumental for a family member of someone with dementia. Also, in many cases, communicating with animatronic pets has translated into better communication with other individuals, such as caregivers and loved ones. These results have been seen in older adults who are able to remember things and communicate with their family members better after spending time with their life-like, interactive pets. For example, an 80-year-old woman with Alzheimer's disease was given a Joy for All pet cat as part of the Alacare study, and upon receiving it, she said, "Mona has snuck another cat in again!" Her daughter, Mona, was happy to see that her mother's memory of how she used to bring stray animals into their home as a girl was sparked by the encounter.
Another potential benefit shown in the pilot study is that in some cases, family members were allowed to decrease the amount of medication and other costly treatments following the introduction of a robotic pet. In the case of an 84-year-old woman with dementia, the need for anxiety and agitation medications decreased, as the patient enjoyed her robotic pet and was able to be redirected to it for calming throughout the course of the day.
Although the Alacare Companion Pet Pilot Study yielded overwhelmingly positive results, there were some challenges to be addressed. In one instance, a 95-year-old woman who had been diagnosed with Alzheimer's and other conditions initially had a beneficial reaction to the pet, but became worried over time about her ability to care for it, believing it was as real animal.
It is important to recognize different outcomes that may occur and approach each patient in a personalized manner, giving them time to bond with a companion pet before it is left with them. The Alacare study showed that many older adults with dementia and other neurological conditions experience tremendous benefits from Joy for All Companion Pets, including the ability to better interact with their caregivers and loved ones as well as to experience a better quality of life. This research has been scientifically backed by the documented benefits of animal-assisted therapy for older individuals.
In addition to the Alacare Robotic Companion Pet Therapy Program, more than a handful of clinical studies have been released regarding the role of robotic companion pets in combating social isolation, loneliness and all forms of dementia in older adults. All have shown meaningful positive impact, and two larger studies are set to publish their results in national medical journals in the coming months.
Research has shown that the introduction of robotic companion pets are helping to improve the quality of life for older adults as it relates to depression and social isolation. Key findings have shown:
The use of robotic companion cats enhances the well-being and quality of life of individuals with dementia.
Individuals given robotic companion pets showed a significant reduction in agitation and social isolation, improving the quality of life for both patients and their family members.
Robotic pets may be a feasible way to mitigate behavioral disturbances in patients with ICU delirium.
Companion pets are beneficial to decreasing in the feeling of loneliness.
"Loneliness and social isolation are an epidemic impacting so many older adults and their families," stated Ted Fischer, CEO and co-founder of Ageless Innovation, the global company behind the pioneering line of Joy for All Companion Pets. "In working with incredible partners and institutions such as Alacare, James Madison University and Albany Medical College, we have been able to incorporate the Joy for All Companion Pets into trials with their residents and patients. The feedback and results have proven that these pets can truly have a positive impact on aging adults, their caregivers and families dealing with isolation and loneliness."