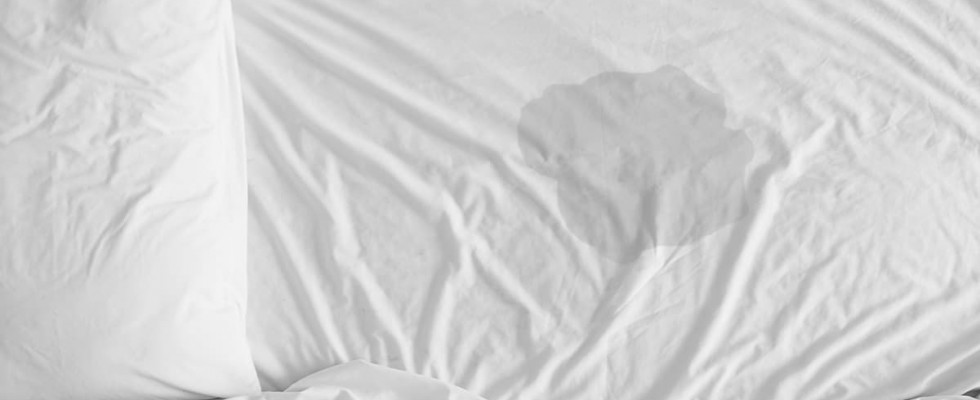 Find out why incontinence is a top three HME product category
Sponsored by: Principle Business Enterprises
November is National Bladder Health Awareness Month, which presents a good opportunity for highlighting the importance of awareness among home medical equipment (HME) and durable medical equipment (DME) providers about bladder health conditions and why this is an important market to serve.
More than 25 million Americans currently experience incontinence—more than the 22 million Americans dealing with sleep apnea. With such a large and growing incontinent population, the United States market for disposable incontinence products is projected to reach $4 billion in 2019.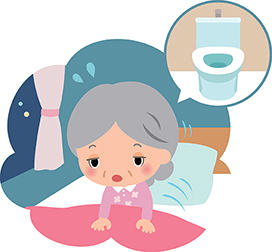 HME Opportunity to Improve Lives
Owning and operating an HME or DME business in today's environment involves more than just making a sale. Customers shop at local dealers because they trust the service and expect quality. Offering incontinence supplies to existing customers provides an opportunity to grow sales, and more importantly to improve the lives of the people you serve.
Did you know that adults with mismanaged incontinence can suffer from pressure sores, sleep disturbances, isolation, reduced activity and more? Mismanaged incontinence is a major risk factor for nursing home placement among adults who live at home or in assisted living. If incontinence cannot be appropriately and safely managed, adults with incontinence may no longer be able to remain at home. Helping an adult take control of their incontinence will not only create a loyal customer but also helps that adult to age in the environment of their choosing.
Offering customers premium incontinence solutions that solve their problems can improve their quality of life. Superabsorbent products provide superior leakage protection, odor reduction, healthy skin-environment promotion and enhanced comfort for the wearer. These benefits help prevent isolation, allow for uninterrupted sleep, increase activity, reduce the risk of slips and falls and much more. Improvements in these areas increase your customers' quality of life and longevity, allowing them to remain at home and loyal to their local dealers.
Helping customers find solutions that work and improve their lives is ultimately why most HME and DME providers are in business. Offering premium incontinence solutions helps garner trust and meet customer expectations.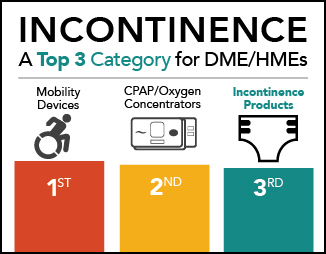 Incontinence Is Big Business
Incontinence is big business for HME and DME companies. In fact, a recent survey of over 120 dealers showed that incontinence is a top three category for DMEs (along with mobility devices and CPAP/oxygen concentrators). Due to the large market size and the demonstrated importance of incontinence to HME providers, here are a few reasons to be aware of premium solutions to bladder health conditions: 
1. Premium Solutions Create Reoccurring Customers
Premium incontinence solutions provide an edge over big box retail competition that supplies low-quality protection. With premium incontinence products, a customers' most challenging incontinence conditions can be solved, allowing them to live a better life. Providing a solution to help a customer manage incontinence fosters a relationship to gain reoccurring business as a trusted supplier. 
2. Prescription Strength Solutions
Customers come to DME and HME stores to find the best medical solutions. Offering premium, superabsorbent incontinence solutions supports customer expectations to find "prescription strength" solutions at DME or HME stores.
3. Turning One-Timers into Loyalists
Customers with incontinence buy products regularly, often on a monthly or bi-monthly basis. As such, incontinence products are the primary consumable product available through HME or DME businesses. Being a trusted supplier allows continuous interaction and relationship building opportunities with customers. Loyal incontinence customers will likely be ready to talk about other types of products they may need, creating cross-selling opportunities.
4. Cross-Sale Opportunities
Incontinence is a condition that is often an outcome of another disease, illness, or condition. Therefore, adults with incontinence typically have other health issues they are also dealing with, such as diabetes, dementia, mobility constraints, Parkinson's and others. This creates a unique cross-selling opportunity for HME or DME businesses that can also assist in creating loyal, reoccurring customers. Businesses should consider inserting flyers and other information about available incontinence solutions with other medical supply sales to let customers know these products are available. 
Premium incontinence solutions provide many opportunities to a business; they can generate more reoccurring customers and help these customers improve their quality of life. Being aware of the incontinence market and the importance of incontinence to the HME and DME business allows you to be better equipped to serve customers.
This article was contributed by Tranquility® Incontinence Products – Premium Protection for When Performance Matters Most.