National Home Infusion Association's 2020 Annual Conference | April 5-9 | Denver, Colorado
Sponsored by: National Home Infusion Association
Join more than 1,300 home and specialty infusion industry professionals in Denver, Colorado, April 5-9, for the National Home Infusion Association's (NHIA) 2020 Annual Conference. The conference, held at the Gaylord Rockies, is the leading education and networking event for the industry, providing opportunities for infusion nurses, pharmacists, and other professionals to come together.
Up Your Infusion Nursing Game
If you are a home infusion nurse—or a nurse wanting to build skills in this area—NHIA 2020 is the place to be. NHIA is now offering content for the home infusion nurse throughout the entire conference. Nursing education starts with a preconference focused on peripheral, midline and subcutaneous insertions. Following the preconference, nursing industry leaders will provide education on key nursing challenges such as territory management, comprehensive disease state management for our most complex patient populations, and much more (see box).
Hot Topics at NHIA 2020
Nursing Visit Logistic Management
Aseptic Non-Touch Technique
Ensuring Nurse Safety During Home Visits
Patient Education Fundamentals and Advanced Techniques
Nursing Documentation: a Legal Review
Post-Sepsis Syndrome
Management of Dual Nutritional Therapy Patients
Disease State management
Immunoglobulin Therapy
Immediate Use Standards
Dual Therapy Nutrition Patient Management
Patient Satisfaction Benchmarking in Home Infusion
"Our Education Committee has been hard at work building on the success of previous conferences to plan content that can't be found elsewhere," says NHIA Chief Operating Officer Jennifer Charron, RN, MSN, MBA, VA-BC. "We realize that providing highly skilled nursing care in patients' homes requires specialized curriculum. From staffing safety and documentation to protocols for immediate use preparation, parenteral solutions and patient education and training for medication self-administration, our faculty takes the deep dives into topics relative to home infusion nursing."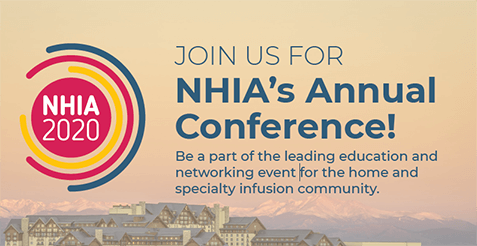 NHIA 2020 is also the ideal place for home care nurses to further develop skills for their work in the home and specialty infusion. 
"Our RN Essentials preconference is a high-intensity day of education focusing on home infusion nursing practice," continues Charron. "This year we're concentrating on the fundamentals of in-home IV-line insertion as well as line use and care protocols."
Attendees aren't locked into nursing-only content, Charron adds. "When you register, you can choose from a variety of continuing education options. Feel free to drop into any of our pharmacy, business, leadership, or revenue cycle sessions. You can even watch pharmacists and technicians practice in 'cleanrooms' at our Sterile Compounding Clinic in the Expo Hall. All in all, you could earn up to 23 hours of continuing education credit."
Plenty of Inspiration, Networking and Fun
In addition to traditional classroom learning, NHIA's Expo floor will be open to attendees and offers more than 100 exhibitors, interactive demonstrations, and the exhibitor product theater. The Expo is a great chance to see the latest innovative home and specialty infusion products and services for improving quality and operational efficiency. There will also be ample time to network with colleagues at roundtables, poster sessions, receptions, and the keystone event, held April 8 at the Denver Stapleton Punch Bowl Social. There will be something for everyone in the 15,000-squarefoot fun factory with space to network and enjoy entertainment including shuffleboard, bowling, life-size Jenga, and old-school arcade games.
Get inspired by the Rockies and the amazing opportunities at NHIA 2020! For more information, go to https://www.eventscribe.com/2020/NHIA/
Sponsored by