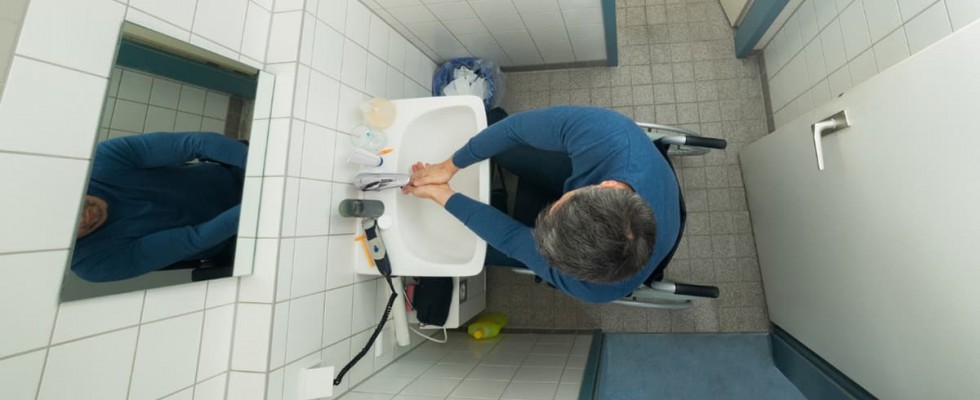 What's in your catheter? Check yours for chemical warning labels now
Sponsored by: Cure Medical
A new requirement under California's Proposition 65 law now ensures that, prior to sale, medical supply manufacturers must disclose if their products are made with harmful chemicals listed on the state's Prop 65 registry.
As a result of the updated consumer protection legislation, many catheter users are discovering chemical warning labels on their intermittent catheter package or box if their current brand is made with chemicals like DEHP, DINP or BPA.
Warnings About DEHP in Catheters
The following criteria determine whether or not a chemical is listed as harmful to humans:
if a chemical has been clearly shown through scientifically valid testing according to generally accepted principles to cause cancer or reproductive harm;
if a body considered to be authoritative by such experts has formally identified it as causing cancer or reproductive toxicity; or
if it has been labeled by a California agency or the federal government as causing cancer or reproductive toxicity.
According to the Proposition 65 website, DEHP exposure may lead to the development of cancer, the reduction of testosterone and sperm count, respiratory problems and other issues such as birth defects. 
Exposure to DEHP during pregnancy may affect the development of the child and DEHP can be passed from a mother to an unborn child during pregnancy. California law prohibits the manufacture, sale or distribution of children's toys and child care articles containing DEHP at levels greater than 0.1%.
The Food and Drug Administration has a similar prohibition, banning DEHP use nationwide for all children's toys due to its ability to be absorbed through the mouth and skin. Source
Unfortunately, DEHP is still heavily used in the manufacturing process for some brands of catheters, including pediatric catheters. DEHP belongs to a family of chemicals, known as phthalates, that are used in manufacturing to make plastic more flexible.
Below is a picture of standardized warning labels on different brands of intermittent catheters that are made with DEHP. Look for these warning labels on the catheter package or the box that they arrive in.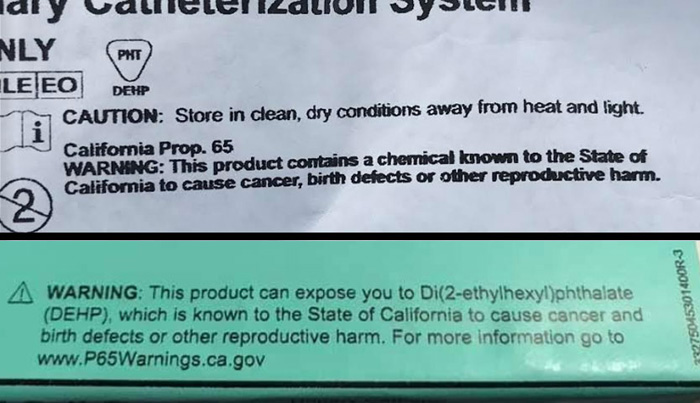 If you find these warning labels on your own intermittent catheter, you have several options to choose an alternative that is not made with these chemicals. Below, we offer some advice on how to choose an intermittent catheter that is not made with DEHP, DINP or BPA.
Leading Disability Advocates Discuss Prop 65 Chemicals
As awareness spreads about the continued presence of Proposition 65 chemicals in medical supplies, leaders in the disability community are raising their voice in support of not using intermittent catheters made with banned or suspect chemicals.
Cancer risk is one of the main reasons so many community leaders are working to warn fellow catheter users about this issue. According to a Craig Rehab study, the incidence of bladder cancer in people with spinal cord injury (SCI) is 16 to 28 times higher than that of the general population. Source
These community advocates are encouraging peers to try catheters made without DEHP, DINP or BPA.
"As a medical supply professional, I love Cure products. They make quality but inexpensive catheters, which is great. And they show you right on the packaging that Cure catheters are not made with DEHP," said Jorge Alfaro, a paraplegic and peer mentor at the Shirley Ryan AbilityLab, formerly the Rehabilitation Institute of Chicago.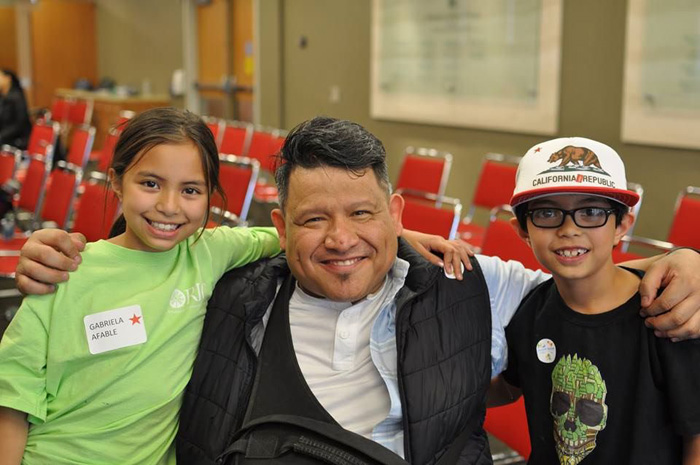 "As a nurse, I had to start caring about the medical supplies I was using, so I could be in the best position to suggest products to patients," said Andrea Dalzell, a former Ms. Wheelchair New York titleholder, a registered nurse and a transverse myelitis survivor. "Often, we're not taught to be big advocates about our own bodies and the products we use, plus we aren't usually screened enough."
Learn what more community advocates have to say about Prop 65 chemicals here.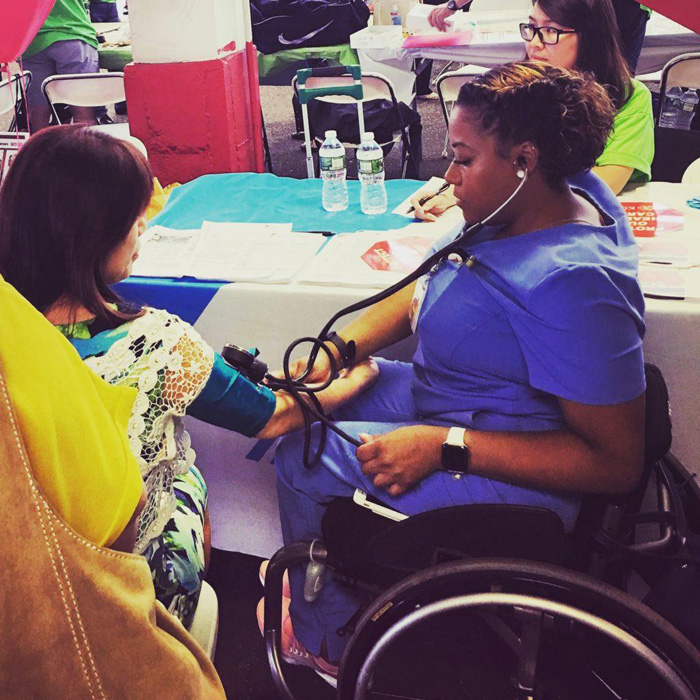 Medical Professionals Recognize DEHP's Health Risks
Urologist Dr. Gerard Henry sees patients from all over the world at his practice, Ark-La-Tex Urology, because of his skill and reputation in treating male urinary incontinence, erectile dysfunction and urinary difficulties. He received his medical degree from the UNC School of Medicine and completed a six-year urology residency at Duke University, including a one-year basic science research fellowship. He has been in practice for more than 20 years.
"Catheter users should care about DEHP and BPA, because they are known carcinogens and known to cause reproductive harm," Henry said.
"As a medical professional, my first rule is to Do No Harm," he continued. "If I was discussing with my medical colleagues what they were prescribing, if they were still prescribing catheters that are made with DEHP, I would refer them to that landmark study from Craig Hospital in Denver. Anything you can do to avoid known carcinogens is a good idea."
An informative video on the risks of DEHP in catheters presented by Dr. Henry is available here or watch it below:
You Can Choose a Catheter Not Made with DEHP or DINP
The good news is a variety of quality-made intermittent catheter options that don't require these chemical warning labels is available on the market today.
Realizing the impact of these health concerns, a growing number of medical supply manufacturers offer intermittent catheters that are not made with any Proposition 65 chemicals, including DEHP, DINP and BPA.
Cure Medical is the leader in the marketplace when it comes to a full line of intermittent catheters and closed systems that are not made with Proposition 65 chemicals. Quality made at a reasonable cost, Cure catheters are distributed by every major medical supply company in the United States and are available for purchase in Canada, too.
In the video below, Cure Medical founder Bob Yant, a catheter user himself, explains why Cure catheters have never been made with DEHP, DINP or BPA.
Ditch the DEHP in Your Catheters
Information is power. Contact your medical supply provider to find out what's in your catheter today.
You have the right to ask for a medical product that is not made with Proposition 65 chemicals. Every licensed medical supply provider will honor that request.
To request free samples of the Cure Catheter® or any Cure Medical catheter, click here.

To further review the risks associated with DEHP in medical supplies and household items, please see the links below.
General DEHP Fact Sheets and Resources
US Department of Health and Human Services (HHS), Agency for Toxic Substances and Disease Registry (ATSDR)
US Food and Drug Administration (FDA)
Scientific Information on DEHP
California Environmental Protection Agency (CalEPA), Office of Environmental Health Hazard Assessment (OEHHA)
International Agency for Research on Cancer (IARC)