Tackling the Continuum of Care at the PointClickCare Summit
Hospital. Rehab. Skilled nursing facility. Home. That's how discharge works after an acute care episode, or how many patients and family members expect discharge to work. Some patients expect to be discharged straight home into the care of family and home health providers.
For patients on the care journey, moving from one point of care to another can be difficult to navigate. If expectations are not managed by health care providers, the journey becomes even more problematic, leading to additional complications with care.
At the PointClickCare Summit, November 4–7, in Nashville, Tennesee, attendees had a chance to discuss these challenges and have a bit of fun, too.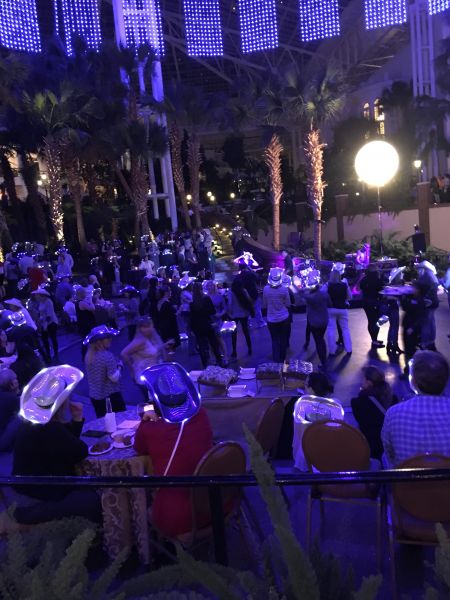 Summit attendees enjoy the opening party, sponsored by CareServ.
PointClickCare (PCC) is a growing organization. The company currently has 160,000+ users and 1,500 employees across the United States and Canada. The opening general session, headed by company founders Mike and Dave Wessinger, outlined a focus on the next 3 to 4 years of helping their users survive the coming industry headwinds of change and tighter regulation. In 2019, the company is rolling out risk mitigation programs across the country. As the company seeks to solve challenges in the health care space, partner companies are being brought in under the PCC umbrella. Present at the Summit were 21 certified partners for users to get to know. 400+ partners have registered with PointClickCare and 89 are developing their partnership further.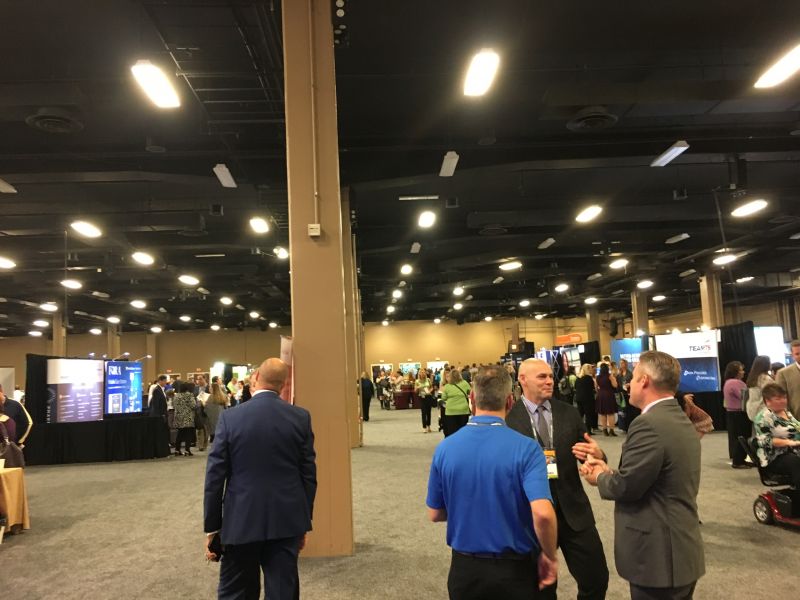 The Partner Marketplace offered attendees a chance to meet PointClickCare's vendor partners.
Also announced, for January 2019 launch, is the PointClickCare Companion App, which PointClickCare developed with Apple. The HIPAA-compliant app has been developed for senior living and skilled nursing providers to help manage CNA tasks across the agency. Additional technology programs were announced, including harmony, a skilled nursing app to help increase interoperability.
Two Rules, One System
Going into the PointClickCare Summit, I wanted to learn more about the Patient Driven Payment Model (PDPM). The rule, built for long-term care and skilled nursing facilities, is similar to the Patient Driven Grouping Model (PDGM) for homecare. The two rules come out of the IMPACT Act of 2014. PDPM moves away from a therapy incentive and focuses on the clinical needs of the patient, with a shift away from volume to value of care. (For my home health readers—sounds familiar, right?) The cost-settings measures allow a comparison of care settings, inpatient rehab, home health and skilled nursing facilities to give patients more choice for care.
One of the goals of the IMPACT Act is to create a unified payment system by 2024 across the post-acute care landscape.
Jayne Warwick, director of market insights for PointClickCare said, "We need to start leveling the playing field in post-acute care so the patients have more choice, and understand the types of services they will receive to be able to pick the most appropriate [care] placement for themselves."
The PDPM will be implemented October 1, 2019. PointClickCare is examining available agency data to help their customers make behavioral changes to improve the transition and, hopefully, payment, according Warwick. PCC is focusing on ICD-10 coding, signs of depression and restorative care, among others.
Similar to the PDGM, patients fall under certain code buckets in the PDPM, and providers will need to understand those buckets in order to receive payment. There are 12 coding buckets, and four buckets for physical and occupational therapy. One bucket, return to provider, results in no payment.
For these two payment models, the goal is to improve the care continuum for the patient. "The majority of residents use geography to choose their care setting," Warwick said. "Geography doesn't mean you're going to get the care that's best for you. If we can level the playing field to compare the long-term settings, right down to the home health agencies, we may find that home health is where a patient needs to be, but for another, skilled is where he fits better because he can't be discharged straight home. But with data being shared across the continuum, we can see where the best fit for the patient is."
For the Patient Driven Grouping Model (PDGM), Mary Henschel, director of client success for PointClickCare, said, "Some providers will be surprised that they may perform better when PDGM comes into effect. For instance, if an agency provides a lot of wound or complex nursing care, they stand to bode well."
Henschel also pointed out that much of the data CMS is reviewing is coming from claims data, versus OASIS coding, which providers may find surprising.
"PDGM is changing policies surrounding OASIS coding, evidence-based content for care planning, episodic management tools, eligibility verification tools and automated claims submission," Henschel said. "Agencies that do not embrace technology and sofware solutions to assist and simplify these processes may have trouble adjusting to this change."
Other measures PointClickCare is watching in the homecare industry include electronic visit verification for Medicaid providers and the Review Choice Demonstration. Said Henschel, "What we don't know is how CMS is going to implement PDGM. They still need to update their own systems, their billing manuals, etc. In the meantime, we have plenty of information to get started!"
The 2019 Summit will take place November 3–6 in Grapevine, Texas. Visit pointclickcare.com for more information.
Changes ahead across post-acute care