Provider Profiles
Staying the Course
After seven decades, Nunn's Home Medical Equipment still adheres to a tradition of service
The story of Nunn's Home Medical Equipment begins with a mistake. All Martin J. Nunn needed was a single wheelchair for a person who wanted to pay last respects to a loved one at Nunn's funeral home in Rome, N.Y. He called all over town, but there wasn't a wheelchair to be found, so the person had to be carried into the funeral home.
That bothered Nunn, who could not see a need without trying to fill it. During his years in Rome he started an ambulance service, a bus company, an answering service, and the funeral home. So when he needed a wheelchair and couldn't find one in town, he decided to order one so that he would be prepared if such a situation arose again. But it was 1942, World War II was raging and his order kept getting backlogged. Nunn waited and waited for the wheelchair and finally, it arrived—along with 11 more.
What do you do with a dozen wheelchairs when you only need one? Start an HME company, of course. "Martin did not need all 12 wheelchairs, so he decided to sell or rent them to others," recounts Erin Weiman, Nunn's granddaughter and director of operations for the single-location HME company, which now has 40 employees. "The demand was there, so he thought, 'If I could rent and sell wheelchairs, why not crutches, canes and walkers?' Thus, the hospital supply/home medical equipment idea was born."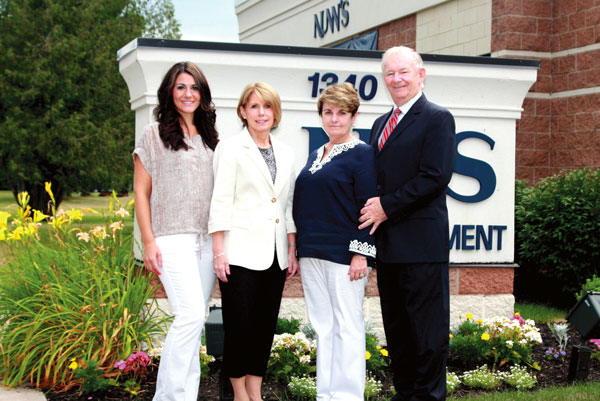 Building a Legacy

Now, 70 years later, that one mistake and Nunn's entrepreneurial spirit are still paying off for his family and residents of a dozen New York counties. The company is still family owned and operated, making it likely that Nunn's is one of—if not the—oldest family-operated HME providers in the country.
Nunn's daughters, Sheila Murphy and Nancy Ryan, bought the company from their father in 1985. Nancy's husband Joe is the president, and he's been with the company since 1970. Their son Brendan is the office and warehouse manager. "We mean it when we say, 'Our family supports your family'," says Weiman, who has been with Nunn's since 2005.
Being a family-owned company has made a huge difference in how Nunn's does business. "Since the inception, the one constant is that we have always been a customer-oriented company, patient first always," she says, adding that the company follows its founder's philosophy: No service too large, no detail too small, no distance too great to provide service and care on which you can rely.
"As a family-owned business, we are able to allow customers to buy and try any piece of equipment. Decisions on purchasing are made based on what is the best fit for our customers," Weiman says. "Having hands-on, working owners has been a great benefit."
Since the owners are always there, questions are answered promptly and problems resolved immediately. There is no waiting around for a corporate response, and no one-size-fits-all solution to problems. That could be the secret to Nunn's longevity—that, and a few other things.
Value and Variety

When Nunn's first opened in 1942, it was located above the office for the ambulance company that Nunn had started. "People had to walk up the stairs to get their canes," Weiman says, acknowledging the irony.
Nunn's started out half patient supply and rentals and half medical/surgical (hospital and physician supply). There was no Medicare or Medicaid, and insurance was extremely rare. People paid cash for products. That's pretty much the way it was until the 1960s.
comments powered by

Disqus