Provider Profiles
First Choice Home Medical
Kentucky HME provider's business strategy helps it defy the odds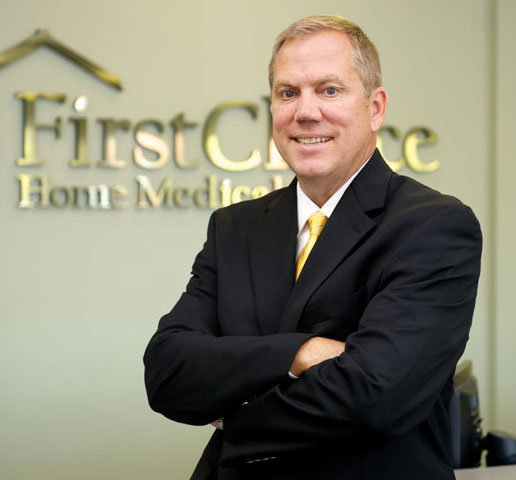 Sometimes when you take a leap of faith, you fly. Ten years ago, Thad Connally made that leap and started First Choice Home Medical in Bowling Green, Ky. "I was between jobs and decided it was time for me to take a risk and follow the dream I'd always had. I've always wanted to be an entrepreneur," the certified respiratory therapist explains.
It wasn't exactly a propitious time to open an HME business. Battered by steep Medicare reimbursement cuts, the industry also faced a host of toughened regulations, not to mention the specter of competitive bidding.
From his research Connally knew "the odds were stacked against me," he says. Yet in the following decade—inarguably the most devastating and challenging of all time for the HME industry—Connally managed to defy the odds and build First Choice Home Medical into a thriving company that has tripled its size since opening. In 2010 he was named the Small Business Person of the Year by the Bowling Green Area Chamber of Commerce, an award based partly on growth.
How did that happen in such down times? Chalk it up to hard work, a group of employees he calls "the Dream Team" and a strategy built on sound business practices and driven by his own motivating interest. "My passion is taking care of people," he says.
The Nature of Things

When Connally decided to open First Choice, he knew it would not be easy. In addition to the challenges facing the industry, his competition was stiff: a hospital-based HME company, two national companies, two regional companies and two local companies.
It would not do to focus only on what he knew best: respiratory therapy. "We hung our hat on nebulizers, sleep and respiratory, but we are a full-line HME company," he says. "You can't limit yourself."
Connally had specific priorities when he opened the company. "One was to understand and control my inventory and the cost of inventory. We've been able to track our equipment since day one. Back in the day when reimbursements were higher I believe companies didn't focus on that. Now with everything so much tighter, you do have to really pay attention to inventory control."
The other priority was staffing. "You really have to make sure you have the best people and they believe as you do. You have to make every effort to provide good wages and benefits so they feel rewarded personally and professionally."
First Choice opened in June 2003 with a staff of three in a 1,500 square-foot location in a shopping center. To get the word out, Connally advertised on television. Customers came, and within three years the company had outgrown its space. It moved to its current location in 2006. "We jumped from 1,500 square feet to 7,500. We thought there was all this space," Connally says. But keeping up with patients' needs required even more space. "Our customers have so many needs, so that equates into business opportunities for us. We just need to be there to supply those needs."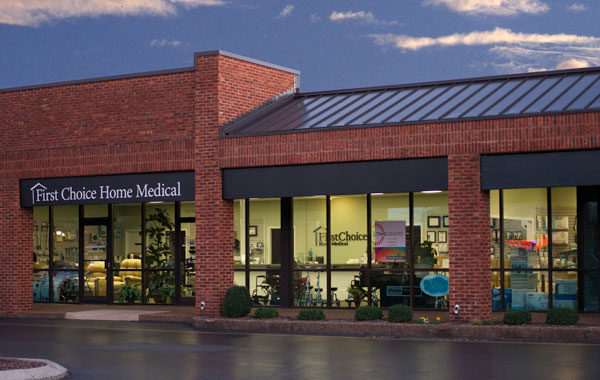 So, when the opportunity cropped up last year to acquire another 1,500 square feet next door, Connally did so. "We added additional office space, workstations, a conference room for staff meetings and where organizations can hold meetings. We have a 1,000 square-foot showroom."
The staff now numbers 13. "These individuals are truly First Choice Home Medical," Connally says. "They do an exceptional job of meeting people's needs."
The latter is vital to him. Although he is the top administrator and has three RTs on staff, Connally has not given up working with patients. "My staff knows I will clean equipment and deliver equipment when it's needed. You've got to stay involved. You've got to get out. You can't just stay in your office, even though that is required because of owning your own business. It does mean a lot to the staff that their boss will get out there and roll up his sleeves and get into the trenches when it is needed." Whether it is Connally or one of his staff who makes the delivery, the First Choice employee spends time with the customer, asking questions and listening to determine both how well the patient is doing and what the needs are.
"We do a very, very good job of educating, supporting and following up with these individuals to make sure they are compliant and that we are getting some positive outcomes," Connally says.
The Washington Connection

Which brings him to politics. Connally believes it is important to track outcomes and to share those outcomes with payers and with legislators. Both entities are more concerned with costs than with the outcomes that service and care can bring. "This isn't just equipment thrown in a corner," he says. "These things are keeping people in their homes where the risk of infection is a lot less than in the hospital."
comments powered by

Disqus